Radical Prayer #18: The Anointing of the Tribe of Zebulun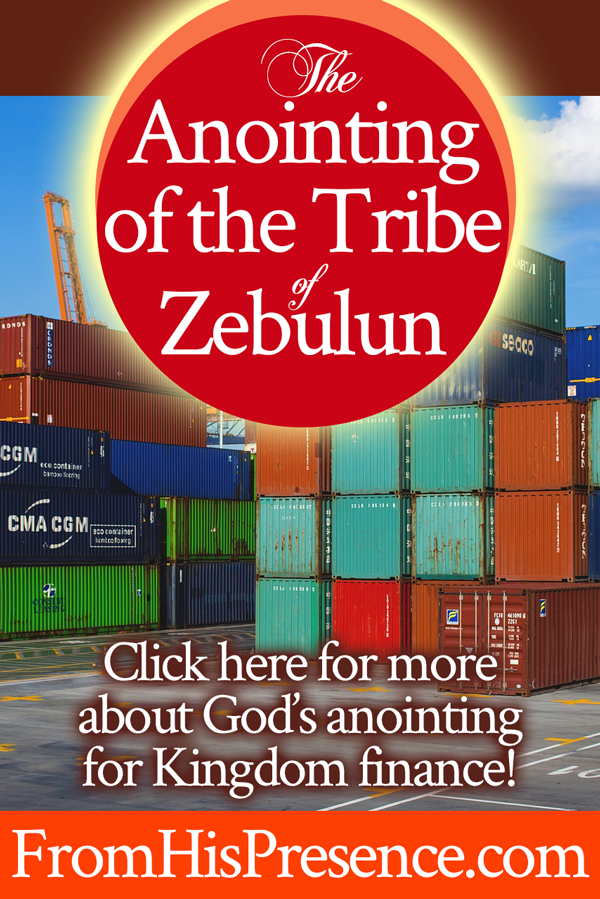 Hey beloved, do you want the Lord to give you His special anointing for Kingdom finance? If so, then you want the anointing of the tribe of Zebulun! In this article, I'll share what the anointing of the tribe of Zebulun is; where we find it in Scripture; and a sample prayer you can pray to ask God for this special gift!
For more information and encouragement for entrepreneurs, listen to my podcast using the player below!
First, what is the anointing of the tribe of Zebulun?
The anointing of the tribe of Zebulun is a spiritual inheritance God gave to the natural sons and daughters of Zebulun, the tenth son of Jacob. (His mother was Leah.) This anointing was bestowed upon them first when Jacob, in his old age in Egypt, pronounced blessings upon the bloodlines of each of his sons.
We read about the bestowing of the tribal blessings in Genesis 48 and 49, when Jacob told his sons to gather together so that he might tell them what would befall them "in the last days."
Then, Genesis 49:13 records him predicting Zebulun's future as follows:
"Zebulun shall dwell by the haven of the sea; he shall become a haven for ships, and his border shall adjoin Sidon. Issachar is a strong donkey, lying down between two burdens; he saw that rest was good, and that the land was pleasant; he bowed his shoulder to bear a burden, and became a band of slaves" (Genesis 49:13-15).
(And yes, I included the passage about Issachar also on purpose; but we'll get to that in a minute.) 🙂
We read more about Zebulun's tribal inheritance from the Lord when Moses also pronounced a blessing over them in Deuteronomy 33:
"And of Zebulun he said: 'Rejoice, Zebulun, in your going out, and Issachar in your tents! They shall call the peoples to the mountain; there they shall offer sacrifices of righteousness; for they shall partake of the abundance of the seas and of treasures hidden in the sand" (Deuteronomy 33:18-19).
So what did Zebulun's inheritance look like in practical terms?
Several things.
1. First, the ships speak of seafaring trade.
Zebulun did in fact become the merchant tribe. The people of Zebulun were traders–prosperous ones, too. That's why they were told to rejoice when they went out; their goings-out were successful, and they brought home a profit!
2. The anointing of the tribe of Zebulun is mentioned together with the anointing of the sons of Issachar for a reason.
In both Scripture passages above, where the blessings and predictions were pronounced over the Israelites, both Jacob and Moses mentioned Zebulun and Issachar at the same time. Why?
It's because they both knew prophetically that these two tribes' destinies were tied to each other. 🙂 Years after both blessings were pronounced and predicted, Jewish scholars tell us that Zebulun and Issachar made a deal.
The sons of Issachar were very prophetic; they were the people who knew the times and the seasons, and they knew what Israel ought to do. We read this in 1 Chronicles 12:32:
"… of the sons of Issachar who had understanding of the times, to know what Israel ought to do, their chiefs were two hundred; and all their brethren were at their command" (1 Chronicles 12:32).
Related: Read a detailed description of the anointing of the sons of Issachar here, with a radical prayer asking God to give you that anointing!
Issachar led Israel from a prophetic standpoint. They called the tribes together when the times and seasons were right. They predicted what God was doing both spiritually and prophetically. They were bad, bad boys and girls (in the best kind of way).
3. So Issachar had a gift. But in order to exercise that gift, they needed help.
Jewish scholars tell us that Zebulun and Issachar made a deal. It benefited the nation for the sons and daughters of Issachar to dedicate themselves to studying the Torah, spending all their time seeking God and in the service of God. Literally the entire nation depended on the tribe of Issachar and what they discerned and heard from God. So, obviously, they needed time to do that.
Enter Zebulun.
The people of Zebulun were the financiers. They were wealthy. They understood trade and business, and their efforts were profitable. So what did they do?
4. Zebulun made a deal with Issachar.
The deal was this: Zebulun and Issachar agreed that Issachar would dedicate all of their time to studying Torah. Zebulun would spend their time conducting trade; that's why the Lord gave them the seaport and merchant ships. And the two tribes would work together, because:
Issachar would share the impartation and knowledge they learned from the Torah with Zebulun; while
Zebulun would support Issachar's efforts monetarily so that Issachar could obtain that knowledge and impartation.
Basically, the sons and daughters of Issachar were the first full-time, domestic missionaries.
And the tribe of Zebulun was their first group of sponsors. 🙂
Why does this matter? Because it shows us one of the biggest reasons God anoints us for wealth.
God gives you financial blessing because He loves you, and He promised He would provide for all your needs. But there's more in the Kingdom's bank accounts than just a basic, need-meeting level of financial blessing. There's also an ANOINTING for wealth; a supernatural gift or inheritance through which God makes everything you touch turn to gold.
Why does He give some people the anointing for wealth?
Simple: He provides your needs because He loves you. BUT, He gives you the supernatural anointing for wealth when you become a Kingdom financier.
We read this in Deuteronomy 8:18:
"And you shall remember the Lord your God, for it is He who gives you power to get wealth, that He may establish His covenant which He swore to your fathers, as it is this day."
Not just the ability to go out and fake it 'til you make it at your day job. No, this Scripture refers to God's supernatural, miracle-working, dunamis POWER … getting you wealth. Making you rich. Making everything you put your hand to prosper.
Why does He do it? Not so you can elevate yourself or build an empire. No; He gives you the power to get wealth that He may establish His covenant which He swore to your fathers. And what covenant was that? It was the covenant God made with Abraham:
That He would make Abraham a great nation;
That God would bless Abraham and make his name great;
That Abraham would be a blessing to others;
That kings would come from Abraham;
That all the families of the earth would be blessed through Abraham;
That God would bless everyone who blesses Abraham; and
That Abraham would inherit the land.
Among other things. (Read Genesis 12 and Genesis 17 for more details about the covenant God made with Abraham.)
Related: Break the curses of anti-Semitism and replacement theology off your life and generational bloodline. Read more here.
What do we have to do with the blessing of Abraham?
Plenty. How on earth can God bless all the families of the earth through one man? By bringing Jesus to earth through the lineage of Abraham–which He did, two thousand years ago. So how is it that all families of the earth continue to be blessed through Abraham? By the preaching of Jesus.
The covenant God gave Abraham has greater impact than just blessing one man, one family, or one race (the Jewish people). That covenant has to do with the preaching of the Gospel. It's about preaching the Good News of Jesus Christ to every nation, tongue, kindred, race, language, and people.
Related: Why I Support Israel (and 8 Ways You Can Too)
It's all about Jesus.
So why did God give the tribe of Zebulun the supernatural ability to get wealth back then? So they could support the preachers, prophets, intercessors, and pastors of their day–the tribe of Issachar.
And why does God give this same supernatural anointing to get wealth to us today, if we will have it? So we can finance the Kingdom.
God's anointing for wealth is about expanding Jesus' Kingdom.
It's not about personal wealth, although God DOES want you to have personal wealth (keeping in mind that it's all His; you're only His manager). It's not about getting you a nice car or a good business deal, although He does want you to drive a nice car, do good business deals, and represent Him well.
But God has "bigger fish to fry," as they say. He's not just looking at your bank account, your retirement account, or your kids' college education. He cares about all those things, but He also cares about:
The manifestation of the Kingdom.
Glorifying and lifting up JESUS.
Increasing the inheritance of JESUS.
Bringing more sons and daughters into the Kingdom, because it's not His will that any should perish, but that ALL should come to repentance.
So God will give you the POWER to get wealth.
He'll give you the supernatural anointing of the tribe of Zebulun; the anointing that makes everything you put your hand to prosper … if you want it.
He'll do it if you'll finance His Kingdom.
Want to be a Kingdom financier? There are several steps:
Pray and ask the Lord to use you in this way for His glory and in His Kingdom.
Ask Him to give you this POWER to get wealth; to use you to finance His Kingdom.
Recognize that it will take work. You aren't likely to wake up one day and suddenly be rich. The tribe of Zebulun didn't lay around in their tents. They went out and worked–HARD.
Recognize that it will take time. You have to be into Kingdom work for the long haul.
Recognize that it may take repentance and change. If you have not been a good steward, you're going to have to repent and change that. God isn't going to entrust His wealth to people who won't take good care of it.
Then start where you are.
That last point is key: START WHERE YOU ARE. God will require this of you.
I remember reading a story years ago about a woman who desired to give to her church's missionary. She had no money to give, but wanted to give unto the Lord anyway. What did she do? She got one of her very few household towels–a used towel–and gave it. It was what she had.
Too often, we say that we will give to the Kingdom when.
I get emails all the time from people saying that they hope God makes them rich so they can give to our ministry. (I'm not writing this post to get you to give to our ministry; I'm just teaching here.) You know what? Those emails make me sad.
They make me sad because I have been there. I've given my last $2 away. I've been in the place where I didn't know how I would pay the bills. I know how it feels, and I know it's a really hard place to be.
But you know what? I also know that, every time I have been there, I gave my way out of it. I gave my way out of poverty.
My theory was this:
"God says He'll take care of me if I'll give. That's what the Bible says. So, I choose to believe Him. If it's not true, then God is a liar and not worth serving anyway."
And you know what? God isn't a liar. Every time, He came through. For many, many years. And He always will.
Even now, we are living by faith. And sometimes things are tight. But God always tests me in tight times.
You know how He tests me? He tells me to give, even before the full amount that we need for this ministry comes in.
Some people get mad about that. I send out ministry reports, and I've gotten hateful responses telling me I had no right blessing a pastor, or helping a church, or clothing the homeless when we were asking for donations because we were in a tight spot in this ministry.
With all due respect, those people need to remind themselves of what Scripture says. God will always provide, but He also tests us. He tests our faith. And time and time again, I've been in the middle of a financial breakthrough–in the middle of, mind you, but not there yet–and God has said, "Give what you have."
That's a hard thing to hear from God.
When you know that you need that money, but God says, "Give–finance My Kingdom," it can be hard. Not gonna lie. But in those situations, we have only two choices:
Obey God and trust Him (and ultimately be blessed); or
Disobey God, get into sin, and lose the anointing.
So I give. And every time, He has come through.
The tests have been hard, but they've been worth the struggle. We have never lacked for anything; God has always provided all our needs. Indeed, in those times we have often been able to accomplish the most in this ministry, because it's all God's. And when we treat it as such–knowing that we are only stewards and managers, and the money is His to command–then we walk on miracle territory.
Point being: We ask God to use us to bless pastors and help people. And so He says "yes," and requires us to do it–even if we don't think we have the money at that moment.
What does that have to do with the Zebulun anointing?
Only this: If you ask God for this anointing, He'll give it to you … and then He'll test you.
He'll test you by asking you to start financing His Kingdom now, whether that first $1,000 check has come in or not. Even if you haven't seen your first cool million, or cool $10,000, or cool $10, Papa God will often test you. And I would be doing you a disservice if I didn't warn you now: DO WHAT GOD TELLS YOU.
For example:
If you're at the gas station and you see a vagrant who looks hungry, and God says to feed him, FEED HIM.
If God asks you to put the only $10 you have into the offering plate at your church, DO IT.
If He asks you to give $1,000 to whichever Kingdom cause, do whatever He says.
Because it's all His. And He's testing you to see if He can trust you.
Cool? A word to the wise is sufficient.
Don't wait until you're rich to give.
Instead, give your way out of poverty. That's what it means to be a Kingdom financier, and that's what God will require of you if you want to go forward with Him in your finances. And when you give, He'll always make it up to you:
"Give, and it will be given to you: good measure, pressed down, shaken together, and running over will be put into your bosom. For with the same measure that you use, it will be measured back to you" (Luke 6:38).
So knowing that, if you want the anointing of the tribe of Zebulun, pray this with me:
"Father God, in Jesus' name, I thank You for grafting me into the covenant You made with Abraham. Thank You for blessing me on this earth through Jesus, and for giving me the same blessing and covenant You gave Abraham.
Father God, because every blessing You gave Abraham's children is available to me through Christ Jesus, I thank You that the anointing of the tribe of Zebulun is available to me. You can make me a Kingdom financier.
So Father, I give myself to You for this work.
Please give me the anointing of the tribe of Zebulun right now, Lord. Use me to finance Your Kingdom. Teach me how to work, trade, and profit. Show me how to come alongside Your Gospel work with Your money, sowing where You say to sow.
And Father God, as I do this, bring me the impartation from every place I sow.
Your Word says that if I honor a prophet in the name of a prophet, I'll receive a prophet's reward. And if I honor a righteous man in the name of a righteous man, I'll receive a righteous man's reward. I know there is an impartation when I give, Lord. I can't buy the anointing and I would never try, but I do ask you for the prophets' rewards and righteous people's rewards that You promised I would receive when I honor Your Gospel workers.
Thank You, Jesus. Instruct me and teach me in the way I should go.
Guide me with Your eye upon me. Give me wisdom, and help me to carry out Your Kingdom work with Your Kingdom provision that You have entrusted to me. Increase and surround me on every side, and in all my business dealings–for Your glory, and for the sake of Your great name.
Thank You, Father. In Jesus' holy name I pray. Amen."
Are you giving yourself to the Lord for the work of Kingdom finance right now? Did you ask the Lord for the anointing of the tribe of Zebulun? Do you receive it from the Lord? If so, leave a comment below! I'd love to hear what Papa God is saying to you!