Radical Prayer #15: Lord, Show Me a Sign for Good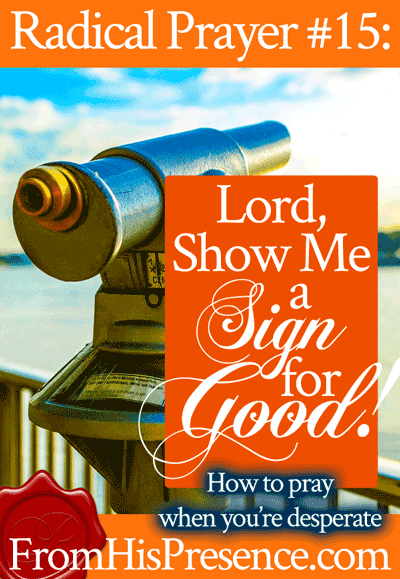 Are you desperate today? Desperate to hear God, desperate for breakthrough, desperate to know beyond a shadow of a doubt that what you're going through is going to work out all right? If so, it's time to pray "Lord, show me a sign for good!"
We shouldn't always need a sign in order to move on with God.
However, there are times when we are raw, hurting, desperate, and even bleeding. In those times, it can be really helpful and encouraging–healing, even!–if something happens that demonstrates God's love and watchcare over our lives–if we get a sign.
When we need a sign, it's not that we don't know He's there. It's simply that we need a touch from our precious Abba Father. We need hugs from our Papa. We need to lean on His chest, feel His arms around us, and hear Him whisper that everything's going to be all right.
And that's why it's okay to say, "Lord, show me a sign for good!"
In the Bible, King David prayed this. It's in Psalm 86:16-17, and it says:
Oh, turn to me, and have mercy on me! Give Your strength to Your servant, and save the son of Your maidservant.

Show me a sign for good, that those who hate me may see it and be ashamed, because You, Lord, have helped me and comforted me" (Psalm 86:16-17).
This is the same psalm in which David asked God to unite his heart to fear God's name. It's a psalm that starts out with a plea for help:
Bow down Your ear, O Lord, hear me; for I am poor and needy.

Preserve my life, for I am holy; you are my God; save Your servant who trusts in You!

Be merciful to me, O Lord, for I cry to You all day long. Rejoice the soul of Your servant, for to You, O Lord, I lift up my soul" (Psalm 86:1-4).
But notice that David doesn't only beg for help in this psalm. He also confesses his faith:
For You, Lord, are good, and ready to forgive, and abundant in mercy to all those who call upon You.

Give ear, O Lord, to my prayer; and attend to the voice of my supplications. In the day of my trouble I will call upon You, for You will answer me. Among the gods there is none like You, O Lord; nor are there any works like Your works.

All nations whom You have made shall come and worship before You, O Lord, and shall glorify Your name. For You are great, and do wondrous things; You alone are God" (Psalm 86:5-10).
And because David confessed his faith, we know that he was hurting–but he still believed God would answer him and reward him.
THAT is an essential point.
It's essential because it doesn't do any good to come before God and whine. Whining results from doubt and unbelief, and let not the person who doubts think he will receive anything from the Lord (James 1:6-7).
If you're walking in doubt and unbelief, our Father isn't going to reward you by dumping all kinds of blessings on you. The blessing He's going to dump on you first is discipline and delay, so He can teach you that you need to trust Him.
Ouch. Selah. #PreachingToTheChoir … This is for me too!
In one of the hardest times of my life, I asked God WHY.
Why didn't He fix it? Why didn't He set things right? Why did He see my agony and not snap His fingers, making it all go away?
And you know what? He answered me. This is what He said:
And you shall remember that the Lord your God led you all the way these forty years in the wilderness, to humble you and test you, to know what was in your heart, whether you would keep His commandments or not.

So He humbled you, allowed you to hunger, and fed you with manna which you did not know nor did your fathers know, that He might make you know that man shall not live by bread alone; but man lives by every word that proceeds from the mouth of the Lord" (Deuteronomy 8:2-3).
That answer helped me tremendously.
He showed me that the purpose of the hard time was to burn some things off me. It was a fire that purged me of my dependence on emotions, on signs, and on what I could see. It was a fire that taught me that man does not live by bread alone, but by every word that proceeds from the mouth of God.
I learned my lesson the hard way. I've never been the same, and I wouldn't trade that hard lesson for the world.
That's why I say we can't depend on signs.
We do not live by bread alone. We do not live by what we can see or feel or know in our brain. We HAVE to live by every word that proceeds from the mouth of God. We must live by faith. That's the only way to go forward with God. Never think you'll get anything from God if you come to Him in doubt and unbelief.
But He IS a God who works signs when we come to Him from a position of faith, rather than doubt.
And if you come to Him believing Him …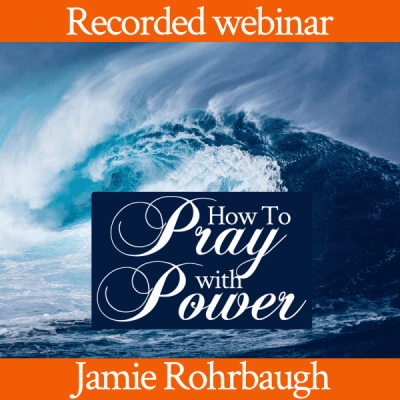 … and believing that He's working everything together for your good, but you just could use a little reassurance and a Papa-hug …
… and if you ask Him for a sign for good …
He will give it to you.
Again, He's usually not going to give you a sign if you depend on the sign! He's teaching you to trust! He's too good to reward your doubt and unbelief! James 1:6-7:
But let him ask in faith, with no doubting, for he who doubts is like a wave of the sea driven and tossed by the wind. For let not that man suppose that he will receive anything from the Lord; he is a double-minded man, unstable in all his ways."
But when we are already standing in faith and we just need a little encouragement, it's all right to ask Papa for a sign.
And when we ask, He will answer. He will help us see His hand at work. He will show us what He's doing. And what He shows us, even if it's only a little glimpse, will encourage us. It will be like a big fat hug that reassures and comforts us.
Are you standing in faith, but you just need a sign right now? If so, pray this with me:
"Father God, I come before you in Jesus' name.
Abba Father, Papa God, I love You. I believe You and everything in Your Word. I know You are working all things out for my good. I know Your hand is at work in my situation. I know You will provide all my needs according to Your riches in glory in Christ Jesus.
But Father God, I need comfort right now. Show me a sign for good, Lord.
Papa God, I ask that Holy Spirit would comfort me right now. Wrap Your arms around me and hug me. Help me to feel Your love, Your Presence, and Your affection. Help me to sense that You are right here with me.
Father, please help me to be anxious for nothing; but in everything, with prayer and supplication, with thanksgiving, help me to make my requests known to You; and let Your peace, which passes all understanding, guard my heart and mind in Christ Jesus.
And Abba Father, show me a sign for good.
Show me Your hand at work in my situation. Show me what You are thinking and doing. Help me to see Your plans for me, and see how You are preparing both me AND Your plans. Show me how You are using me, and what Your plans are for my life.
I'm calling upon You, Father, and Your Word promises that if I call upon You, You will show me great and mighty things that I do not know. So show me those great and mighty things TODAY, Lord. Send me inside information that only You could tell me. Reassure me and comfort me, Father. Lift me up as I humble myself before You and Your Word, standing in faith.
Father God, You are not a man that You should lie.
I know it is impossible for You to be found wanting or lacking in any area. You are good, and You reign supreme, and You are faithful. Great is Your faithfulness, O God my Father. There is no shadow of turning with You! I want You to be honored in my life. I want to obey You in all things, and I want to give You glory.
So glorify Your own name in me, Father God.
Glorify Jesus in my life. Help me to be a good and faithful servant. Help me to persevere in all things, and help me to dwell in the secret place of the Most High with You. Keep me as the apple of Your eye and hide me under the shadow of Your wings. And as I abide in You, keep me stable and fixed under Your shadow.
Thank You, Jesus. Thank You, Father and Holy Spirit. Thank You for comforting me. Thank You for the sign You are showing me today. Open my eyes and help me to see everything You are showing me, and I give You all the praise.
In Jesus' name, amen."
Does this radical prayer–"Lord, show me a sign for good"–resonate in your heart today? If so, please leave a comment below! I'd love to hear from you!