Prayer for Strength When You're Weak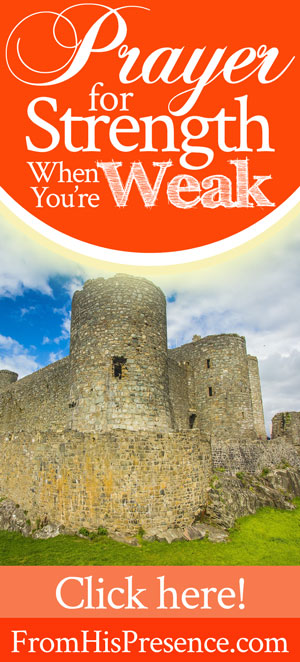 Do you feel weak today, almost like you're going to faint? Do you feel drained and exhausted spiritually, emotionally, or physically? If so, the Lord gave me a prayer for strength today that I believe will help you.
Father God promises that He will help us whenever we need it. His Word says so. Look at just a few of His beautiful promises:
God is our refuge and strength, a very present help in trouble. Therefore we will not fear, even though the earth be removed, and though the mountains be carried into the midst of the sea; though its waters roar and be troubled, though the mountains shake with its swelling. Selah" (Psalm 46:1-3).

and:

"Why do you say, O Jacob, and speak, O Israel: 'My way is hidden from the Lord, and my just claim is passed over by my God'? Have you not known? Have you not heard? The everlasting God, the Lord, the Creator of the ends of the earth, neither faints nor is weary.

His understanding is unsearchable. He gives power to the weak, and to those who have no might He increases strength.

Even the youths shall faint and be weary, and the young men shall utterly fall, but those who wait on the Lord shall renew their strength; they shall mount up with wings like eagles, they shall run and not be weary, they shall walk and not faint" (Isaiah 40:29-31).

and:

"But the salvation of the righteous is from the Lord; He is their strength in the time of trouble. And the Lord shall help them and deliver them; He shall deliver them from the wicked, and save them, because they trust in Him" (Psalm 37:39-40).

and:

"But You, O Lord, are a shield for me, my glory and the One who lifts up my head" (Psalm 3:3).
Scripture is full of promises like this.
Related: Read more sample prayers in my Radical Prayers, Radical Answers series here!
No matter why you're weak or in need of help, Father has promised to strengthen us when we are weak.
All we have to do is pray.
So this morning, the Lord gave me this prayer for strength. If you are feeling weak right now for any reason–whether that weakness is physical, spiritual, or emotional–then please pray this prayer out loud.
By the way: this prayer is all God's Word, and He'll answer it immediately. When I prayed it as I was writing it out, I actually felt dramatically better before I even got to the end of the prayer. Thank You, Lord! So you should watch for His immediate answers like that too. He'll strengthen you just like He strengthened me! 🙂
So if you're feeling weak, pray this prayer for strength with me, out loud, right now:
Father God, I come before You in Jesus' name.

Father, Your Word says that I can come boldly before Your throne of grace, that I may obtain mercy, and find grace to help in time of need. Your Word also says that You are an ever-present Help in time of trouble.

Father, I want to thank You for these promises. In these precious words of Yours, and so many more, You promise me that You'll help me when I need it.

You've promised me that I'll never see the righteous forsaken, nor my offspring begging bread.
You've promised me that Your grace is sufficient for me, for Your strength is made perfect in weakness.
You've promised me that You shall supply ALL my needs–not some, but ALL–according to Your RICHES in glory in Christ Jesus.
And You said that I should be anxious for nothing; but in everything, with prayer and supplication, with thanksgiving, I am to make my requests known to You–and Your peace, which passes all understanding, will guard my heart and mind in Christ Jesus.

Thank You, Father. Thank You for Your Word. Thank You for Your promises.

Lord, I'm cashing in on these promises right now.

Father, You know I feel so weak. I feel like I'm going to collapse. And it is not Your will for me to be weak, but it IS Your will to strengthen me right now.

So, Abba, I need You. I need Your help. I praise You right now, Lord; and I ask that, as I praise You, You would lift the spirit of heaviness off me. Take away the heavy weights that are pushing me down, and show Yourself to me as my Glory, and the Lifter of my head.

Father God, in Jesus' name, I ask right now that You would strengthen me physically.

Help my heart to beat strongly in my chest.
Let my blood pressure be perfectly stable.
Let my body produce all the correct levels of the right hormones, and none of the wrong ones.
Infuse my bones, joints, and muscles with Your own strength.
Let my glucose and insulin come into perfect alignment right now with where they should be.
Let my stomach and digestive system process all my food perfectly.
Let my brain rest at perfect peace and in perfect strength.
Let my eyesight be perfect and my back be strong, in Jesus' name.

Father God, I pray also that You would strengthen my spirit right now.

Fill me with Your Holy Spirit. Fill me with hope. Let hope arise in me right now in Jesus' name. Let faith arise right now in Jesus' name. Let Your Word and Your fire burn in my bones. Fill me with Your motivation, inspiration, wisdom, and joy right now in Jesus' name.

Father God, I speak to my soul right now, and I say: "Soul, come to attention in Jesus' name. Soul, in the matchless name of Jesus Christ of Nazareth, you line up with my spirit, which is filled with the Holy Spirit. Soul, bless and give thanks to the Lord, for He is good, and His mercies endure forever."

Father God, please help me to remember all the works of Your hands that You have done in my life and are still doing–both now and these many years past.

Fill my mind with Your testimony. Remind me of Your promises. Show me once again how far You have brought me, and give me a grateful and thankful heart.

Abba Father, thank You that You will never leave me nor forsake me.

Thank You that You will never forsake any of Your saints. Thank You for working all things together for my good right now, for Your Word says You are doing that for all who love You and are called according to Your purpose. Thank You, Father.

Papa God, in Jesus' name, I ask that You would order my steps today.

Show me what to do and when to do it. Show me also what not to do, and help me not to do anything that isn't Your will for me.

I bind off every distraction that would prevent me from hearing Your voice or obeying You, in Jesus' name. I loose my ears to hear You today, Father God, in Jesus' name; and I loose myself into perfect obedience to Your voice today in Jesus' name.

Thank You, Father God, that by Your grace through the blood of Jesus, I am completely free from sin and alive to You. So please keep me from sinning against You today. Help me to humble myself under Your mighty hand, O God; and in due time, Father God, YOU lift me up.

Father God, I have cast all my cares upon You, for You care for me.

Thank You for listening. Thank You for helping me. Thank You that even right now, Your angels are helping me and YOU are helping me and answering my prayer.

Papa God, thank You that right now, my heart feels stronger, my bones feel stronger, my mind feels clearer, and I can do everything You tell me to do. Thank You for instructing me and teaching me in the way I should go. Thank You for guiding me with Your eye upon me.

Thank You, Father God. I love You, and I say: "Not unto us, O Lord, not unto us, but to Your name give glory" (Psalm 115:1). May You be glorified in my life and in Your temple, which is my body, today.

In Jesus' name, Father, I thank You. Amen."
Did you pray this prayer with me? If so, did you sense Holy Spirit ministering to you and strengthening you while you prayed? Leave a comment below if so!