4 Ways To Make It Through Difficulty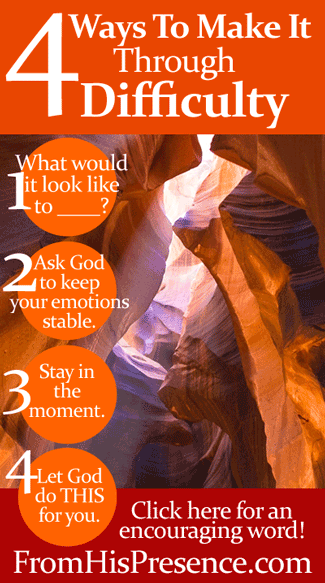 Are you going through a tough time right now?
If so, my heart goes out to you, and I'm sorry if you are hurting. I've been in dismal situations many times, and I know how rough it can be when life puts the squeezes on you.
However, over the years, the Lord has shown me four wonderful tidbits that have really helped me during some of the darkest times of my life. If you're in one of those dark times, I wanted to share 4 things with you today that you can do.
Without further ado, here are 4 ways to help yourself make it through difficulty:
1. Figure out what it will look like to handle your situation successfully.
If you figure out now what you want your response to be during your tough situation, you can focus on that response instead of on the situation. Trust me… it's a fantastic distraction.
Recently, I went through a situation that hurt really, really badly. It was agonizing, and my heart was simply broken.
However, when I calmed down a bit after the initial shock, I began to focus not on corralling the situation, but on trying to make sure I responded rightly (in God's eyes!). That shift in focus really helped me. I didn't get it perfect every time, but it got me through the situation in one piece, eventually.
Related: When Loving Your Sheep Hurts (My Story of Healing After Betrayal In Ministry) and No Need To Fear Your New Season (It Will Only Promote You)
Maybe your situation is beyond your ability to solve… but you could set a goal to just remain faithful to God throughout it. Your faithfulness is something you can control!
Here's another example:
Awhile back, I had to spend a few hours doing maintenance at our rental house–a place that has caused me a heap of grief and torment in the past. I was horrified at the thought of having to go back there.
But, I decided that I would do it to support my husband (we needed to save the money it would have cost to hire it out), and I would stay at his side and keep working for his sake. Focusing on supporting Bruce took my attention off the emotional trauma that house has put me through, and I was able to stay calm and make it through.
So what are you going through? Figure out now what you would want to write on the tombstone of this situation.
When it's all over with, how do you want to look back at it? How do you want to handle it so that you can say you got through it successfully? Do you want to be able to say:
"She handled it well,"
"He responded righteously even when it hurt," or
"God's grace was sufficient"?
If so, figure out how you should act now based on the your desired result you want to have when it's all over.
2. Ask God to keep your emotions stable.
Papa God promises in Psalm 91:1, AMP:
He who dwells in the secret place of the Most High shall remain stable and fixed under the shadow of the Almighty [Whose power no foe can withstand]" (emphasis mine).
I ask God all the time to keep me "stable and fixed" under His shadow. I used to be an emotional wreck, up and down all the time. I'd be happy in the morning and depressed two hours later. Happy again at lunch and fighting off thoughts of suicide that evening. It was awful!
However, when I started praying and asking God to keep my emotions stable, He did. Yes, I had to go through the School of Hard Knocks a few times too. God allowed me to go through the fire so He could burn a whole lot of stuff off me that didn't look like Jesus. Nevertheless, this one prayer–asking God to keep my emotions stable and fixed–has made a huge difference in my life.
God will stabilize you too, if you will ask Him and let Him. Pray this with me:
Heavenly Father, I come before You in Jesus' name. Lord, I thank You that Your grace is sufficient for me. Your strength is made perfect in my weakness.

Lord, I need help. Right now, You know I've been in such a turmoil. Abba, Father, I can't stop the turmoil on my own. But Lord, You said that if I dwell in the secret place with You, YOU will keep me stable and fixed under Your very shadow. 

Father, I choose to dwell in the secret place with You. Please keep me as the apple of Your eye. Hide me under the shadow of Your wings. Please help me to always think of You–every moment, every day. Help me to remember Your Word and obey Your commands. Please make me so sensitive to the Holy Spirit that I obey even Your slightest prompting. Help me to sense Your presence and affection always, and remain tucked under Your wing. And as I do, I know You will keep me stable. 

Father, I plead the blood of Jesus over my emotions. I ask You to keep me stable. Help me to rest in You, Lord, and remember that no matter what I'm going through–You've got it covered.

Thank You, Papa. In Jesus' name. Amen."
Related: Rest In God, Reach Your Destiny (series)
3. Stay in the moment.
In Matthew 6:34, Jesus said:
So do not worry or be anxious about tomorrow, for tomorrow will have worries and anxieties of its own. Sufficient for each day is its own trouble" (AMP).
So much of our mental anguish and worry comes from projecting our thoughts out into the future. For example:
If you're having a financial crisis, you are probably thinking about the groceries tomorrow, the bills next month, and how on earth are you going to rebuild your savings next year.
If you're having a health crisis, you could be wondering who will take care of you, what you will or won't be able to do, or what will happen to your job.
If you're having a family crisis, you may be worrying about someone who might sacrifice their future, their health, or their relationships.
We tend to worry about the future even when we don't admit it! I know I worried about the future A LOT when I was going through my worst financial nightmares (see aforementioned rental house). But thinking that way did me no end of harm.
Try this:
Instead of thinking about the future, look at yourself right now.
Are you warm and clothed?
Did you eat this morning?
Did you wake up in your right mind?
I know it can be tempting to worry about the future. Beloved, I've been there. But you know what? Your Heavenly Father WILL take care of you.
He loves you with an everlasting love, and will never abandon you. You are engraved in the palms of His hands. He knows everything about you and loves you like crazy. All of your days were written in His book before any of them ever existed.
And you can trust Him.
Precious reader, you will find peace if you will follow the advice of Jesus and just live in the moment. Thank God that you're still making it right now. Leave tomorrow to Him. As the old adage says, "I don't know what my future holds, but I know Who holds my future."
Related: God Has Not Forgotten You
4. Open your Bible and let God encourage you.
God LOVES to talk to you about what you're going through. No matter where you are in life, please, open the Bible and start reading. He WILL speak to you.
If you're not sure where to start, read the Gospels–especially John. Read the actual words of Jesus, because Jesus' words contain spirit and life. They will restore the life back into your soul and spirit, even if you feel completely dead inside.
I also enjoy reading the Psalms, or the letters of Paul, or anywhere in the last 30 chapters of Isaiah. (God will speak to you out of any book in the Bible, but those are just my favorite places to go when I need encouragement.) I like to find a place that talks about exactly how I feel; keep reading from there; and see what God says.
No matter where you read, read slowly. Take all the encouraging words very personally. They are God's words directly to you.
When a verse seems to jump out at you, that's because God is speaking that very thing to you right now. If it touches your heart, that's God! When a verse really touches you, stop there and meditate on that verse awhile. Let yourself cry over the words of God. He loves you and this is His way of wrapping you in His arms while you cry.
If you are going through a tough time right now, Papa God is with you. He loves you, and you are going to get through this. If you'll decide now what it's going to take for you to get through this successfully, ask God to keep you emotions stable, stay in the moment, and let God encourage you through His Word, you'll find healing and comfort even in the toughest situations.
Does this message minister to your heart? If so, please leave a comment below! I'd love to hear from you!