Radical Prayer #13: Lord, Load Me with Benefits!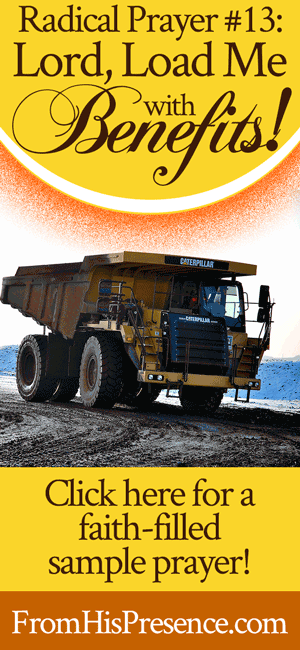 Would you like the Lord to load you up with good things–unexpected surprises, financial blessings, happy events, and more–EVERY DAY? If so, then pray this radical prayer: "Lord, load me with benefits!"
Psalm 68:19 says:
Blessed be the Lord, Who daily loads us with benefits, the God of our salvation! Selah."
I just noticed this Scripture recently. When I did, I was in awe.
Immediately upon reading this verse, I saw a mental picture in my mind's eye of a big Euclid ("uke") dump truck: the kind that is used on VERY heavy mining and earthwork projects.
Those trucks are HUGE; much bigger than a regular truck. (The driver may only be as tall as the tire!) They carry tons of material. They aren't for sissies; and when they are loaded, they are REALLY loaded.
Well, after I read Psalm 68:19, I saw a mental picture of one of those uke dump trucks.
I saw the truck coming toward me and then DUMPING its entire load right over my head. All over my house. All over my husband. All over everything.
And I knew that even THAT big of a load could never compare to what the Father wants to give us, each and every day.
After all, doesn't His Word say:
"But as it is written: 'Eye has not seen, nor ear heard, nor have entered into the heart of man the things which God has prepared for those who love Him'" (1 Corinthians 2:9).
… ?
It does. It surely does. 🙂
So I began to pray, "Lord, load me with benefits!"
My prayer went something like this (and you're welcome to use this prayer too if you like!):
"Heavenly Father, in Jesus' name, I want to thank You that You ARE loading me with benefits right now. You load me with benefits every single day, and I know it. Thank You.

But Father, I know that Your "loader" is bigger than I can imagine. I know you want to load me with more benefits than I've ever received before. Your Word says You want to give me things I've never even thought of or imagined.

So Father, I'm asking You to load me with benefits today. Load me with more benefits than I could ever imagine. Load me down, Lord, with those things that eye has not seen, nor ear heard; those things that have not entered into my heart to ever even ask for or dream of.

Lord, I'm believing You big, but this is what Your Word says. And I believe You. So thank You, Father. Help me to notice every blessing You bestow, and help me to thank You for them all.

Thank You, Father. Thank You for loading me with benefits today and every day. In Jesus' name, amen."
That was it. It was a very simple prayer, but I immediately began to see results.
Praying God's Word is so powerful! His Word shows us His heart and will for us. You can never go wrong when you remind God of His Word in your prayers!
When I began praying this verse back to God, I saw an increased flow of blessings in my and my husband's lives immediately. Blessings of all sorts.
So then I decided to go a little further to really build my faith for this promise!
I went to a local store and purchased a package of five tiny little children's toys: little models of a Uke dump truck, front-end loader, bulldozer, and more. All big, industrial loading equipment.
I got the toys because I wanted visual reminders of the Lord loading me with benefits. I wanted to keep the reminders in front of me! So I hung some of them from my ceiling (in the room where I work and pray) on a ribbon, like this:
And I kept one of them on my nightstand beside my bed, where I also work and pray: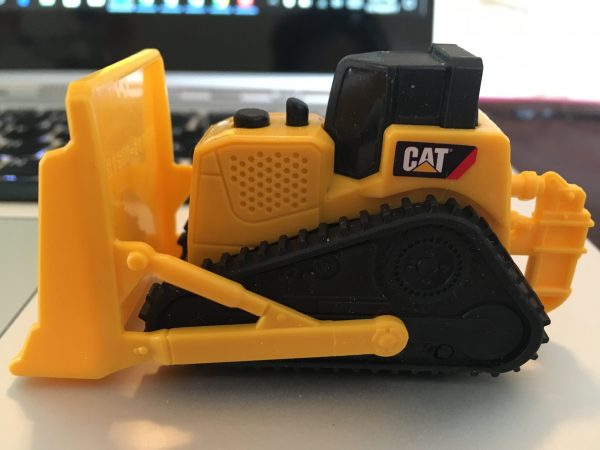 And I began just looking at them and meditating on Psalm 68:19. And do you know, my faith for this promise is growing every day! And every day, I'm praying it back to God … and seeing Him move in response to those prayers!
Do you want the Lord to load you with benefits every day too?
He will. His Word promises that He will. So dig in! Meditate on this Scripture. Chew it and absorb it until you really believe it. Pray it back to God every day. Thank Him for what He's already done, and ask Him to do more!
If you will, I believe you will see radical blessings flowing into your life in a whole new way.
Does this promise in Psalm 68:19 excite you as much as it does me? Does this prayer resonate with you? If so, please leave a comment below! I'd love to hear what the Lord is saying to you!