21 Days of Breakthrough Prayer: No Weapons or Accusations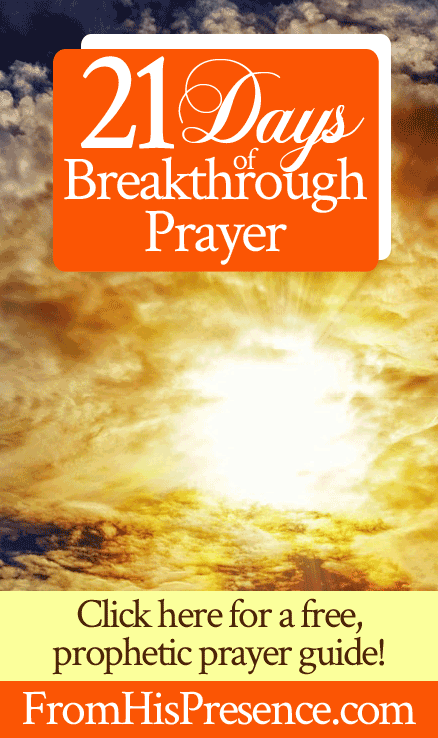 Welcome to 21 Days of Breakthrough Prayer! This simple series will provide you with Scriptures to pray into for 21 days, asking the Lord for your breakthrough.
This is a very simple series; I won't be expounding on each Scripture very much, except through a bullet-point list to share some prayer pointers. I also will not be writing sample prayers, as I believe the Lord wants you to exercise your prayer muscles and make these Scriptures your own vocabulary for prayer.
But, even though it's a simple series, I believe it's a POWERFUL one … and I want to hear your testimonies as the Lord answers your prayers, okay?
See the 21 Days of Breakthrough Prayer series table of contents here.
Without further ado, here's Day 3 of 21 Days of Breakthrough Prayer:
The Scripture verse of the day is Isaiah 54:17, which says:
No weapon formed against you shall prosper, and every tongue which rises against you in judgment you shall condemn. This is the heritage of the servants of the Lord, and their righteousness is from Me,' says the Lord" (Isaiah 54:17 NKJV).
Pray along these points:
Remind the Lord that He promised to work all things out for your good, for you love Him and are called according to His purpose (Romans 8:28).
Tell the Lord that you see the weapons coming against you, but you know He sees them too.
Thank You that nothing is hidden from His sight, and you are hidden in Him in the secret place of the Most High–where you are safe.
Remind the Lord that He promised that no weapon formed against you would prosper. Therefore, ask Him to defend you against the enemy's onslaught and totally obliterate the attack against your life.
Remind the Lord that He said when the enemy comes in like a flood, Holy Spirit will raise up a battle standard against him.
Point out to the Lord that the enemy is coming against you like a flood right now, and ask Father God to lift up His battle standard against the enemy and not allow the enemy to pass through the Father's protection around you.
Ask the Lord to help you walk in integrity and uprightness, no matter what.
Thank the Lord that every tongue that rises against you in judgment, you shall condemn. Ask Him to fight against every accusation, for they come straight from the accuser of the brethren, who is Satan himself.
Ask Father God to expose every lie that comes against you as the lie that it is. Ask Him to make the truth plainly known to all parties involved.
Ask the Lord to make your right standing with God obvious to all people. Remind Him that you are the righteousness of God in Christ, and ask Him to vindicate you.
Then thank Him for all of the above!
That's our breakthrough prayer for day 3!
Remember to use the verse itself as your vocabulary for prayer. Doing so will not only help you pray the most effective prayers it's possible to pray, but it will also help you hide God's Word in your heart, that you might not sin against Him (Psalm 119:11).
Did you pray this Scripture with me today? Or, do you have a testimony to share about how God has answered this prayer? If so, please leave a comment below! I'd love to hear what Papa is saying to you!