Prayer for Your Dream Car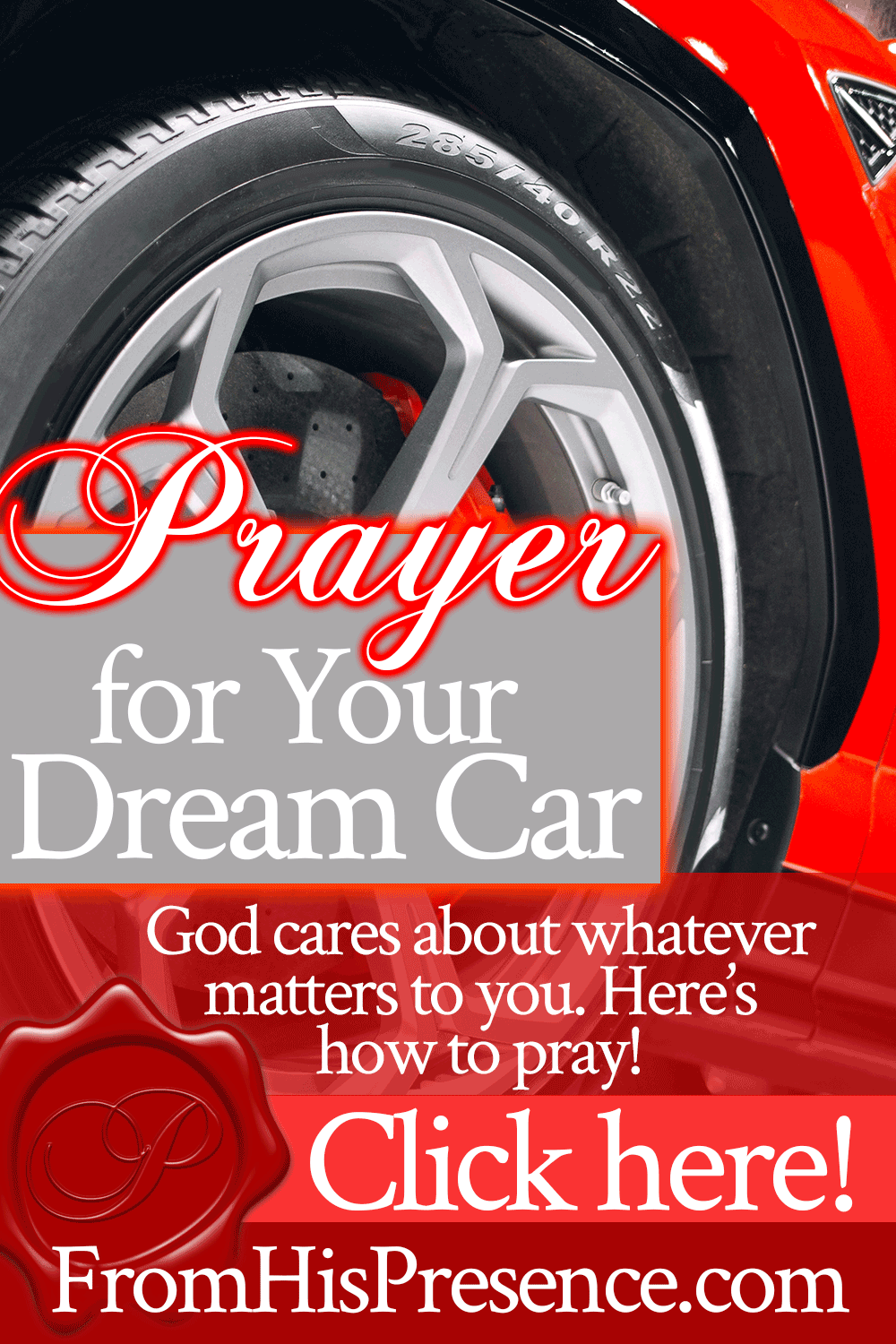 Friend, are you longing for the car of your dreams? If so, you need to know that God cares about your desire for your dream car. Even if you feel silly doing so, you can and should pray and ask the Lord to give it to you! And to help you pray, I've written you a sample prayer for your dream car today!
Friend, God cares about what matters to you. And Jesus gave us so many promises in His Word–promises that say He will do anything you ask Him to do!
For example, let's look at John 14:14:
"If you ask anything in My name, I will do it."
And Matthew 6:33:
"But seek first the kingdom of God and His righteousness, and all these things shall be added to you."
And Psalm 37:4:
"Delight yourself also in the Lord, and He shall give you the desires of your heart."
And 1 John 5:14-15:
"Now this is the confidence that we have in Him, that if we ask anything according to His will, He hears us. And if we know that He hears us, whatever we ask, we know that we have the petitions that we have asked of Him."
And Mark 11:22-24:
"So Jesus answered and said to them, "Have faith in God. For assuredly, I say to you, whoever says to this mountain, 'Be removed and be cast into the sea,' and does not doubt in his heart, but believes that those things he says will be done, he will have whatever he says. Therefore I say to you, whatever things you ask when you pray, believe that you receive them, and you will have them."
And then there's Proverbs 10:24:
"The fear of the wicked will come upon him, and the desire of the righteous will be granted."
And John 16:23-24:
"And in that day you will ask Me nothing. Most assuredly, I say to you, whatever you ask the Father in My name He will give you. Until now you have asked nothing in My name. Ask, and you will receive, that your joy may be full."

(Note: The "in that day you will ask Me nothing" refers to the Second Coming of Jesus. Until then, we ARE to ask God for what we need, want, and desire.)
Friend, I could go on and on literally for pages quoting Scriptures that say God will give you your heart's desire.
How can He do that? Because when you know Him, His desires become your desires. Your desires conform to His will. And if you care about something, it's only because He put it in your spirit to care about it.
Remember that Jesus Christ is the only Person alive in you:
"I have been crucified with Christ; it is no longer I who live, but Christ lives in me; and the life which I now live in the flesh I live by faith in the Son of God, who loved me and gave Himself for me" (Galatians 2:20).
So beloved, God gave you your dream. He cares about your dream car.
And He can give you your dream car, even if you cannot afford that car by yourself. He can give you your dream even if you don't know how to drive a car yet. He can do anything, and He will in response to your faith and diligent obedience!
Friend, can I be transparent here?
The day I began writing this article, I did so to remind myself of this truth, as well as to encourage you! Honestly, I test-drove a version of my dream car on that day–the day I began writing this article. I don't know that this specific car that I drove was for me; it was 24 years old and was definitely a project car. It may need more work than I am able to put into it. But, I drove it to find out.
And then, beloved, after the JOY that came with driving it (8 cylinders, baby! That thing can get on down the road!!!!), can I be honest?
… (insert very small voice) … I got a little discouraged.
Why'd I get discouraged? Because I took my eyes off Jesus. I listened to the devil telling me it will never happen, and I took my eyes off Jesus and off His Word.
But friend, no matter what we're praying for, we have to keep our eyes on Jesus. We have to stand on His Word.
You may not be able to afford your dream car, but God can. He said so in His Word, and all of His Word is true. (Read just a few of the reasons why God's Word is ALWAYS true here.) Regarding cars, I even have a life-changing testimony in this area! And what God has done before, He can and will do again! He can do anything!
In my case, my testimony is that God actually saved me by giving me my dream car when I was 20 years old.
I was a miserable, hateful human being at the time. I was living enthusiastically for the devil and not submitting to God in any way. I was lost as I could be.
However, one day, I rebelliously challenged God to prove His goodness to me by giving me a specific car–a Chevrolet Corvette. (I've always been a Corvette freak!)
The funny thing was that He answered. He said YES, and 3 days later I drove that Corvette home. Shortly thereafter, as a result of His kindness to me–and the fact that receiving that car was the first time I actually understood that God loved me–I gave my life to Jesus and I've been living for Him ever since.
(Remember that it's the GOODNESS of God that brings men to repentance! Romans 2:4.)
The rest is history!
Well, beloved, if God will give a dream car to a rebellious, hateful sinner like I was, you better believe that He will give YOU–His darling and the apple of His eye–YOUR dream car!
You have only to ask and obey.
Pray about it; get a Scripture that says He will give you your desire; stand on that Scripture in faith, and go after that car! God will do it!
It may take time to get your car, or it may happen quickly; there's no perfect way to predict timing on things like this. But God cares about what matters to you, and He will give you your dream car if you will ask Him for it!
(Remember that ALL the vehicles on the whole planet belong to Him anyway! It's an easy thing for Him to give you one!)
So are you ready to pray?
Pray this prayer for your dream car with me today:
"Dear Heavenly Father, I come before You in Jesus' name.
Father God, Your Word says that I don't know what to pray for as I ought, or how to offer it worthily as I ought. But, Your Holy Spirit will intercede for me with moanings and groanings which cannot be uttered. And You who search the hearts will know what the mind of the Spirit is, for He makes intercession for me according to Your will (Romans 8:26-27). I pray that Holy Spirit would intercede for me right now, Father, for I need Your help to pray.
Lord God, thank You for hearing and answering my prayer.
Thank You for caring about even my smallest needs. Thank You for filling me with joy and peace and comfort by Your Spirit. I have no life in and of myself, Father; Your life flows through me by Christ Jesus, and so I thank You for sustaining me and causing me to live. I praise You for being my Giver and Sustainer of life!
Father, when Your Son Jesus was here on earth revealing You to us, He told us that we should ask You for things; and that whatever we ask You in His name, You would give us. He even told us that we should ask, so that we can receive, so that our JOY may be full (John 16:23-24).
Well, Abba Father, I come before You today to ask You to give me my dream car.
Father, I'm asking You for what I want because I know You care about everything that matters to me. And Father, having this car matters to me–A LOT. I love ________ (name the specific kind of car you desire).
Lord God my Father, I know I could ask You for some other kind of little, piddly car. I could ask You for something that's only practical, or something that merely runs. And I truly am grateful for what I have now, and I would be grateful for anything You give me! You are good to me!
But Father, I'm praying for my dream car today because this car gives me JOY.
You said to ask, and we shall receive, that our JOY may be full. And Abba, the car I am asking You for simply brings me joy.
This dream car will meet my needs, yes; but Father, my heart desires it because You made me to yearn for this specific kind of car! You created me to love ______ (insert the aspects of your dream car that you love).
And because You made me like this, Father, and You created me to enjoy these specific things …
And because all joy comes from You, since joy is a fruit of the Spirit …
And since You give me such joy in every aspect of this car …
Then I know that this dream to own this specific car comes from You!
O Abba Father, I ask in Jesus' name that You would deliver my dream car into my hands:
Show me where to go to get it.
Show me which car to get.
Send the money to pay for it, free and clear!
Alternatively, Father, I pray that You would simply GIVE me one of these cars even without my having to pay for it! Whatever is Your best, highest, and most perfect will!
Send me the right car and deliver me from all the wrong cars!
Let it run perfectly, Lord, with no mechanical or electrical problems whatsoever.
Give me wisdom and help me get the car checked out by the right mechanics, if needed, before I take ownership of it.
I pray that this car would have a perfect history and records.
Let it never have been wrecked!
I pray that the paint would be in great shape and the car would look beautiful!
I ask even for low mileage for this car, Lord. Let the car be new or almost new!
Let me register the car with the local government with no problem. Send the money I need for taxes, registration, and any other fees that go with owning this car.
Help me to get the required and adequate insurance on the car quickly, with no hindrances, problems, or delays.
I pray that You would provide the money for me to maintain the car every month with no problems.
Show me where and how to keep the car, so that it is parked in a safe space while I'm not driving it.
No matter what, Lord, keep me out of debt; don't let me disobey Your command in Romans 13:8 to keep out of debt and owe no man anything, except to love another.
Abba Father, I delight myself in You. I love You so much.
And Your Word says that, if I delight myself in You, You will give me the desires of my heart. So thank You, Father, for giving me my dream car.
Father, please help me to keep my eyes on Jesus and stay encouraged, standing strong in faith, even if this process takes time.
Your timing is Your own, Father. And while I do ask that You would deliver my dream car into my hands as quickly as possible, Lord, I know that sometimes things take a little longer than I would like. There is a process, and You teach me during the process.
But Father, I ask today in Jesus' name that You would help me to keep my eyes on Jesus, the Author and Finisher of my faith, throughout the entire process.
Please don't let me get into doubt and unbelief. Help me to stand on Your Word; for You are not a man, that You should lie. Whatever You have spoken, You will make good–and Your Word promises me that You will give me my dream car since I asked for it in Jesus' name!
Thank You, Abba Father.
And Father, one more thing:
Your Word says that the Kingdom of Heaven suffers violence, and the violent take it by force (Matthew 11:12).
I know this doesn't refer to physical violence, Lord, but You are saying that sometimes I have to go after things. When You place a dream in me and compel me to desire it, You also call me to chase it.
Therefore, Father, I ask today in Jesus' name that You would fill me with the proper amount of Kingdom aggression that You desire me to have in order to receive my dream car:
Help me to test drive every car You need me to test drive.
Help me to make all the phone calls I need to make to do my due diligence on these cars.
Help me to earn and save money aggressively toward paying for this car.
Help me to go after it in every way You desire me to chase my dream car, Lord. Please don't let me sit on my "blessed assurance" and do nothing when You are trying to get me something, if only I will cooperate!
Father, Your Word says to write the vision and make it plain on tablets.
I have written down my dream and desire for this car, and I am praying this prayer for my dream car today in Jesus' name. Thank You for hearing my prayer, Abba. Thank You in advance for sending me this beauty of a car that is my heart's desire. I love You, and I give You all the praise.
Thank You for caring about what matters to me. You are truly a good, good Father, and I know You are going to blow me away with Your outrageous blessing in this area.
Thank You, Heavenly Father. In Jesus' name I pray, amen and amen."
Friend, did you pray this prayer for your dream car today? If so, leave a comment below about what kind of car you are praying for, so we can agree with you in prayer over your dream!