Day 16: Prayer to Take Your Territory
Are you desperate for the Lord to advance you into the fullness of the territory He has for you? If so, pray this prayer to take your territory today!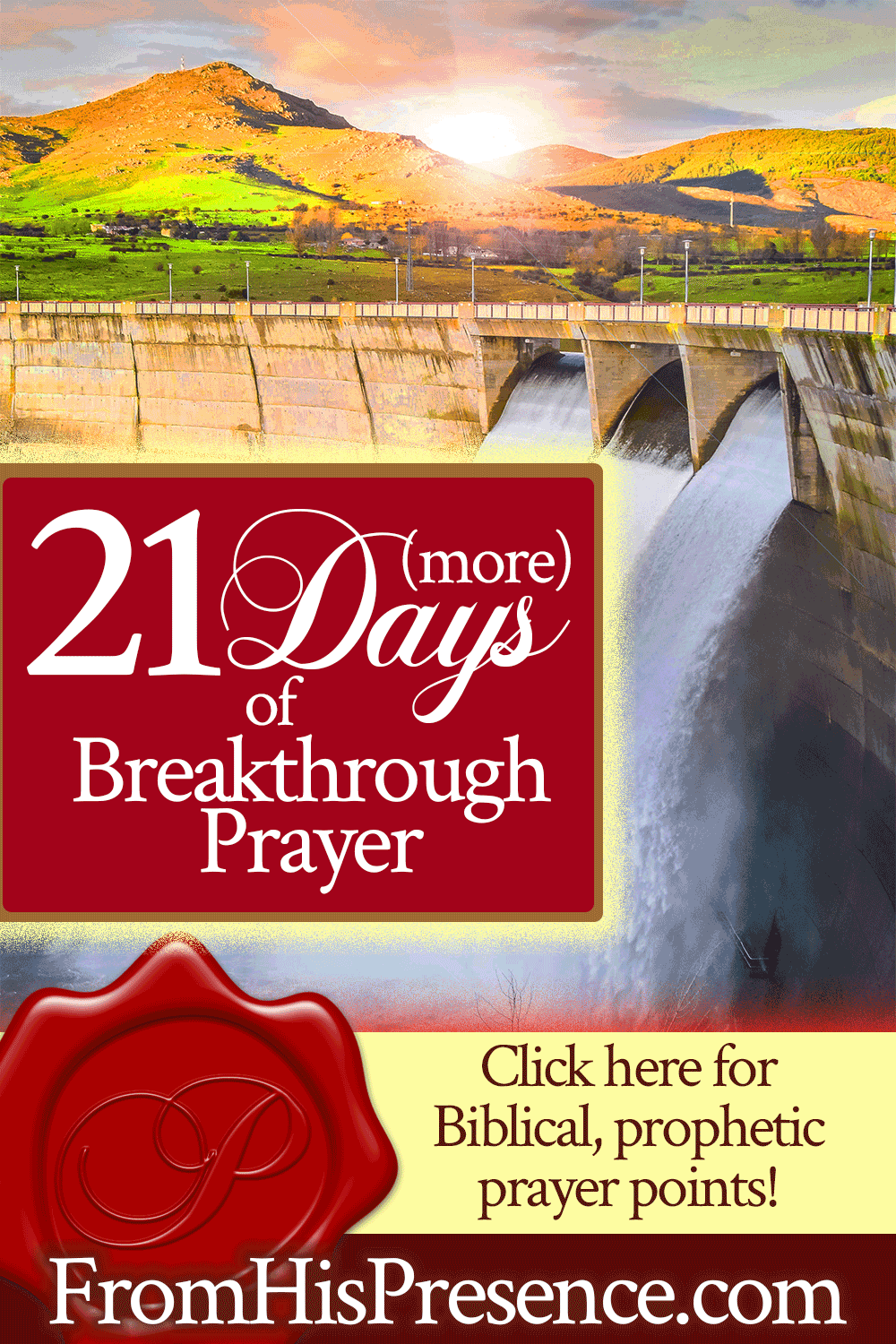 Beloved, if you need breakthrough in any area right now, then this whole series, 21 More Days of Breakthrough Prayer, and the original related series, 21 Days of Breakthrough Prayer, are for you. I encourage you to pray through both series and believe God to move in a major way in your life.
The Lord has led me to write 21 More Days of Breakthrough Prayer because the first 21 days were so powerful, but the Lord told me He isn't done working miracles!
So, we are continuing to pray through various breakthrough Scriptures for 21 more days!
Related: Click here for the Table of Contents for the entire 21 More Days of Breakthrough Prayer series.
In this simple prayer series, I am sharing one Scripture verse or passage each day. I will also add bullet-point prayer directives you can use to pray through that Scripture. I won't be writing out actual prayers, though; I feel the Lord wants you to exercise your prayer muscles by talking to Him right out of your heart!
Today, Day 16, we are asking the Lord to move you into the new land and territory He has for you.
Joshua 1:3 says:
"Every place that the sole of your foot will tread upon I have given you, as I said to Moses" (Joshua 1:3).
Beloved, you might be able to take your territory in lots of ways.
But today, I want to encourage you to fellowship with your dream and actually walk the land–even if it's figurative land, not literal land–because the Lord said He will give you the places where you walk.
How would you apply this Scripture?
Well, it all depends on the kind of territory you desire to take. Here are a few examples:
If you desire to own physical land, go start walking on various tracts you would like to own. (Obviously, only do this with permission and without trespassing or committing any crimes.) While you walk, pray. Ask the Lord for the land He desires to give you.
If you desire to work for a specific company, go for a walk and walk around the block where their corporate headquarters is located. Or, walk through their retail store!
If you desire to take the territory of a new home, go to furniture stores and start picking out furniture to furnish your home. You don't have to buy it yet–especially if you can't afford it!–but start "inhabiting the land" and placing the soles of your feet on the territory you want.
If you desire to preach to stadiums filled with people someday, begin putting the soles of your feet on the land by visualizing yourself waking up on "stadium day," getting your sermon notes and Bible ready, walking to your car, driving to the stadium and being escorted inside through the staff entrance, participating in a worship service, and then preaching the Word. Invoke your holy imagination to imagine yourself doing all these things! (Going for a walk and literally walking around the perimeter of a few stadiums while praying won't hurt you either!)
Beloved, you have to fellowship with your dream.
The Lord will give you your desires, but you have to inhabit the dream. You have to make it yours by taking it. Not illegally, of course. Don't steal anything or break the law or hurt anybody. But in a holy way–in ways prescribed in the Bible–you have to be aggressive and take your territory!
As Jesus said in Matthew 11:12:
"And from the days of John the Baptist until now the kingdom of heaven suffers violence, and the violent take it by force" (Matthew 11:12).
Long story short: God has territory for you to take, but He usually doesn't dump that territory in your lap. You have to go out and get it. You have to take it, and the Lord will help you as you go.
I have an entire podcast about how the Lord will give you the desires of your heart. You can listen to that very encouraging word here:

Pray through the prayer points below to start taking your territory today:
Tell the Father that you come before Him in Jesus' name.
Thank Him for having GOOD plans for you: plans to prosper you and not to harm you; plans to give you hope and a future!
Thank Him that He does have territory for you to take and inhabit.
Thank Him that His Word says He'll give you cities you did not build, wells which you did not dig, vineyards you did not plant, and houses full of good things that you did not fill (Deuteronomy 6:10-15).
Praise Him for His generosity, grace, and goodness toward you!
Ask Him to personally show you how to set the soles of your feet on all the land He has for you–both literally and figuratively.
Ask Him to help you fellowship with your dream and inhabit your dream.
Pray for wisdom!
Ask Him to give you ALL the land upon which the soles of your feet have walked, both literally and figuratively.
Acknowledge to Him that sometimes He brings His people little by little into their Promised Land. However, even if He has to do it little by little, ask Him to take you to the next level now.
Pray with the biggest faith you can imagine, and ask Him to make that next level look like EVERYTHING you've ever imagined.
Then, remind God that His Word says He will do exceedingly abundantly ABOVE all you can ask or think. Ask Him to do all THOSE things for you too, and for future "higher levels" to be so high that they surpass everything you can imagine now.
Ask Him to help you notice all of His answers to your prayers.
Give Him all the praise for hearing and answering your prayers, and for being a good, good Father whose mercy and goodness chase you down in the street!
Beloved, the Lord promised He would give you every place upon which the soles of your feet shall tread.
But, whether literally or figuratively, are your feet treading on any new territory? Are you chasing after anything, dreaming of anything, fellowshipping with any dreams at all?
If not, take time right now and make a plan to go tread on some land! Then, carry it out with holy Kingdom aggression beginning today!
Does this Scripture encourage you today? If so, leave a comment below!