"In April, Put Your Head Between Your Knees and Birth It," Says the Lord
As we enter the new month of April 2022, I have been feeling a keening in my spirit and gut over the things the Lord desires to birth in this month. I heard the Lord say, "In April, put your head between your knees and birth it!" As I asked Him for more about this instructive prophetic word for April 2022, He continued to elaborate.
I heard the Lord Jesus say: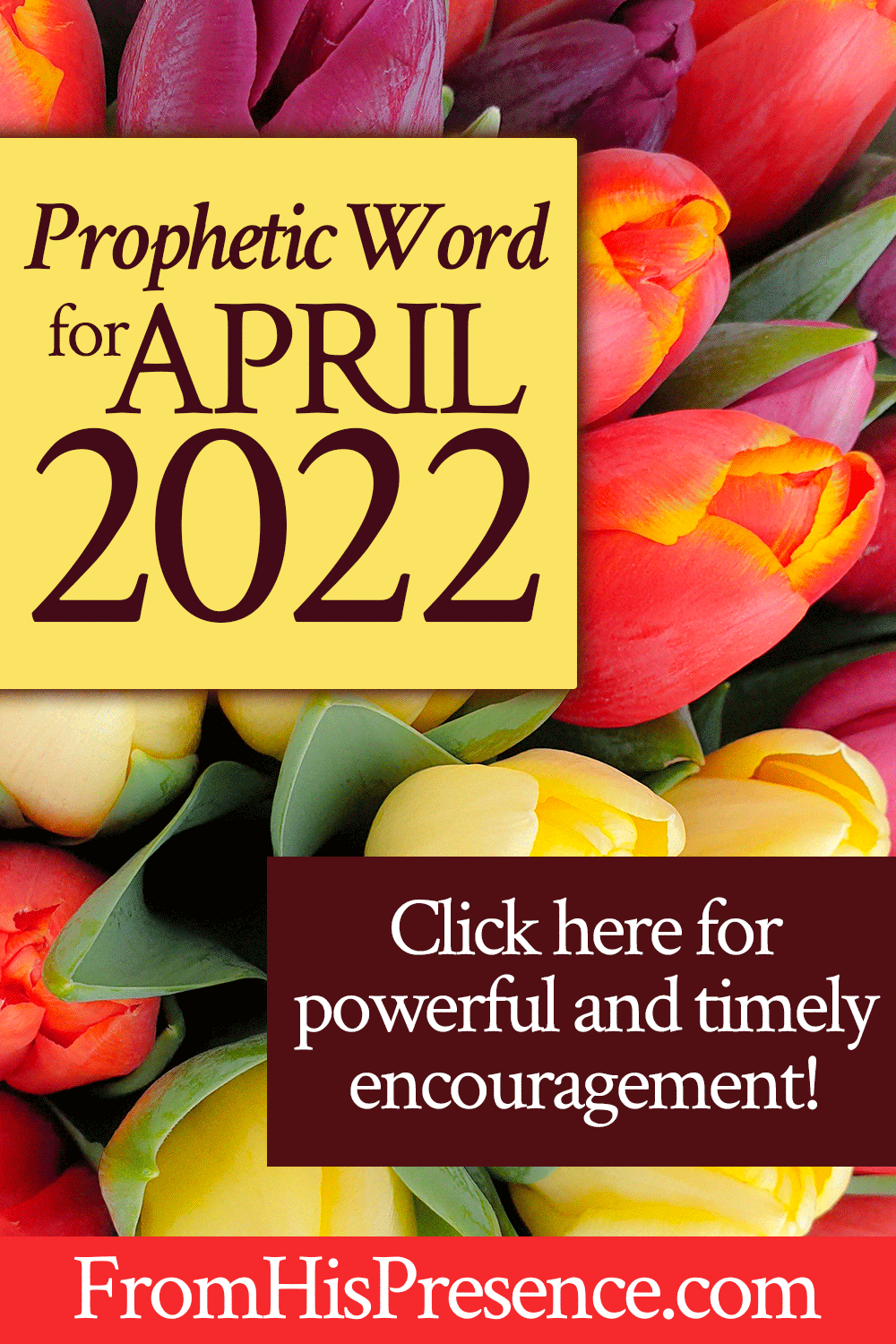 "During the month of April 2022, it is time to place your head between your knees in the birthing position and EXPECT ME to do what only I can do to birth your dream.
I need you to co-labor with Me, however, in prayer; prayer is the place in which we work together. Nevertheless, expect ME to do the great and mighty in the month of April.
It's time to put your head between your knees and birth the big things I have planted in your heart.
Go to fasting as I lead you," says the Lord. "Go to praying more than you have ever prayed before. Come up higher into a new season of prayer; make PRAYER your primary business during this season of April through June! Retreat with Me; come away with Me; let's pray together, for I am in you praying through you by My Spirit!
I see the agony of your heart, My child.
I see the things that only you know and I know; the things you have never mentioned to anyone else. These things are too precious to talk about, I know; but My Father and I and My Spirit are talking about them in Heaven right now! Our breath has caught; we are intrigued and waiting to see what you will do with the dreams We have placed into your heart!
I know the dreams you have that We have given you are too big for you to carry out. They are even too big for other people to believe in; you are only able to believe them because I gave you the courage to believe at the moment I placed the dream in you before the foundation of the world.
Nevertheless, I am with you to keep your dreams, as well as to keep Y-O-U," says the Lord.
The Lord continued:
"You think I do not see you.
You believe inwardly, even without meaning to, that I have placed these dreams within you to bring agony to your heart. How cruel would I be to do such a thing!" says the Lord. "I would never do that to you; but I place My burden upon you to share it with you so that we may commune in My fellowship and you can share My dreams.
Will you change the way you look at dreams, please?" says the Lord.
"I need you to think of dreams as belonging to Me, for every dream was Mine before it was ever yours. Every dream belongs to Me. And when you think of your dream, would you please say, "Lord Jesus, that is an awesome dream. How are You going to use Me to accomplish it? Thank You so much for sharing Your dream with me! I can't wait to see You do this thing which You have shown me!"
If you will think like that, you will no longer walk in the mindset that I have forsaken you or abandoned you. Instead, you will see My closeness," says the Lord. "And as we dwell together, you will discover that I am the Dreamer of Dreamers. I dreamed you up and made you to dream with; I created you for Myself. My dreams are My own, but I have chosen to share My wonderful secrets with you.
In April, if you will go to fasting and birthing prayer, you will see greater miracles than you have ever seen before. Let's birth it together," says the Lord!
He concluded by saying:
"I am the Great Dreamer of the ages. I am the One–the only One–who can give you what you seek, because I seek it first and I have sought to arrange it since the foundation of the earth.
Think of yourself as My partner in manifestation, rather than as My distant supplicant. We are one; you are in Me and I am in you, and I am in My Father. If We let you that close, did you really think We would forsake you when fires burn the hottest?
I tell you that We will never leave you nor forsake you. Do not give up on your dreams, for every Biblical dream is from Me. I am your Source, your Light, and the Giver of dreams.
I love you, My child. Let's do things together in the month of April: You in prayer and I in work. Travail with Me, and let us see what happens!
With love from your Brother the Firstborn,
Jesus Christ."
Respond with me in prayer over this prophetic word for April 2022:
"Dear Lord Jesus and Heavenly Father, I receive this word from my Brother Jesus. Thank You, Lord Jesus, for speaking to me. Please help me birth the things in prayer that You desire to work on the earth in the month of April. I give You all the praise. In Your heavenly name of Jesus I pray, amen and amen!"
Beloved, did the Lord use this prophetic word for April 2022 to speak to your heart mightily today? If so, leave a comment below and share what Jesus is saying to you by His Spirit!