How to Pray with Importunity
Importunity. It sounds like "important opportunity," but it's far more than that–and importunity, well-defined, should be one of the dominant characteristics of your prayer life. If you want to pray with power, you need to learn to pray with importunity. Read on to learn how!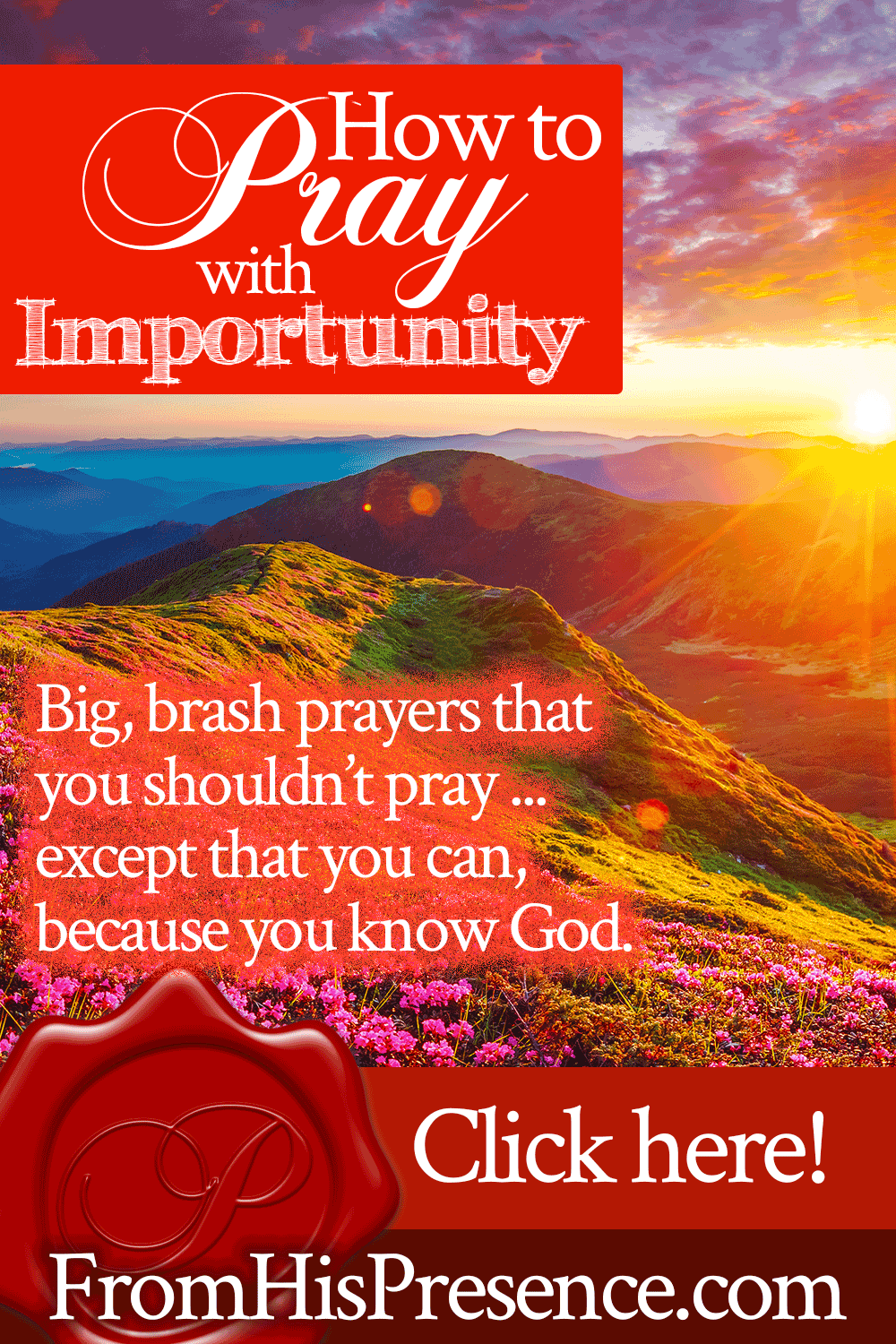 If you want to dig deeper into this subject, check out these additional free resources:
My podcast entitled "How to Get Your Prayers Answered 100% of the Time" (listen using the player below):

Or my podcast "Pray Without Ceasing" here:

As well as my articles on prayer here:
As well as my books on prayer:
You can also find my video class, How to Pray with Power, here.
Importunity doesn't actually mean "important opportunity" at all.
Instead, "importunity" means "insistent solicitation and entreaty" to the point that it becomes annoying. (1) And when it comes to prayer, praying with importunity should be our daily habit. Importunity should be the hallmark of our prayer life, because praying with importunity is what Jesus calls "faith"–and without faith it is impossible to please God.
Let's check out this concept in the Scriptures. In Luke 18:1-8, Jesus taught us this:
"Then He spoke a parable to them, that men always ought to pray and not lose heart, saying:

"There was in a certain city a judge who did not fear God nor regard man. Now there was a widow in that city; and she came to him, saying, 'Get justice for me from my adversary.' And he would not for a while; but afterward he said within himself, 'Though I do not fear God nor regard man, yet because this widow troubles me I will avenge her, lest by her continual coming she weary me.' "

Then the Lord said, "Hear what the unjust judge said. And shall God not avenge His own elect who cry out day and night to Him, though He bears long with them? I tell you that He will avenge them speedily. Nevertheless, when the Son of Man comes, will He really find faith on the earth?" (Luke 18:1-8 NKJV).
In this passage, the widow wore that unjust judge out.
She wore him out with her continual coming. She harassed him to do the right thing. She pled with him over and over until he finally relented.
The unjust judge didn't want to relent; he wanted to continue his selfish life and not bother helping the widow in need. However, because the widow harassed him with her request so much, he eventually was forced to step up and execute justice.
At the end of the parable, Jesus compares the unjust judge to Father God.
However, it's not an apples-to-apples comparison–and Jesus doesn't even try to make it so. Instead, Jesus showed us an example we can all understand–that of harassing someone to do the right thing until they finally do it. And He pointed out that if even a wicked person will eventually relent, how much MORE will our perfect, righteous, holy Father God answer our prayers when we cry out day and night to Him?
Jesus even pointed out that sometimes it takes God awhile to manifest the answers to our prayers ("though He bears long with them"). Nevertheless, He DOES hear and He does answer–and when it is His time to manifest your answer, He will do it speedily.
But that's only if we keep on praying and crying out to God day and night.
Jesus placed a humdinger of a revelation right at the end of this parable. He said, "Nevertheless, when the Son of Man comes, will He really find faith on the earth?" In other words, Jesus is telling us that this picture of us crying out to God day and night for what we want is what HE considers FAITH to look like.
And He asks His disciples–and also asks you and me–if He will even find that kind of praying on the earth (which is what faith looks like) when He comes.
Beloved, praying insistently and aggressively is called praying with importunity.
Praying with importunity means that you pray big, bold, brash prayers–prayers that someone who doesn't know God might not have the guts to pray. But you know what? YOU pray those prayers because you know Him. You pray big prayers because you are intimately acquainted with our Heavenly Father.
And YOU pray big, insistent prayers because you know that you know that you know that He will never say no to you.
This is how to pray with importunity:
Pray big prayers that never let up.
Pray brash prayers that you know you can only get answered by virtue of your relationship with God in Christ Jesus–prayers that could never be earned by your own virtue.
And pray bold prayers that are so insistent and continuous that they might be annoying to others …
… but they'll never be annoying to God.
Jesus taught us again to pray with importunity in the parable of the friend at midnight.
Luke 11:5-13 says:
"And He said to them, "Which of you shall have a friend, and go to him at midnight and say to him, 'Friend, lend me three loaves; for a friend of mine has come to me on his journey, and I have nothing to set before him'; and he will answer from within and say, 'Do not trouble me; the door is now shut, and my children are with me in bed; I cannot rise and give to you'?

I say to you, though he will not rise and give to him because he is his friend, yet because of his persistence he will rise and give him as many as he needs.

So I say to you, ask, and it will be given to you; seek, and you will find; knock, and it will be opened to you. For everyone who asks receives, and he who seeks finds, and to him who knocks it will be opened.

If a son asks for bread from any father among you, will he give him a stone? Or if he asks for a fish, will he give him a serpent instead of a fish? Or if he asks for an egg, will he offer him a scorpion? If you then, being evil, know how to give good gifts to your children, how much more will your heavenly Father give the Holy Spirit to those who ask Him!" (Luke 11:5-13 NKJV).
O my friend, do you pray with importunity?
Do you come to God at the midnight hour, demanding that He give you bread? Do you knock on His heart daily, hourly, moment by moment with your big, bold, brash prayers?
Friend, God wants you to know His heart so well that you KNOW He wants to be extravagant with you.
Wouldn't it hurt your feelings if your best friend told you they had a major need yesterday–but they didn't bother to tell you? Wouldn't it make you sad if you found out they had needed help in a big-time way, but they never asked?
And worse yet, wouldn't it hurt your heart even more if they then told you that the reason they didn't ask you for help was because they didn't think you would care or help them?
Of course it would. Any normal person would be devastated to find out that a friend they thought they were so close to held such a low view of their willingness and ability to help in time of need.
But we do that to God all the time.
In our human failings, we neglect to believe the exceeding great and precious promises of God. We fail to claim those promises in prayer, lifting up His Word to Him and insisting that He perform it. And so we skip out on the table that our Father has prepared before us, instead choosing to dine in the soup kitchen instead of at the wedding table of the Lamb.
O Father God, forgive us.
Beloved friend, it is time to pray with importunity again.
Praying with importunity means praying big, bold prayers that are so brash that you would normally have no right to pray them–except that you CAN pray them, by virtue of your relationship with God.
And when you pray with importunity, your prayers get answered. And when you pray with importunity, you know that–because of your relationship with God–not only CAN you pray big, brash prayers, but that you should …
… And that Father will give you that for which you ask.
Importunity.
E.M. Bounds (1835-1913), a great general of prayer, wrote this:
"Importunity is a condition of prayer. We are to press the matter, not with vain repetitions, but with urgent repetitions. We repeat, not to count the times, but to gain the prayer.

We cannot quit praying because heart and soul are in it. We pray 'with all perseverance.' We hang to our prayers because by them we live. We press our pleas because we must have them, or die."

He also wrote this:
"What a study in importunity, in earnestness, in persistence, promoted and propelled under conditions which would have disheartened any but a heroic, constant soul. [Jesus] teaches that an answer to prayer is conditional upon the amount of faith that goes to the petition.

To test this, He delays the answer. The superficial pray-er subsides into silence, when the answer is delayed. But the man of prayer hangs on, and on. The Lord recognizes and honors his faith, and gives him a rich and abundant answer to His faith evidencing, importunate prayer."
O beloved. Will you pray with importunity today?
Will you truly believe that our God is a good, good Father–and that He wants to reward you? Will you press into Him every day, and especially during these 40 days of reward, asking Him to bless you INDEED? Will you ask Him for all the rewards you desire AND all the rewards He desires?
And will you keep on doing that, day in and day out … week in and week out … year in and year out?
Will you do it until the Son of Man, Jesus, returns?
Will He really find faith on the earth when He comes?
And will He find it in you?
I pray that He will. Pray with importunity today. As it says in Hebrews 4:16:
"Let us therefore come boldly to the throne of grace, that we may obtain mercy and find grace to help in time of need" (Hebrews 4:16 NKJV).
Leave a comment below and verbalize your commitment if you will pray with importunity, by the grace of God, starting today!
(1) According to Vocabulary.com: https://www.vocabulary.com/dictionary/importunity, accessed on March 22, 2022.