Prophetic Word: 40 Days of Reward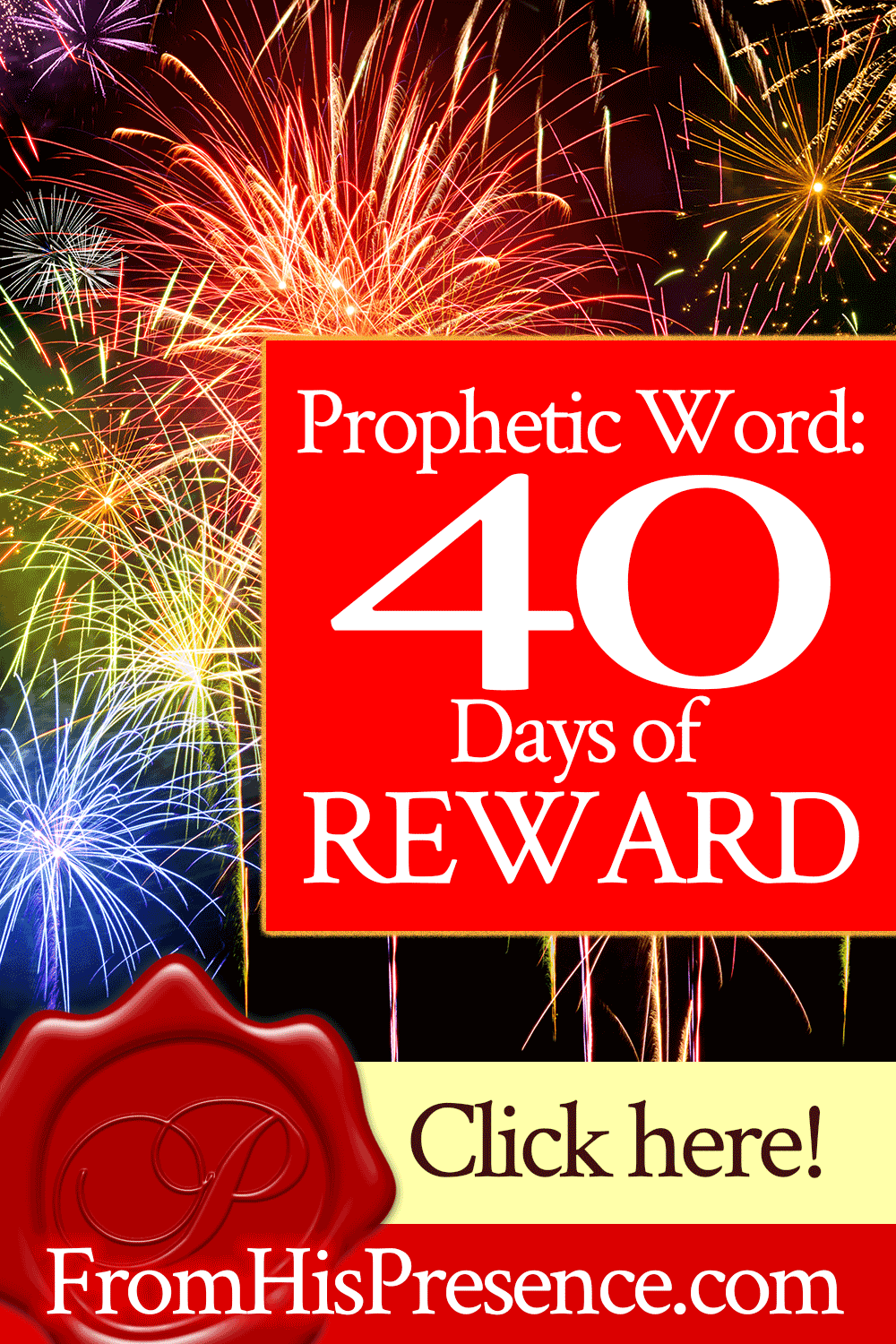 Beloved, have you sown blood, sweat, and tears in prayer and labor over the last few years–with little reward or even disproportionately-small reward? If so, the time of your reward is NOW.
I woke up this morning hearing Holy Spirit singing about the reward of your labor. This is what He showed me:
Starting today, we (all of God's people) are in a period of 40 days of reward.
God is always our Rewarder, but I heard Holy Spirit say that this is a period of 40 days of exceptional reward. During this time, the blood, sweat, and tears that you have sown will come back to you in the forms of FRUIT and REWARD.
Specifically, the Lord wants you to know:
The prayers you have sent up from Heaven are now returning to you in the form of answers and reward, for I am not an unjust God who fails to reward your faithfulness to Me.
You need to know today that I delight in reward. I do not begrudge you your reward; I delight to give you rewards. Anything I can do for you, I want to. There is no limit to My generosity, and you have prepared yourself well to receive everything I have for you.
Expect Me to move rapidly in the next 40 days, starting today."
The keys to keeping your spiritual doors open to receive during these next 40 days are gratitude and thanksgiving.
The Lord says: "Stop talking about your troubles all the time. Instead, talk about Me and how I am faithful. Talk about how I am fixing all of your troubles and working them out for your good. Use the phrase "BUT GOD" whenever the enemy tempts you to feel sorry for yourself.
Thank Me and bless Me so that I can roll the snowball of rewards into your life that I have for you."
The Lord also says to you today:
"Come to Me in childlike faith.
You don't have to be all mature and adult-like when you are just sitting with Me. Of course I don't want you to leave your spiritual maturity behind, but the world requires you to put on a certain mask and act a certain way when all I want is for you to be honest and raw with Me.
Show Me your deepest heart and let Me heal it. You are My baby now and forevermore, for I am the Ancient of Days! You could never compare to My age, so it's okay to be the baby you are in certain senses when you are just sitting on My lap.
Come and talk to Me as a child, My baby, and let your Daddy love you."
Expect the Lord to move specifically in the areas of finances and housing during the next 40 days.
The Lord showed me that these two areas of life are deeply on His heart right now. Now is the time for rewards in these two areas. Expect Him to move on your behalf.
Father says:
"You have been all alone before Me, and that time you have spent alone with Me in prayer is going to pay off for you now–literally. Expect financial miracles during the next 40 days. Expect housing miracles and go after them. Expect Me to turn the tables around for you.
You have been cheated, but you have endured patiently. You have been robbed, but I am with you to restore the years the locusts have eaten.
During the next 40 days, seek Me and ask Me what to do in order to receive the specific rewards I have for you–and I will reveal My strategies that you will need to carry out to reap the fullness of your harvest."
Father continued:
"Now is the time to double down on prayer, for the prayers you pray now are still eligible for My rewards in this season.
It is not only the prayers you prayed in the past that will bring you reward, but also the prayers you pray now. You are in My 'receiving line,' and all the requests you can get in to Me will be honored!
The blood, sweat, and tears you have sown are coming back to you as harvest in this time.
Therefore, spend massive time in prayer. Carve time out of your schedule to pray, and keep your prayer appointments with Me. You will be glad you did!
I am your River of life. Come to Me and allow Me to help you with all you need. Leave your troubles at My feet, and do not pick them up again. Pray and fast and seek Me as you believe Me for My rewards, and you SHALL receive!"
Thank You, Abba Father!
Respond in prayer right now:
"Abba Father, thank You for this amazing season of reward. Please help me to receive everything You have for me in this season. Thank You for hearing and answering all of my prayers, even the prayers I'm praying right now.
Lord, please give me a grateful and thankful heart, and help me to press into You as I always should. And Father, I receive Your Word and Your promise that the person who comes to You must believe that You exist, and that You are the REWARDER of those who diligently seek You.
Thank You for allowing me to come to You, Father. Thank You also for Your rewards–for ALL the rewards You are giving me right now.
In Jesus' holy and precious name I pray, amen."
Beloved, if you take this word from the Father for yourself today, print it off and keep it with you. Pray into it often over the next 40 days, and be SURE you have seed in the ground of this word.