Writing the Vision and Making It Plain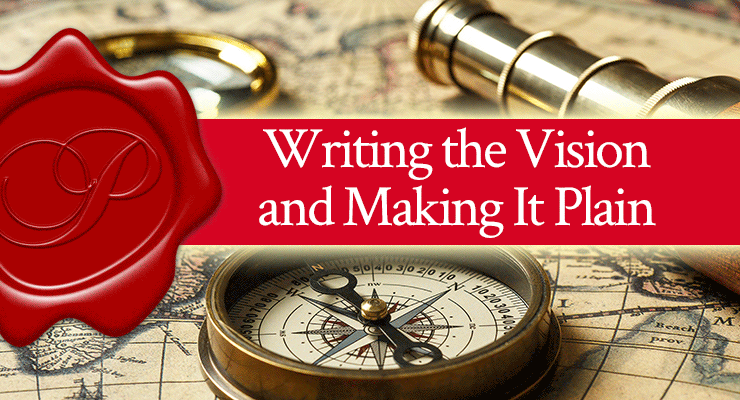 Hey, beloveds,
The Bible says to write the vision and make it plain. Over the last several days, I have gotten alone with the Lord for some serious renewal time, and–as He healed my heart–He gave me an amazing vision that He told me to share with you today.
Here's the vision:
The mandate on my life is Isaiah 61:1-3, which says:
"The Spirit of the Lord God is upon Me, because the Lord has anointed Me to preach good tidings to the poor; He has sent Me to heal the brokenhearted, to proclaim liberty to the captives, and the opening of the prison to those who are bound;

to proclaim the acceptable year of the Lord, and the day of vengeance of our God; to comfort all who mourn, to console those who mourn in Zion, to give them beauty for ashes, the oil of joy for mourning, the garment of praise for the spirit of heaviness;

that they may be called trees of righteousness, the planting of the Lord, that He may be glorified."
This is an extremely weighty calling and the Lord has challenged me to stand up to it in a greater way.
Honestly, I have been struggling lately with some of the hard parts of ministry. Those of you who listened to our free 12 Keys to Kingdom Wealth webinar last week heard me talk about some of those things.
However, the Lord has healed me from the struggle. I have set my face like flint, thanks to the renewal and healing touch of the Lord, and I am ready to take this ministry to the next level of service to God's people.
Let me say this before I tell you what the ongoing vision is:
I want to disciple, mentor, equip, and pour into the people GOD connects to me. Not every person is supposed to be connected to me, and that's okay. Not everybody likes me or this ministry, and that's okay.
He pointed out that when the dry bones of Ezekiel 37 rattled and came together, not every bone could connect to the bone that was lying there next to it. Some bones had to pass up other bones in order to find the specific bone it was designed to fit with.
In other words, if a skull was lying on the ground next to a leg bone, the leg bone and the skull both had to move in order to find 1) a neck bone for the skull to join with and 2) another leg bone and a foot bone for the leg bone to join with.
While looking for the right bones to join with, both of those bones would have passed up some other bones–and that's okay. As Bishop Jakes said, it doesn't mean those bones are not part of the Body. It just means they're not your bone.
And that's fine.
In the same way:
I'm not called to be a prophet to everybody, but I am called to be a prophet to the people GOD joins me with.
If you are one of the people God has aligned with me, then hallelujah! I love you. If you're not, however, then that's fine too. I can still love you in the Lord and bless you as you go out and find your bone.
Related: Read 4 Ways to Know Who Your Prophets Are here.
So if you're one of the people God has joined me with, here's what our ministry is going to look like going forward, and what we're going to offer you as we transition into the fullness of this vision:
This ministry is, and has always been, both a place of encouragement AND equipping.
We encourage and equip you online, and I am also called to encourage and equip people in person, locally.
Lord willing, this ministry will be a place where people can come (either in person or online) and receive personal prophetic ministry from our team of intercessors and myself. This will require me to have a team of prophetic ministers here in the hub ministering to you at least once per week, if not more.
I will be hosting small group equipping studies here at the hub.
This ministry will be a place where people can come and get equipped to operate in the prophetic ministry, including getting practice here.
Lord willing, I plan to host monthly mentoring calls and webinars IN ADDITION to the webinars we already offer. Mentoring webinars would be where you ask me questions that are topmost in your heart, and I answer them as best I can according to whatever wisdom the Lord has given me from the Word for your situation. (Which is different from the kind of webinars where I have a specific message to teach.) We've already trialed this in the UK with success, so I can't wait to see what the Lord does with these calls.
I desire to write many more prayers and prophetic words and provide them to you in book form, whether ebook or printed book, some for free (and some will be paid).
We need and MUST, at this point, take every one of our 1,200+ free teaching/equipping blog posts on the blog and renovate it.

As we renovate each of these posts, we will be adding free resource downloads, audio podcasts, TRANSCRIPTS of the audio, teaching videos with transcripts, short prayer/prophecy videos, and other related resources to every single one of them.
This will help us go DEEPER with every person who reads any post.
It will also help us get even more resources into the hands of people who can't download audio or video.

I desire to reach 1,000,000 individual people per month from our main website, FromHisPresence.com, by December 31, 2021. ONE MILLION PEOPLE. Per month. (For the first 6 months of 2020, we averaged 63,190 individual people on our main website, so that means we'll be growing quite a bit.)
In order to do this, it's going to require:
Me to dedicate myself to ministering to YOU with most of my time, rather than to completing office work with most of my time.
A full-time administrative assistant/ministry coordinator to complete the majority of the office work.
A full-time webmaster and business manager to help me renovate the website while I provide the teaching/equipping, free downloads, and video resources for you.
Here's a list of the office work the admin assistant/ministry coordinator will do:
A few of these things will be new, but most of these things below are things I currently do–things which take up most of my days, leaving only a small percentage of the time for me to actually MINISTER to you:
Handling emails (sometimes we get hundreds per day) and answering as many as I can answer
Handling Facebook messages
Setting up calendar appointments
Coordinate and schedule our team of intercessors and prophetic ministers
Track hours for intercessors' honorariums
Shipping books
Maintaining inventory of books and shipping materials
Moderating comments
Setting up Zoom calls
Organize conferences
Organize small groups
Collect testimonies each week and send them to readers
Adding new blog posts to social media
Handle scheduling of other ministries who will be recording audio and video here in the hub (our first ministry is coming in this week!)
Reviewing drafts of edited audio teachings/podcasts as they come back from our full-time audio editor
Reviewing drafts of videos as they come back from our full-time video editor
Keeping track of audio/video files, including webinars and products on Gumroad store, with a spreadsheet
Managing several technical teamwork platforms that we use to communicate between our existing team of SEVEN. 🙂
(Note: Our seven staff people include:
a full-time me,
a part-time bookkeeper,
our part-time business manager (who has been a lifesaver every single day since he came on board with us in February),
a part-time Pinterest administrator as Pinterest is one of our biggest traffic drivers (she's a retired pastor's wife in her upper 70s who wanted to continue serving the Lord in ministry, so she keeps our Pinterest running seven days a week–and she does a great job!),
a part-time Spanish webmaster and translator whom I am currently onboarding,
a full-time audio editor in the Philippines; and
a full-time video editor in the Philippines.)
Releasing the office duties above to be done by an admin assistant/ministry coordinator will free ME up to actually MINISTER to you a lot more:
Writing blog posts
Teaching webinars
Recording videos and audio teachings
Participating in personal prophetic ministry appointments with you, our readers
Teaching small groups and equipping classes locally
Mentoring
And so much more.
And our full-time webmaster and business manager will:
manage our HUGE website,
renovate every single one of our blog posts, which is a huge endeavor and must be tracked in a massive database,
manage the professional-level office work that happens every week, and requires massive time–like payroll and tax forms,
oversee our full-time audio and video editors, and
pretty much anything else to help me serve you and thrive, instead of merely surviving the weight of the ministry from week to week.
Basically, I've been doing too much for years and the Lord has convicted me about it.
Like Moses, I need to anoint some leaders to help with the duties. Even the "ministering" part of this ministry is weighty, but adding ALL the office work–as described above–which I have been doing for so many years is absolutely overwhelming.
We can't minister to you like we need to be able to do without proper division of labor. So, we are dividing our labor and we'll be a lot better for it.
The Lord has already placed an administrative assistant on my heart, and we will be moving our business manager into a full-time role as he makes the necessary personal transitions–and some extreme personal sacrifices he and his family feel led to make in order to serve you full-time in this ministry.
And the Lord told me to write the vision.
When He told me that, I opened my computer to get out my spreadsheet to see where our ministry is financially toward the cost of these new efforts. But the Lord rebuked me for that immediately.
[I already know what these things will cost; I was just double-checking our current status, which I knew was inadequate for the weight of these changes.]
The Lord rebuked me, though, and reminded me that He told me to WRITE THE VISION–not try and figure out how to pay for the vision.
So this is the vision. What I wrote above is the vision.
God has both the funding for this vision and the strength to carry it out. And somewhere, somehow, He will send me the people HE has aligned with me who can stand up to the weight of the vision.
Is that you?