5 Keys to Peace In the Valley: Openness, Transparency, and Community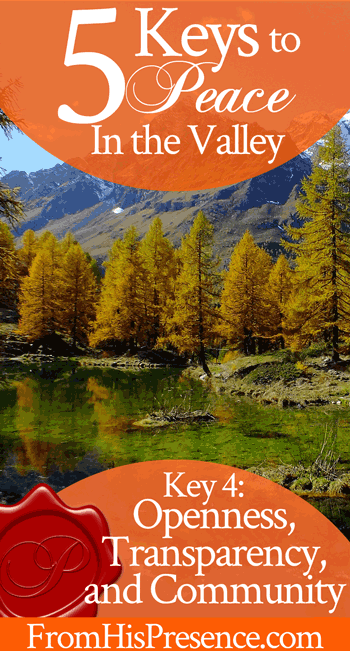 Have you ever felt like you were in one of the worst times of your life, but you couldn't talk to anyone about it? Have you ever had that problem just fester and fester, without relief from the pain–and yet you're afraid to open up and tell someone, even in a godly community?
If so, you're not alone … but I wish you were.
Too many people suffer alone in the Body of Christ.
Having people cry alone at home is a problem. It's a problem in friend groups, Sunday School groups, small groups, churches, and gatherings of Christians of every kind.
It's a problem when we're not transparent with one another.
It's a problem when we ask how people are, or when someone asks us how we are, and we say, "Fine" … even if we're dying inside.
It's a problem when your life is falling apart …
Your marriage is falling apart …
Your finances are falling apart …
And we put on our church masks, link arms, and all go hippity-hoppetying down the bunny trail together.
It's fake.
Being fake is a problem. And being fake makes people hurt and hurt, with no reprieve.
Why? Because we were never created to do life alone … and openness and transparency are a huge part of healing. Yet, the enemy has robbed us too many times of our willingness to open up with one another.
And by doing so, he robbed us of our ability to heal.
Related: It's Time to Ask the Tough Questions (my friendship manifesto)
Being open and totally transparent with one another is necessary if we really want to heal.
If you are hurting right now, you're going to have to talk to someone about it in order to heal.
Notice that I said heal.
It's not about forgiveness. You can be forgiven by God as soon as you confess your sins … but you can be forgiven and still not be healed.
It's also not about moving on. You can move on from whatever's bothering you as soon as you set your mind to.
But you still may not be healed.
James 5:16 tells us:
Confess your trespasses to one another, and pray for one another, that you may be healed. The effective, fervent prayer of a righteous man avails much."
Beloved, we need each other. We need godly community.
We were always created for community. We were made to do life together.
That's why, in Genesis 2:18, God said, "It is not good that man should be alone." Then He created Eve, Adam's companion. He didn't stop there, either. After He created this first couple, He told them to fill the earth and subdue it.
Mankind was always created to live in community with other people. Always.
Related: Go Ahead … Tear Down the Walls About Money and Sex
And if you're walking through a valley right now, please know that openness, transparency, and community are KEY to getting out of that valley.
Galatians 6:2 says this:
Bear one another's burdens, and so fulfill the law of Christ."
See, when you are hurting, you start out with 100% of that burden. 100% of the burden of your pain is sitting on your shoulders.
But that pain is too big for your shoulders, beloved. You were never meant to carry it. And when you open up with other people about what you're going through, it hurts less. Part of the burden leaves you.
(And of course, when we cast our burdens on the Lord, the burden also is relieved. 🙂 But that's another blog post for another day.)
We all go through very similar types of pain … but we just are not all willing to talk about them.
Your struggles may look different from mine, and mine from yours, on the outside. However, at their core, we all have the same struggles. We all deal with sin, doubt, discouragement, need, loneliness, and other types of problems.
Many people keep those struggles hidden. But no man is an island, and we need to be transparent around trusted Christian friends and accountability partners.
We cannot walk alone; we all have times when we need to lift one another up, and be lifted up ourselves.
In his book The Weight of Glory, C.S. Lewis wrote: "The Christian is called not to individualism but to membership in the mystical body." That's a powerful quote. A true quote. We are all part of one another.
So beloved, we are called to bear one another's burdens, to "Rejoice with those who rejoice, and weep with those who weep" (Romans 12:15).
And yet how can we do this if we don't talk with one another? I mean really talk–about God, life, marriage, friendship, emotions, struggles, dreams, and more?
We can't.
Oh beloved. If you are going through something awful today, I beg you. Literally, I beg you. Please: Find a trustworthy person, and talk with them about it.
Please.
Don't just go around talking to any old person who won't respond in a holy way. But pick somebody–a trusted friend, advisor, pastor, accountability partner, etc; someone who will love you and pray with you and not look down on you–and open your heart to them.
Allow someone else to shoulder your burden with you.
Keeping your pain silent is a jail. It's a prison.
That doesn't mean we should vomit our issues all over the place. But it does mean that you and I should each be humble enough to admit to those who love us:
"I'm struggling."
Every time I've been in the valley of the shadow of death, I have found great comfort in occasionally sharing the burdens, and even agonies, of my heart with several people I trusted.
I've had to be careful only to share in safe environments. However, within those safe environments, I have been able to share my heart, be prayed for and lifted up, and know that I was loved.
I can't tell you how many times I've confided in a friend and asked for prayer. I can't tell you how many times I've gone to prayer meeting at my church, with my intercessor friends, and let them know I was struggling.
So many times. Countless times.
And every time, my sisters and brothers have gathered around me and prayed the glory down. These were at my darkest points, but God always blessed me with great comfort from the burden-bearing obedience of my Christian family.
Why? Because we need each other. I need them, and they need me. And when one of us is down, the others lift him or her up. When another is down, the first one returns the favor.
We need each other. We were made to do life together.
So are you hurting today? Please, friend: Find someone you can trust, and open up.
Tell them about what you're going through. Talk to them about your hurts, your fears, your struggles and even sins.
Let someone else pray for you. Let them love you. Allow someone else to shoulder part of your burden and stand with you in your dark valley.
If you will, you will find healing, love, and strength. You will find Biblical relationship, and you will come out of that dark valley so much faster.
Is Papa speaking to your heart about opening up to someone today? If so, please. Run, don't walk, to do so.
Would you help me with my work of reaching people for Jesus as a domestic missionary? This blog, and all of my mission work in person, are made possible through your partnerships, donations, and product purchases.
If you'd like to help me, please check out the partnership details and products available for sale here. And, thank you in advance for helping make this blog and everything we do together for the Kingdom possible!