Go Ahead … Tear Down the Walls About Money and Sex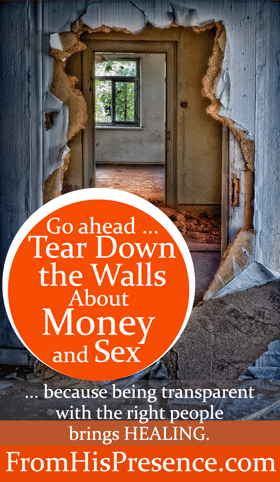 I've noticed something recently that really bothers me because it's hurting a lot of people. It's about money and sex and anger and a lot of other things. Want to know what it is?
Simply this: People, especially Christians, don't want to talk about things that go wrong in their lives. And this "I-have-to-go-it-alone" theory is straight from the pit of hell.
I'm serious about this. I get emails and messages from all over the world, so I hear a lot about people's hardships and prayer needs. And between you, my readers, and plenty of people I talk and interact with in person on a daily basis, there is a common theme. Christians are bad about this:
We are afraid to talk about embarrassing, awkward, or personal things.
It's not just about money and sex, although those are certainly two common themes I hear. It could be about anything personal. And why don't we want to talk about it? There could be any number of reasons. For example:
Maybe you're afraid people will think you're not "spiritual" enough if they know you're dealing with a trauma or problem at home.
Maybe you've hidden the pain and so you don't want to dig it up again. You tell yourself you're healed … but it still bothers you. It still impacts your daily life.
Maybe you don't trust people, so you stay silent.
Maybe you think a certain subject (like sex) is taboo and meant to be kept to yourself.
The only problem with all of that is that the problem still affects your life:
That past abuse keeps you from functioning normally.
That anger issue isn't getting healed.
Maybe you're on the brink of financial disaster because your finances are a wreck.
And when you don't talk about your problems with money, sex, abuse, anger, past abortion, or anything else personal like that, but it still affects you …
All it's going to do is fester.
Personal pain that goes unresolved becomes a black, rotting area of hurt in your soul. And that blackness colors your life. You can mask it all you want. It still impacts you. You can ignore it all you want. It still affects the way you live. You can try to deal with it alone; you may or may not be successful.
See, God is light and in Him is no darkness at all. This is a very practical principle that will help us in daily life if we can just get hold of it.
As I wrote in Wednesday's post about what I got for being transparent, God uses transparency and light, not darkness and walls. Darkness closes in, rots, and festers. Light, however–that light that shines into your soul when you become transparent with the right people about whatever you're going through–brings hope, help, and healing.
Every time.
That doesn't mean we just dump all our personal stuff all over everywhere.
It doesn't mean you should post all your personal problems on Facebook. It doesn't mean you should vent about your problems to everybody you don't know. That's just awful; please don't do that.
But it does mean that if you are struggling with an abuse, pain, trauma, character issue, or bad habit, please, please, please … tear down the walls. Talk to someone about it!
Don't just talk to random people and think it will help; it won't. Find the right person or people:
Find a friend who can be an accountability partner.
If you're married and the issue pertains to you and your spouse, find another couple that can be there for you.
Or, find a pastor, mentor, or professional Christian counselor who can walk you through the healing process.
Simply find someone who will love you, walk with you, pray for you, and help you bring your situation to light so that it can be healed.
And then TALK about it!
You don't need to talk until you're blue in the face. Sometimes a simple "this happened" or "I've been struggling with this" makes all the difference in the world.
I know. I'm not just writing to you; I've seen this over and over again in my own life too.
For example, over the last couple of weeks, I've been struggling with remembering something bad that happened a number of years ago. It wasn't abuse or anything, but it was a very hurtful situation. I had thought for years that I was over it, but something pulled it back into my memory again.
And the situation was very, very painful.
I didn't know it still hurt me. I forgave the other person involved a long time ago. I had moved on. But I had never talked openly about it with someone who could help me heal from it. And healing and moving on are two totally separate things.
I cried and cried, not knowing what to do. But finally, out of sheer desperation, I made an appointment with my pastor so my husband and I could talk with him about the thing that had happened to me. I knew it was way above my head to deal with.
And you know what? My pastor, who is a spiritual dad to me, talked openly with me and my husband about the situation. He apologized on behalf of the person involved–which did my heart a world of good because somehow just knowing that the thing that happened wasn't right (in someone else's opinion) meant I didn't just have to "suck it up" and live with it. My pastor ministered to me and helped me find healing for my heart.
And that made all the difference in the world.
It completely changed my outlook on certain things that pertained to this hurtful situations. It stopped the repercussions of the situation in my life. I truly feel healed.
And if you're struggling with something hurtful in your life or from your past, becoming transparent about it will help you find healing too.
That is what happens when you become transparent (with the right people!!!) about things that hurt you: healing happens. Freedom happens. You get a new start.
So what's the takeaway for you?
If you've been hurt …
If you're struggling with anything of a personal nature …
Please.
Find someone who can help, and talk about it.
The end. 🙂
Does this message speak to you today? If so, please let me know. Please leave your thoughts below in the comments.