16 Miracle Scriptures for Your Fasting Season
Are you in a season of fasting, or are you considering a fast? If so, I wanted to share 16 miracle Scriptures with you that you can use to contend for miracles from the Lord during your fast.
First, here's how to use these Scriptures: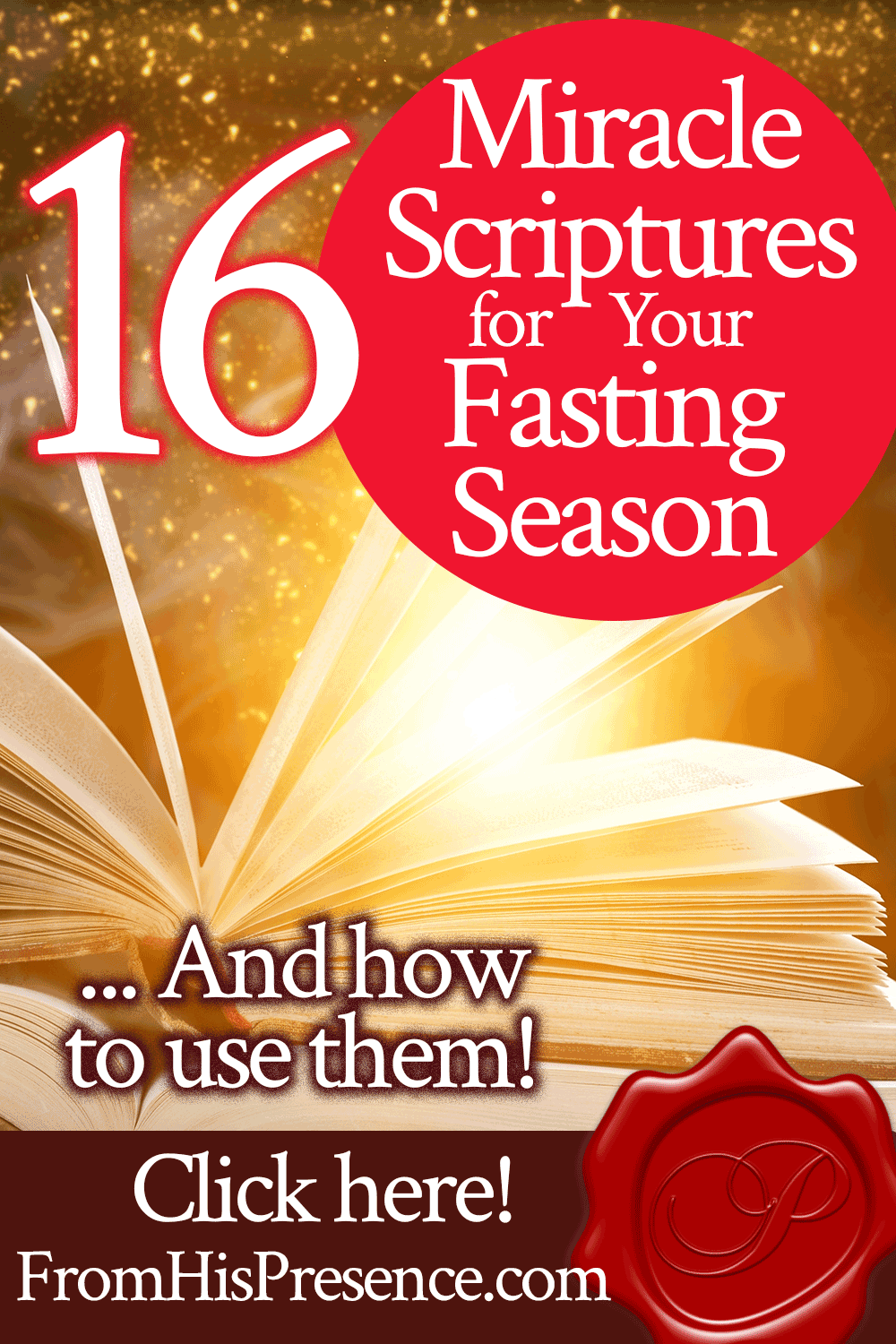 Start by making a list of miracles (and even other things) that you desire the Lord to do for you. Don't hesitate in writing things down; write down the things you really desire! (You'll see why as you study the Scriptures below.)
Then, grab the Scriptures below and look each one up.
Related: 7 Keys to Constant Miracles
Get these verses into your heart in any way that helps you! Personally, so the Lord has been leading me to:
write these verses out in my journal;
highlight them;
color them;
meditate on the key words in each verse individually (word by word);
circle;
underline them; and
pray over these Scriptures over and over.
I am doing these things as I pray daily over my miracle prayer list, which has grown to 20+ miracles of all different types–both for myself and for others. (I am praying for you too!)
I highly encourage you to dig into these verses and do the same over YOUR miracle prayer list!
After you study these Scriptures (even after you study one of them!), then pray over your list in relation to each Scripture verse.
Each passage below is about some aspect of how God answers prayer and is ready and eager to do WAY more for us than we can even imagine. So as you read each Scripture, go ahead and pray over your miracle prayer list. 
As you pray, remind the Lord of what He said in each Bible verse below–and go ahead and tell him how you believe each verse applies to your situation! That's how you pray in faith, and Father God loves it when we believe His Word and tell Him so. 🙂
Luke 18:1-8 isn't part of the list of Scriptures below. However, in Luke 18:1-8, Jesus tells us that we need to pray over and over until we get what we are praying for. In fact, Jesus said that praying repeatedly for the same thing is what He calls FAITH. 🙂
People often ask me about this.
People often email me and ask if they should just pray once, and then stop praying and only thank the Lord for answering after that–and the answer is "no," if you believe what Jesus said in Luke 18.
Remember: Praying over and over is what Jesus calls faith. So, pray over and over through your prayer list, asking the Father to do these things for you–and reminding Him of His Word.
As you pray, BELIEVE that He will answer and do for you what you ask!
Here are the 16 miracle Scriptures to look up and pray back to the Lord as you contend for miracles:
(And the links in this list will connect you to other articles where I have written more about each verse.)
John 14:12-14
Romans 14:23
1 John 5:14-15
Proverbs 19:17
Proverbs 3:34
John 16:23-24
Isaiah 62:8-9
Ephesians 3:20-21
Numbers 23:19
Proverbs 10:22
Proverbs 10:24
Related: Listen to my free podcast for more tips on praying in your miracle!

Also, the Lord has had me sowing a lot of seed offerings (even if they are small seeds) lately.
According to Isaiah 58, sowing is a key part of the fasting-and-prayer process. Even if you are only able to sow small seeds, the Lord will honor that. Just sow what you can, and do it unto the Lord.
Most of the seeds I have sown, the Lord has directed me to pray over and speak to, calling them either "massive money" or "massive miracle money." (The miracles I'm contending for are not all about money; some are physical, relational, or intangible spiritual things. But the Lord is having me name my seeds that anyway right now.)
When deciding how to name your seed, look at your miracle prayer list.
What do you need? Name your seed that thing, whatever you need. Or, if the Lord is telling you to do the same as He is me–naming your seeds "massive money" and "massive miracle money"–then let that be a confirmation to you. He moves similarly across His entire Body.
Beloved, right now is an important season of fasting and prayer.
As I am writing this, we are in the Lenten season. This season leading up to our commemoration of our Lord's crucifixion and resurrection is such an important time in the Spirit.
And right now, God is moving powerfully across His entire Body, as He does every year. It's a season of preparation, of stillness, and of DEPTH.
Note: If you read this awhile after I write it, and it's no longer Lent, that's okay. If the Lord is leading you to fast and pray right now when you read this, these principles will all still work anytime since they're just the Word of God.
Many people are wondering right now where their fire and energy went–and why they are currently connecting with the Lord so DEEPLY, when usually they are a little more fiery. 🙂
But, "deep" is just what the Lord is doing right now. He is meeting with His people DEEPLY and ministering to you in deep things. "Deep calls to deep at the noise of Your waterfalls," His Word says, and that's exactly what He's doing in us right now.
Beloved, I pray you will take full advantage of this deep time with the Lord in this season.
I hope you will press into these Scriptures, soak in God's Word, and study deeply. Take the time during this season to glean spiritual meat from God's Word. Dig for it; yearn for it; crave it; and refuse to stop until you get it.
I love you in the Lord, and I am praying for you.
Are you in a season of fasting and prayer right now? If so, what are you praying for? Leave a comment below and I will agree with you in prayer for YOUR miracle!