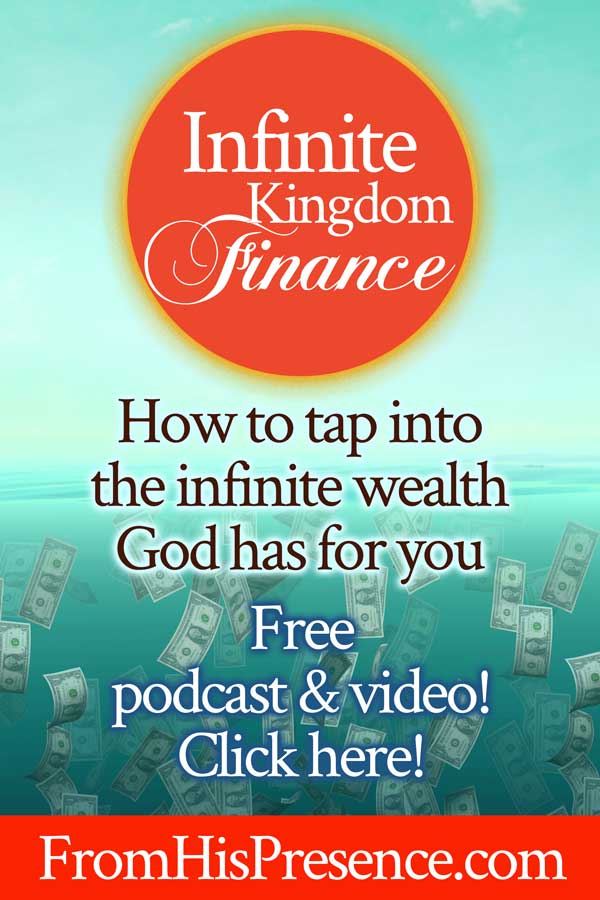 Do you want to tap into God's river of infinite Kingdom finance? Do you want to have enough money for every good work at all times?
You can.
In 2 Corinthians 9:8, the Lord promises that you can have infinite (never-ending) money.
Yup, that's ALL the money you need at all times. Here's what this verse says:
And God is able to make all grace abound toward you, that you, always having all sufficiency in all things, may have an abundance for every good work" (2 Corinthians 9:8).
So HOW do you access this river of infinite Kingdom finance?
I'm so glad you asked! Because in today's newest podcast, I explain all about it. I placed the podcast player below, so just click "play" and you can listen and find out:
What the river of infinite Kingdom finance IS;
How to tap into the unlimited wealth of the Kingdom; and
The hidden reward of using said wealth for the Kingdom–my most favorite reward in the WORLD! (And what this reward is may surprise you!)
After you've heard the podcast, please also take a moment to listen to my YouTube video below that for MORE on how the infinite river of Kingdom finance works.
In the YouTube video, I used an illustration from the old I Love Lucy show that demonstrates exactly how Kingdom money flows from Heaven to Y-O-U.
Please check them out, and subscribe to the podcast on iTunes or Spotify! Also, please let me know in the comments if these teachings bless you today!