Day 14: The Wealth of the Roar Shall Be Turned to You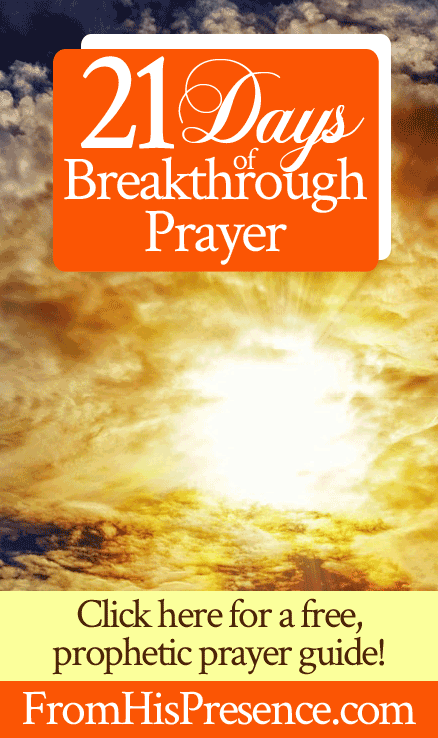 Welcome back to 21 Days of Breakthrough Prayer! This simple series will provide you with Scriptures to pray into for 21 days, asking the Lord for your breakthrough. Today, we are praying in the wealth of the roar!
A couple of reminders:
This is a very simple series; I am not expounding on each Scripture very much, except through a bullet-point list to share some prayer pointers. I also am not writing out sample prayers, as I believe the Lord wants you to exercise your prayer muscles and make these Scriptures your own vocabulary for prayer.
But, even though it's a simple series, I believe it's a POWERFUL one … and I want to hear your testimonies as the Lord answers your prayers, okay?
See the 21 Days of Breakthrough Prayer series table of contents here.
Without further ado, here's Day 14 of 21 Days of Breakthrough Prayer:
The Scripture verse of the day is Isaiah 60:3-5, which says:
The Gentiles shall come to your light, and kings to the brightness of your rising. "Lift up your eyes all around, and see: they all gather together, they come to you; your sons shall come from afar, and your daughters shall be nursed at your side.

Then you shall see and become radiant, and your heart shall swell with joy; because the abundance of the sea shall be turned to you, the wealth of the Gentiles shall come to you" (Isaiah 60:3-5.
Before you begin praying, know this:
In verse 5 at the end of the passage above, where it says "because the abundance of the sea shall be turned to you," you need to know what the literal meanings are of those words in the Hebrew. The literal meaning doesn't translate well into English (a frequent problem when you translate between languages). Its literal meaning, and the word picture that goes with this phrase, is "the wealth of the ROAR shall be turned to you."
Roar. Very important. Read my article here, "The Lion of Judah Is Roaring Over Your Finances," for more about this passage and its prophetic meaning for your finances if you haven't already done so.
Pray along these points:
Thank the Father for calling you to arise and shine.
Thank Him that His glory is sitting upon you and can actually be seen on your face.
Ask the Lord to give you huge influence for Him–but only as much influence as you can steward well for Him, and no influence at all that you would use for evil.
Ask the Lord to bring people to you from all over the world who will see Him in you.
Ask Him to send you people of influence that you can impact for Him.
Ask Him to bring your sons and daughters to you from the four corners of the earth.
Ask Him to bring your daughters to your side.
Ask Him to show you His answers to your prayers, fulfill you, and overwhelm your heart with joy and radiance.
Ask Father to bring you financial wealth as well–the wealth of His roar over you! Insist that, according to His Word, the wealth of the roar be turned to you right now!
Ask Jesus, the Lion of Judah, to roar over your finances today!
Ask Him to provide for you abundantly, according to His RICHES in glory in Christ Jesus! (And that's a lot of riches.)
Ask Him to send you the wealth of the Gentiles.
Remind Father that the blessing of the Lord makes RICH, and He adds no sorrow to it.
Ask Him to bless you with His blessings that make rich, and that carry no sorrow with them.
Ask Him to help you notice and thank Him for every single thing He does for you!
Then thank Him for all these things in Jesus' name!
That's our breakthrough prayer for day 14!
Remember to use the verse itself as your vocabulary for prayer. Doing so will not only help you pray the most effective prayers it's possible to pray, but it will also help you hide God's Word in your heart, that you might not sin against Him (Psalm 119:11).
Did you pray this Scripture with me today? Or, do you have a testimony to share about how God has answered this prayer? If so, please leave a comment below! I'd love to hear what Papa is saying to you!