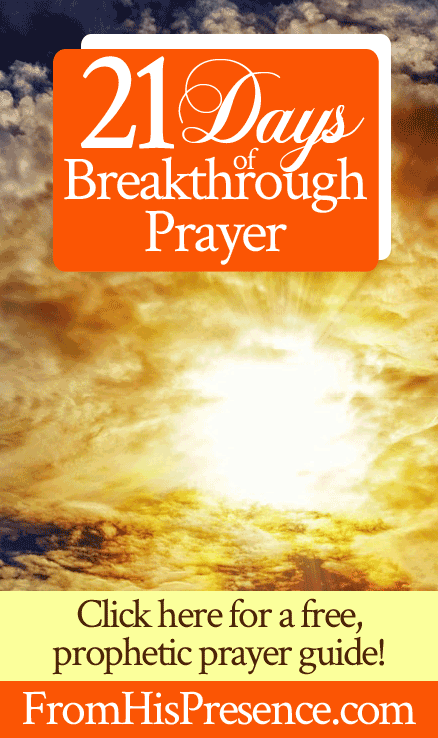 Welcome back to 21 Days of Breakthrough Prayer! This simple series will provide you with Scriptures to pray into for 21 days, asking the Lord for your breakthrough. Today, we are obeying the Lord's command to arise and shine!
A couple of reminders:
This is a very simple series; I am not expounding on each Scripture very much, except through a bullet-point list to share some prayer pointers. I also am not writing out sample prayers, as I believe the Lord wants you to exercise your prayer muscles and make these Scriptures your own vocabulary for prayer.
But, even though it's a simple series, I believe it's a POWERFUL one … and I want to hear your testimonies as the Lord answers your prayers, okay?
See the 21 Days of Breakthrough Prayer series table of contents here.
Without further ado, here's Day 13 of 21 Days of Breakthrough Prayer:
The Scripture verse of the day is Isaiah 60:1, which says:
Arise, shine; for your light has come! And the glory of the Lord is risen upon you" (Isaiah 60:1).
Pray along these points:
Tell Father God that you love Him, and that you want to obey His every command and every word.
Acknowledge out loud to the Lord that you see His command to arise and shine.
Tell Him that you acknowledge and accept that this command is for you.
Tell Him that you choose to arise and shine NOW.
If you don't know what He's asking you to do in your arise-and-shine, ask Him for the promise of Psalm 32:8–that He will instruct you and teach you in the way you should go, and will guide you with His eye upon you.
If you do know what He's telling you to do, then ask Him what the first step is that He wants you to do today.
Repent for every time that you've insisted on seeing the whole plan before you take the first step of faith into the unknown. (This is a sign of control, doubt, and pride, among other things.)
Ask Him to guide you with His Word, which is a lamp to your feet and a light to your path.
Ask Him to help you obey Him by taking the small steps you need to take, even if only your feet are lit by that lamp of His Word.
Repent for every time you have had to have things nailed down before you were willing to try things out. Ask Him to help you step out in faith, even if it's just to put your toes into something to see if it turns out to be God's will.
Ask Father God for wisdom, understanding, and increased spiritual discernment.
Ask Him to part the waters for you as soon as you step into the things that ARE His will.
Ask Him to deliver you from His permissive will and keep you in His perfect will instead.
Thank Father God for His glory that has arisen upon you.
Thank Him that your light has come.
Thank Him that you WILL have success this time around, for YOUR LIGHT HAS COME!
Thank Him for considering you to be precious enough to make you a home for His glory!
Ask Him to glorify His own name over and over in your life!
Then thank Him for all these things in Jesus' name!
That's our breakthrough prayer for day 13!
Also, remember to use the verse itself as your vocabulary for prayer. Doing so will not only help you pray the most effective prayers it's possible to pray, but it will also help you hide God's Word in your heart, that you might not sin against Him (Psalm 119:11).
Did you pray this Scripture with me today? Or, do you have a testimony to share about how God has answered this prayer? If so, please leave a comment below! I'd love to hear what Papa is saying to you!