When God Delivers You In Dreams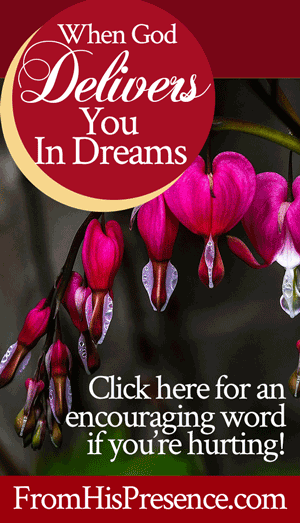 Did you know that God frequently delivers you in dreams?
Some of you have been through really difficult, even painful situations recently. From all outward appearances, you've moved on. You're still functioning, and you look okay.
However, only you know that your heart is actually shattered in a million pieces.
There's a big difference between moving on and being healed.
You can continue with your life after a traumatic situation without your heart being healed. You can go about your daily chores and look okay while you're broken inside.
But your emotions won't be whole, and the pain won't stop, until you are healed on the inside … until the Lord touches your heart and puts it back together again, healing it so completely that there won't even be a scar.
So how do you get to that place of healing?
Well, I don't have space in this post to talk about every possible option. One option, however, is something I'm seeing God do right now: He's delivering people in dreams.
What happens when God delivers you in dreams?
It's the coolest thing. In a dream–when you're asleep, can't argue, and your pain doesn't get in the way of hearing well–God will speak to you about your situation.
When He does, He speaks more deeply and intimately than you could ever imagine. For example:
He'll use symbols that mean very special things to you, but which nobody else would understand. He speaks to you in your own, personal dream language.
He'll include things in the dream that tell you He DID see the most painful parts of your situation–those parts you thought no one saw or cared about; the parts that hurt the worst.
He'll show you where you came from and where you are now.
He'll show you where you're going.
He'll show you your intrinsic worth–worth that you may feel no one else has noticed.
And when you pay attention to His dreams of deliverance, you'll find that the Lord healed your soul when He spoke that dream to you.
This has happened to me more than once. Here's an example of one situation from which God healed me by using a dream of deliverance:
(And by the way, I use this example not only because it shows how God speaks, but also because I think the dream will speak to you too!)
I was in a situation in which I had been subjected to a lot of hatred, false accusations, gossip, insults, and more. It was very hard. Even after it was resolved, I was still hurting badly. My heart was shattered in a million pieces.
Related: How to Pray for Those Who Hate You
I begged God to heal me. He led me to claim the promise of Psalm 86:11-13:
"Teach me Your way, O Lord;
I will walk in Your truth;
Unite my heart to fear Your name.

I will praise You, O Lord my God, with all my heart,
And I will glorify Your name forevermore.

For great is Your mercy toward me,
And You have delivered my soul from the depths of Sheol."
That promise was relevant because it asks God to "unite my heart"–in this case, to put my heart back together from being shattered. Also, it says that He delivers our soul from what feels like the depths of hell … just because of His mercy.
Because He loves us.
So I prayed, claimed that promise, and asked Papa to heal and touch my heart more deeply than I could even reach.
And He answered.
Within a day or two, I had a dream. Again, I really think this dream is going to minister to you too! Let's call the dream "Don't Poop In My Lexus!" 🙂
Here's the deliverance dream:
In the dream, I had a Lexus SUV and people had taken it over. They defecated and urinated in it, acting like it was okay to do that! Then one of them gave me a long list of what was wrong with my vehicle.

I was so angry–both because they had used my car as a toilet, and because they were listing off things that were wrong that weren't problems. They were telling me my (very nice) car was no good.

Then one of these people took over my car and started driving it!

I was with them and kept telling them to pull over and stop the car. They didn't have permission to drive it, but they wouldn't stop.

Finally, they pulled into a driveway between a green field and a computer lab. The computer lab was run by an old professor, a doctor, wearing a white lab coat.

The person who hijacked the car got out and sat in the field. I got out and told them in no uncertain terms that they couldn't drive my Lexus anymore.
What does this dream mean? And what's the application to you and me?
In dreams, vehicles represent jobs or ministries. Sometimes people will "poop on" what's important to you. They may do this whether they have any right to or not. They may not even have any "ownership" of what they're insulting.
But you know what? There comes a point where things have to come into a place of Holy-Spirit-led analysis.
And in that place, if you're going to continue to operate the thing that means so much to you (your dream, job, or ministry), you have to put your foot down and say:
"Don't poop in my Lexus!"
God absolutely delivered me and healed my heart using this dream.
When I went to bed that night, my heart was still in a million pieces. I had prayed, fasted, forgiven over and over, etc etc etc. All of those things helped me get through the situation, but none of them healed my heart. It was that traumatic.
But when I woke up and wrote this dream down, studying the symbols to understand what God was saying, I noticed something:
The pain in my heart was absolutely gone.
Gone.
My heart was back together again.
I felt joy. I felt happy. I felt whole. And I felt heard.
My Papa had heard my prayer, and He touched me deeper than I could ever have reached. He showed me things in this dream–from symbols, etc–that made it clear He had seen every gory, painful detail of my situation. He showed me what people had done, how I should respond, and how to move on.
Better yet, in the dream, He actually moved me forward.
It wasn't like He just showed me that I needed to move on. I already knew that. I had just been hurting so badly that I couldn't!
But in this dream, using the one line "Don't poop in my Lexus!" — my Abba Father, my Papa God, actually moved me forward, completely out of the situation, with a new (healed) perspective, fresh joy, new life, new motivation, and complete and total healing.
It was amazing. I wish I could explain it better, but I just can't. It was a miracle.
By the way, the reason I shared that particular example is because I know that some of you have also had people "pooping in your Lexus."
God has given each of you a beautiful treasure in the form of some sort of dream, occupation, or ministry. The enemy will try to steal it from you, and sometimes he'll use people to do it.
But you know what? It's not THEIR car. They just want to trash it. If you want to preserve the beautiful calling Papa God has placed upon YOUR life, then it's time to draw the line in the sand and tell those people–even if you don't tell them in person 🙂 –that they can't drive anymore.
You even have to tell the enemy that he can't drive anymore. He can't push your buttons anymore.
YOU have to protect your proverbial Lexus.
And you can get free from what people have done to you if you draw that line in the sand and decide that you're not going to let people poop in your Lexus anymore–and that you're not going to let those haters influence your future success, your direction, or your current state of mind.
So what kind of hurtful situation have you been through recently? Ask Papa for a dream of deliverance!
When your heart has been shattered, healing is beyond you. Total heart healing is beyond any medication, therapy, wise advice, counseling, etc.
Total heart healing is only possible when God Himself touches your deep places.
But you know what? He will! He is ready, willing, and eager to touch your shattered, wounded heart AND HEAL YOU!
How?
Bare your soul to Him in prayer. Claim the promise of Psalm 86 above. Admit to Him that your hurt is too deep for you to handle. Tell Him that you need Him to heal you, and them ask Him to touch you more deeply than you could ever reach.
And ask Him to speak to you and heal you in a dream of deliverance.
Can He heal you in other ways? Yes, absolutely. But this post isn't about those other ways. (Of course it's totally fine to just tell the Lord to do it however He wants to!) But if you want a dream, ask Papa for one!
And then keep a notebook and pencil by your bed. As soon as you have a dream, write it down and study/pray into it. God will speak to you, and He will heal your heart.
Does this post about how God delivers you in dreams speak to your heart? Please leave a comment below if so!
Would you help me with my work of reaching people for Jesus as a domestic missionary? I need you; we are in this together! This blog, and all of the Kingdom work we do in this community together, are made possible through your partnerships, donations, and product purchases.
If you'd like to help, please check out the partnership details and products available for sale here. And, thank you in advance for helping make this blog and everything we do together for the Kingdom possible!