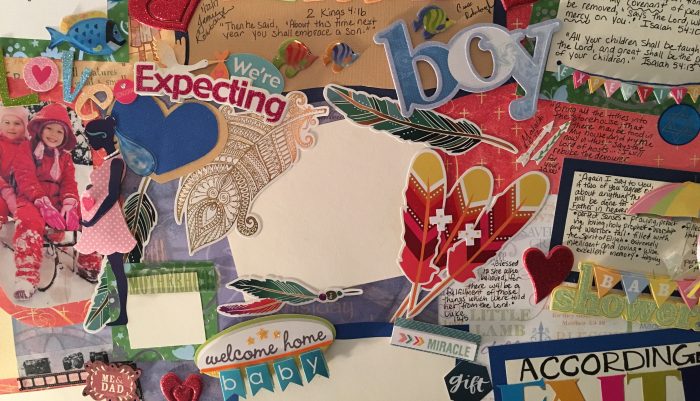 Dear Presence seekers,
Are you ready to know my big, wonderful secret that I've been waiting so long to tell you? I'm so excited to share this news with you, my Presence-seeking family, today!
Guess what?
My husband and I have been told we couldn't have biological children without a miracle. We were told this many years ago, and of course, it devastated us.
But God.
All along, God kept giving us promises–promises for a baby. Scripture after Scripture after Scripture. The promises were too many to list here. But still, no baby. And years passed.
But then …
In January of this year, one of my mentors, Pastor Judy Jacobs, released a prophetic word to her Engage mentoring community that 2017 was the year of EVERYTHING. You've got to believe the words of the prophets in order to get what's prophesied. Something about that word resonated with us, so we decided to believe it.
My husband and I had grown to be happy the way we were; we have a great life. But we still wanted a child. A baby of our own. And our spirits could not let go of the fact that, if God's Word says that a child is His will for our lives (which it does), then we still needed to press into those promises.
So.
After hearing that prophetic word from Pastor Judy, we wrote down the promises God has given us that we WOULD have a baby.
Again, there are lots of Scriptural promises for this. In the Bible, every person who wanted a baby and asked God for it got what they asked for. It's part of our covenant with Jesus. God said there would be none barren in Israel.
So we wrote down our promises.
I made a vision board of those promises and of our specific requests for the child we wanted. We prayed over our promises and took communion (the Lord's Supper/Eucharist) over those promises, letting God know we believed His Word. Our ability to have a baby was bought and paid for by the blood of Jesus.
And when we prayed, we told God we wanted our baby BORN in 2017. Not enough to just conceive. BORN.
In April 2017, surprise surprise. We found out I am pregnant. I'm now in the second trimester.
Our due date? 12/31/17. The very last day Papa could have answered our very specific prayer. And, by the way, it's a boy.
This is why I've been so sick for the last few months.
I haven't been sick with regular morning sickness most of the time. Instead, the pregnancy aggravated a couple other health issues I had going on–a low thyroid hormone level and a vitamin deficiency–and it took my doctors awhile to find the problem.
Then, it took even longer to actually fix the problem.
Now that they've found it, and we've addressed it, I'm doing SO much better. I'm still dealing with a few issues, but I'm no longer confined to bed like I was before (for weeks). I'm getting stronger every day.
And baby is FINE. Just fine. He's healthy and strong.
I have had so many people over the years write to me and say they long for a baby.
Beloved, if that's you, get a copy of the book Supernatural Childbirth by Jackie Mize (affiliate link). It has a big list of the promises in the Bible pertaining to childbirth. (Not all the promises, but a whole heap of them.)
If you want a baby, read that book. Read the testimonies. Read the teaching. Get God's Word about having babies in your heart. Confess His promises out of your mouth, and write the vision (Habakkuk 2:2).
God's Word is always true, and God's Word says you CAN have a baby.
Beloved, thank you so much for your prayers and support during this time.
As I've said before, you are such a blessing. I've been overwhelmed with your care, love, emails, prayers, and more. And while I couldn't work at all, Papa still used you–through your product purchases, partnerships, and donations–to provide for both my family and this ministry.
Thank you. May God multiply all the blessings you have given me back to you a thousandfold.
If you pray for us, I would still covet your prayers. Specifically:
Pray for my overall health and the health of our baby.
Pray that I would be able to keep food, water, and medicine DOWN. I've been having some trouble with this.
Pray that I would know what work to do myself and what to delegate/hire out.
Pray that the Lord would bring the people alongside this ministry to help–the people that He needs us to have. The ministry has become too big for me to handle by myself, and I know I need help. But I don't know how to navigate these waters at all.
Pray for the ministry's finances. We are doing fine, and Papa always provides. It's just that hiring help costs money and paying people fairly is very important to me. So, we need provision. 🙂
That's all for today, folks. I am so thankful for you. Thank you for everything you do. Thank you for reading and for partnering with us to reach people around the whole world with the love of Jesus.
Much love in Christ to you today,
Jamie
Would you help me with my work of reaching people for Jesus as a domestic missionary? I need you; we are in this together! This blog, and all of the Kingdom work we do in this community together, are made possible through your partnerships, donations, and product purchases.
If you'd like to help, please check out the partnership details and products available for sale here. And, thank you in advance for helping make this blog and everything we do together for the Kingdom possible!