7 Reasons to Pray and Not Lose Heart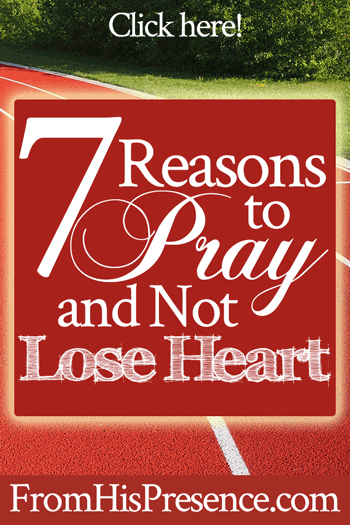 Have you been praying and praying for something, but not seeing the answers you want? Are you starting to feel like giving up?
If so, I have an encouraging word for you today. I wrote an article this month for iBelieve.com called "7 Reasons to Pray and Not Lose Heart," and it's going to rekindle your faith.
I'd also like to add an eighth, bonus reason to pray and not lose heart:
(There are even more reasons, but they can't all go in the same article!) So after you read the 7 reasons to pray and not lose heart over on iBelieve, know this too:
8. Jesus personally guaranteed that you'll get what you ask for if you keep on asking.
Matthew 7:7-11 contains Jesus' guarantee that your persistence in prayer will pay off:
Ask, and it will be given to you; seek, and you will find; knock, and it will be opened to you. For everyone who asks receives, and he who seeks finds, and to him who knocks it will be opened. Or what man is there among you who, if his son asks for bread, will give him a stone? Or if he asks for a fish, will he give him a serpent?

If you then, being evil, know how to give good gifts to your children, how much more will your Father who is in heaven give good things to those who ask Him!"
Our Father is better than we could ever dream.
He is kind and good, and He loves us beyond imagination. He delights to dump good gifts on us, His children!
Because God is so good, Jesus tells us in Matthew 7—and in other places throughout the Gospels—that He will give us the things for which we ask. That's a powerful promise from our all-powerful, loving Father in Heaven!
Do these 8 reasons encourage you? If so, I'd love to hear from you! Leave a comment and join the conversation below, or over on iBelieve.com!
Would you help me with my work of reaching people for Jesus as a domestic missionary? I need you; we are in this together! This blog, and all of the Kingdom work we do in this community together, are made possible through your partnerships, donations, and product purchases.
If you'd like to help, please check out the partnership details and products available for sale here. And, thank you in advance for helping make this blog and everything we do together for the Kingdom possible!