Prophetic Word: Fill Up On These 3 Things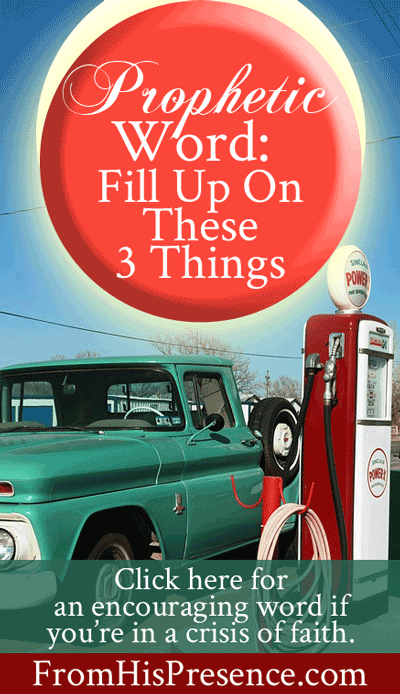 Many of you have felt tired and discouraged–even bordering on hopeless. If that's you, today's prophetic word will bring you great healing if you'll act on it.
This last week, I spent several days (Thursday-Saturday) at Dutch Sheets' Appeal To Heaven conference (a 3-day intercessory prayer meeting) in Middletown, Ohio. While I was there, I heard many prophetic words from the speakers and intercessors (particularly Dutch Sheets and Chuck Pierce) about what God is doing globally.
I plan to share some of those words that I heard on social media (watch my Facebook page in particular) later this week. But for today, I wanted to share the prophetic word I got for you as a result of my trip.
This word is not a word that was spoken at the conference; it's a word that the Lord spoke to me yesterday as I pondered how the Lord touched had touched me during this meeting.
Here's the word:
People have been coming to me all over the place telling me how discouraged they are. And I've been battling quite a bit of discouragement myself at various times (although I can tell you that, after how the Lord ministered to me at this prayer event last week, I am completely healed of it and I feel totally transformed).
Why are people discouraged?
They are feeling the effects of a great shaking that is going on in the Body of Christ. I know–when is there not shaking going on? There's always a great shaking going on. Or at least often.
However, this is a Hebrews 12:25-29 shaking, and it's a stronger shaking than I personally have seen before. Hebrews 12:25-29 says this:
See that you do not refuse Him who speaks. For if they did not escape who refused Him who spoke on earth, much more shall we not escape if we turn away from Him who speaks from heaven, whose voice then shook the earth; but now He has promised, saying, "Yet once more I shake not only the earth, but also heaven."

Now this, "Yet once more," indicates the removal of those things that are being shaken, as of things that are made, that the things which cannot be shaken may remain.

Therefore, since we are receiving a kingdom which cannot be shaken, let us have grace, by which we may serve God acceptably with reverence and godly fear. For our God is a consuming fire."
If this is you, you need to pray right now that you will not be shaken off.
Some shaking is of God; sometimes He uses it to purify us, teach us, and correct us. That's when He deals with our character. It's not fun, but that kind of shaking is necessary.
However, remember also that the thief (the enemy) comes to steal, kill, and destroy. And when God shakes us up, the enemy loves to come in and hand us a big plate of self-pity.
The problem is that self-pity takes us down really quick. When we get into self-pity and navel-gazing, both of which I've been guilty of at various times lately, we take our eyes off Jesus and the enemy gets a foothold in our souls.
Beloveds, don't let the enemy get a foothold in your soul. And if he already has one, get him off you. Quick.
Here's how to get the enemy off you:
1. Right now, you need to fill up on who God is.
I mean you need to fill your mind, soul, and spirit with how BIG God is:
How wonderful He is.
How He is the Author and Perfecter of your faith.
How He is weaving your storyline right now to accomplish His purposes, and how He hasn't forgotten even one tiny detail.
Do this through worship–and I mean worship that focuses on God. There are plenty of songs that focus on ourselves. They're not bad songs. "I don't know what you came here for, but I came to praise the Lord…" is not a bad song.
But don't use those songs.
Beloved, if you're discouraged and you're trying to get the enemy off your back, songs about your fellow man are not going to help you. Sorry, but they're not. YOU need to hear and sing and shout and declare the goodness and greatness and grandeur of God.
Songs that say things like Kim Hill's "You Are Still Holy" (watch below on the embedded YouTube video):
"Holy, You are still holy
Even when the darkness surrounds my life
Sovereign, You are still sovereign
Even when confusion has blinded my eyes
Lord, I don't deserve Your kind affection
When my unbelief has kept me from Your touch
I want my life to be a pure reflection
Of Your love
And so I come into Your chamber
And I dance at Your feet, Lord
You are my Saviour
And I'm at Your mercy
All that has been in my life
Up 'til now
It belongs to You
You are still holy …"
Songs like one of the prophetic songs the worship leader sang at this conference: "He's the Lion of the tribe of Judah, the Lamb has overcome; the Lamb has overcome …." (That one will go for a long time and never get old.) 🙂
Songs that look at Jesus directly. Songs that sing praises to His name.
To fill up on who God is, soak in His presence right now. Soak in His Word, especially those passages about how HUGE He is.
I don't think it's a coincidence that I've been battling discouragement and God's been having me study the book of Revelation. I've been studying Revelation for weeks, and I can't get away from those throne room scenes.
Why did the Holy Spirit lead me to the book of Revelation? Because those throne room scenes display God in the fullness of who He is:
He who is and who was and who is to come.
The Lion of the tribe of Judah.
The Lamb of God, slain from the foundation of the world–but fully victorious.
Jesus, whose eyes burn with fire and whose feet are like fine brass.
Jesus, who alone is worthy to open the scroll and to loose its seals.
If you fill up on who God is right now, it will help you take your eyes off yourself and off your problems, and put them where they belong–on Jesus.
2. Fill up on the prophetic word.
It's SO important to be tuned into the prophetic word about what GOD is doing across the Body. I don't mean the encouraging word from one person to another, either–although those are very important and are also needed.
But if you're struggling right now and need help getting your eyes back on Jesus, you need to hear the internationally-recognized, verified, reputable prophetic word to the nations.
I received so much healing for my soul from the Holy Spirit just sitting under the prophetic word released by Chuck Pierce and Dutch Sheets about what God is doing globally.
Individual prophetic words are great. We need them. But we all need to be aware that, as part of the Body of Christ, we are part of a huge RIVER of God's work that wraps around the globe. His moves and His timing are for all of us, but if we don't know what He's doing, we can't see things in their larger perspective.
This blog is made possible through the gifts of readers like you, who give monthly or as they can to help me minister to people in writing and in person as a domestic missionary. Would you consider helping me? Find out why, how, and the benefits for you here. And, thank you in advance for your support!
To keep our perspective right, we need to have a constant infilling of God's prophetic word about the big picture–the big picture about what HE is doing and how He is winning this thing.
An interesting tidbit: you know that Scripture in Romans 10:17, which says: "So then faith comes by hearing, and hearing by the word of God"?
I've always thought that meant hearing comes from the written word of God. The logos. Meaning, if you need faith, open your Bible and read your Bible. Hide God's Word in your heart, and your faith will grow.
But that's not what it means at all.
I looked it up just yesterday, and you know what I found? The Greek word used in that text for "word" is not logos. It's rhema.
And rhema is not the written canon of God's Word, the Bible. Rhema is the on-time, prophetic utterance of God.
Of course, this can be the same thing as God's written Word. How many times have you been reading your Bible, only to have words seem to jump off the page at you–and you know that's the Holy Spirit speaking directly to you? In that case, what you read is absolutely rhema. So the two–rhema and logos are not mutually exclusive.
But my point here is that, if you're in a crisis of faith, you must fill up right now on God's prophetic word.
It's absolutely essential.
3. Fill up on who you are.
It may sound strange to "fill up on who you are," but you've got to be who you are, and you've got to have opportunity to exercise who you are.
If you've ever struggled with discouragement due to lack of opportunity to practice who you are, you'll know just what I mean. When you don't practice who you are, the river of the Holy Spirit's anointing inside you can't flow. It stagnates. Also, you start to feel alone.
Before this conference, I had been struggling with feeling very alone.
However, at this conference, I didn't feel alone at all. It was a 3-day prayer meeting! There were (I'm guessing) about 1,000 other people there, and they were just like me! They weren't weird (hold your snickers, please, peanut gallery). 😉 They weren't a bunch of crazy, spiritual-looking, weird-acting, disruptive fruits, flakes, and nuts.
They were people who love God and came to pray. And for three days we stayed before the Lord to WORK. To intercede. To pray. And I was so fed and encouraged as, together, we just filled up on this thing–prayer–which is, personally, my DNA.
You've got to fill up on who you are.
If you aren't sure who you are yet, listen to this quote from Lou Engle:
I have never heard Lou say this before, but someone at the conference quoted him, and it's totally something he would say. According to one of the speakers, Lou was preaching one day about Moses and the burning bush. And he asked this: "What burns in your heart? Draw close to it, and you'll hear your name called."
Are you unsure who you are and what your DNA is? Draw close to the thing burning in your heart, and you'll hear your name called.
Hebrews 11:9 tells us that Abraham didn't fit in. He was a stranger and sojourner, living in tents waiting on his promise. But he stayed true to who he was. And he filled up on it often–the friend of God, communing with God facedown.
Moses didn't fit in either. He was a Hebrew raised in the palaces of Egypt. But he chose to stay true to who he was, choosing to suffer with the people of God rather than embrace the pleasures of the world (Hebrews 11:25).
Are you struggling right now? Read this verse and I'll leave you with a final word of encouragement after this passage:
And what more shall I say? For the time would fail me to tell of Gideon and Barak and Samson and Jephthah, also of David and Samuel and the prophets: who through faith subdued kingdoms, worked righteousness, obtained promises, stopped the mouths of lions, quenched the violence of fire, escaped the edge of the sword, out of weakness were made strong, became valiant in battle, turned to flight the armies of the aliens.

Women received their dead raised to life again. Others were tortured, not accepting deliverance, that they might obtain a better resurrection. Still others had trial of mockings and scourgings, yes, and of chains and imprisonment.

They were stoned, they were sawn in two, were tempted, were slain with the sword. They wandered about in sheepskins and goatskins, being destitute, afflicted, tormented—of whom the world was not worthy. They wandered in deserts and mountains, in dens and caves of the earth.

And all these, having obtained a good testimony through faith, did not receive the promise, God having provided something better for us, that they should not be made perfect apart from us.

Therefore we also, since we are surrounded by so great a cloud of witnesses, let us lay aside every weight, and the sin which so easily ensnares us, and let us run with endurance the race that is set before us, looking unto Jesus, the author and finisher of our faith, who for the joy that was set before Him endured the cross, despising the shame, and has sat down at the right hand of the throne of God" (Hebrews 12:2).
Beloved, if you're struggling right now, fill up on who God is.
Fill up on His BIGNESS. His strength. The fact that HE HAS OVERCOME, and HE ALWAYS WINS.
Then fill up on the prophetic word–the on-time, right-now, spoken utterance of God. And lastly, fill up on who you are. Because if you will persevere …
… despising the cost and willing to pay the price …
… laying aside every weight and the sin that so easily besets us …
… and look to Jesus, the Author and Finisher of our faith …
You, too, can be counted among those of whom the world was not worthy.
Is the Holy Spirit using this word to minister to your heart right now? If so, please tell me about it in the comments below. I love hearing from you.