Feeling Down and Unmotivated? Adding Beauty Can Help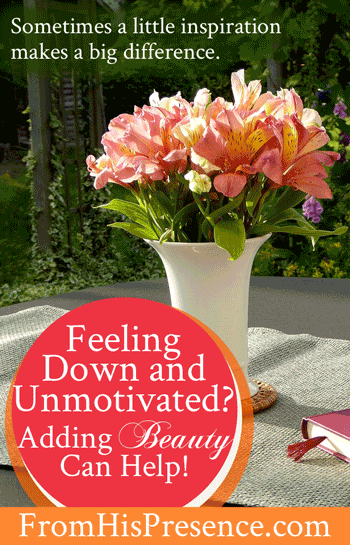 I felt tired, burned out, and unmotivated, so I wandered around the bookstore. I looked at everything and nothing–just killing time, if truth be told. I was resisting going to my next appointment. So tired.
Then my eyes fell on it, and everything changed.
"It" was a desk sculpture I had never seen before, but with which I fell in love instantly. The sculpture depicted an open Bible with a sword lying across it. It was a reference to one of my favorite Bible verses … and I knew I had to have it.
Why? Because, as childish as it may sound, this little piece of art was so beautiful that it touched me in a profound way.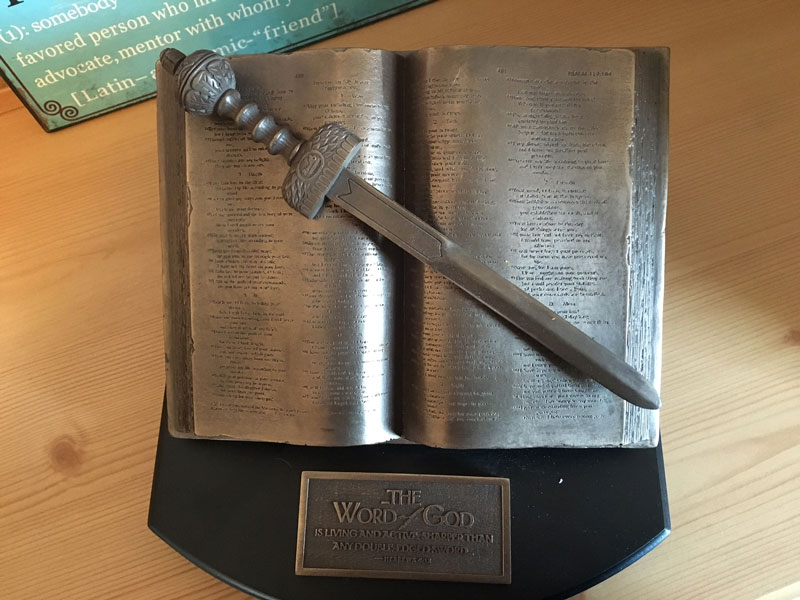 I suddenly imagined this desktop sculpture sitting on my desk in my home office–the same desk I had been trying to avoid for, well, months. I imagined how my whole office could look if I rearranged the furniture, threw away the junk, organized the stacks of paper, and hung art on the walls.
And I realized that the ugliness of my environment had been hurting my morale for a long time.
So I bought that sculpture.
I took it home and left it in its wrapping at first. It just didn't feel right to unwrap it until I had a pretty environment in which to place it! So, that Saturday …
… despite back and neck pain which told me I shouldn't be moving furniture …
… despite the intimidation of having to face stacks and stacks of papers that needed to be filed, shredded, or thrown away …
… and despite the fact that nobody wants to work that hard on a Saturday … 🙂
I jumped in with both feet. I worked with courage and inspiration for the first time in a long time. Instead of avoiding that office, I tackled it:
Bag after bag made its way to meet the garbage man at the curb.
I shredded piles of papers.
I threw away stuff that I had been "going to donate" for years, knowing that it was just time to get RID of it and get it out of the house.
Over the next few days, as the junk disappeared and the room came together, my attitude about my work was transformed.
Related: God's Creativity (The One Time I Heard the Audible Voice of God)
No longer did I dread sitting at my computer to work on my to-do list. No longer did I put off taking care of business in favor of pitiful excuses.
No longer did I feel demoralized.
Instead, I felt energized. Inspired. Creative. Motivated.
I got more done in the following week than I had in months … and it all started by adding just a little bit of beauty.
I started with just that one sculpture. Then I added some beautiful things I already had, but had not been using: a painting on the wall …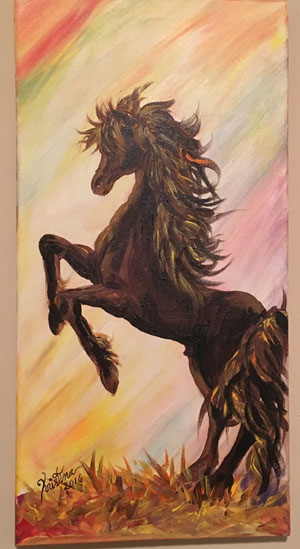 … another on the desk (I actually had to bring this one home because I had been keeping it in my LifeGroup classroom at church) …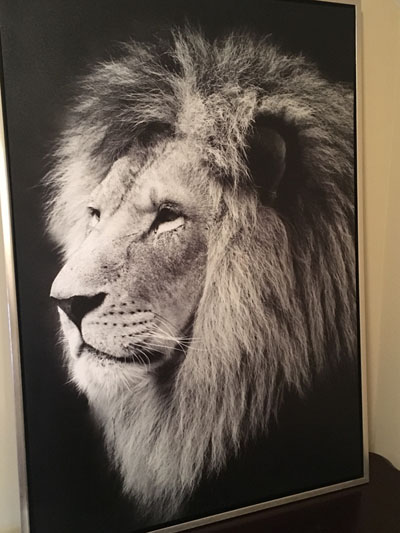 … a whole lot of clean, pretty desk space, and even some cleaned and vacuumed carpet! 🙂
And I learned something: if you're feeling down, adding a touch of beauty to your environment can make all the difference in the world.
The way it happened for me was very much a process:
Beauty inspired me;
inspiration motivated me to want to try again;
that motivation energized me to action; and
taking action brought progress and a fresh joy in my work!
Are you also feeling down or struggling with burnout? If so, can you stop for a moment and add a little beauty to your day?
Depression and discouragement in one area can impact many other parts of our lives. However, in the same way, beauty and inspiration in one area can revitalize many other parts of our lives as well!
So, what can you do to add a little beauty to your home, office, or workroom?
This blog is made possible through the gifts of readers like you, who give monthly or as they can to help me minister to people in writing and in person as a domestic missionary. Would you consider helping me? Find out why, how, and the benefits for you here. And, thank you in advance for your support!
Your little piece of beauty doesn't have to look like mine.
Do what works for you–even if it's simple and doesn't involve either art or furniture! For example:
Maybe you could pick some flowers from your yard and put them in a vase on your desk, where you'll see them all day.
Maybe you could spray on a touch of your favorite perfume before you go out to run errands. (You know, that same perfume you forgot you even had.) 🙂
Or, perhaps you could set your table with your fancy dish set–the one you always reserve "for company" or for "special days."
If you're feeling down or unmotivated, I believe a fresh dose of beauty can help you find your groove again.
Sometimes the mess and ugliness contribute to our doldrums. But if we just pause for a little bit of self-care and bless ourselves with a more appealing environment, our hearts and minds often respond by taking a fresh breath.
And as we inhale the joy and excitement of all things beautiful, we can find a fresh wind for our sails.
Have you ever noticed yourself getting inspired by beauty? Do you need to add a little beauty to your day right now? If so, please leave a comment below! I'd love to hear from you!