It's Time to Appeal To Heaven
Beloveds, the Lord put it on my heart this morning that I MUST tell you this: It's time to appeal to Heaven.
We must do this now.
It matters not what your exact situation is. People will read this post from all over the world, and every situation is different. You may be struggling with:
a marriage that's in trouble;
desperate need for provision;
gut-wrenching injustice; or anything else.
If you're in the United States where I am, you hopefully also have the condition of our nation, along with its upcoming election, on your heart.
God, have mercy. We need mercy. We need Heaven to move on our behalf.
But how does God have mercy? In response to our prayers.
God moves to bring mercy and grace when we appeal to Him–when we appeal to Heaven.
There's a reason I'm using this particular phrase, "appeal to Heaven."
In the 1700s, before the United States had won its independence from Great Britain, General George Washington commissioned a flag with the words "An Appeal To Heaven," showing a green pine tree on a white standard, to be made.
General Washington ordered this flag, pictured above, to be flown atop all the colonies' ships. The flag also flew on land in all 13 colonies. It represented the absolute dependence and desperation of the American people–desperation for God to send help from Zion.
And God sent the help we needed. On time and in every way. Papa answered that appeal from our forefathers.
God, have mercy. Do 'gain, Papa. Do 'gain.
Click here to get a nylon, all-weather An Appeal To Heaven flag of your own on Amazon (affiliate link).
A couple of years ago, the An Appeal To Heaven flag again came to nationwide prominence through the ministry of Dutch Sheets and others.
(Check out a little bit about the cool story behind the flag here, on Charisma.)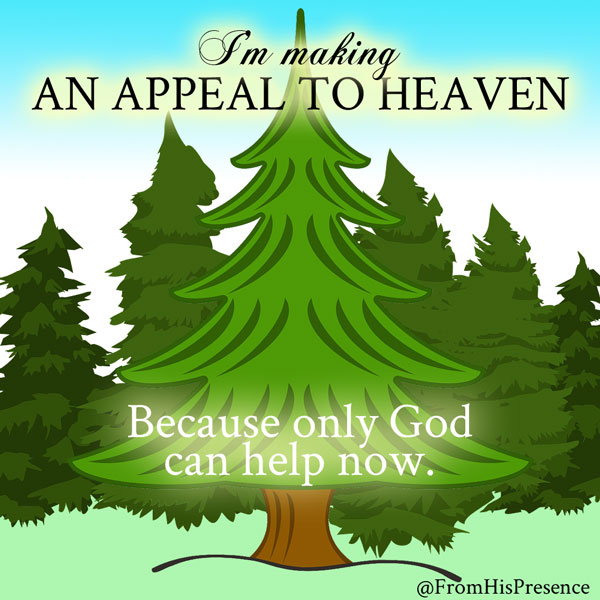 Since that time, believers all over the world have again been hoisting this standard on their flagpoles and in their churches. We are, once again, appealing to Heaven.
We're desperate, Father.
Beloved, I urge you to set aside extra time for prayer right now, so YOU can appeal to Heaven for your situation.
I feel the weight of the Holy Spirit's desire for us to intercede so heavily. He's pulling me, compelling me.
We in America are desperate for His help.
And no matter what your situation looks like, I believe He's compelling you into prayer too. Many of you have told me you've felt the weight of that call.
Precious Presence seekers, we must appeal to Heaven. We must pray. We must appeal to our God, the Creator of the ends of the earth, to move on our behalf.
Only He can provide the help that we need. Only He can answer our call. Only He can turn around seemingly-impossible situations.
Would you please join me in prayer right now, when you're reading this, and for the weeks to come?
Would you take extra time to get alone with Father and implore His help in your situation?
Would you lift up His promises for help, provision, and everything else you need to Him with renewed vigor?
Would you allow yourself to be desperate enough for Him that, together, we assault the throne of grace with our prayers and supplications?
God will help, for God alone can.
…if My people who are called by My name will humble themselves, and pray and seek My face, and turn from their wicked ways, then I will hear from heaven, and will forgive their sin and heal their land" (2 Chronicles 7:14).

"Again I say to you that if two of you agree on earth concerning anything that they ask, it will be done for them by My Father in heaven" (Matthew 18:19).

"And whatever you ask in My name, that I will do, that the Father may be glorified in the Son. If you ask anything in My name, I will do it" (John 14:13-14).
Will you join me in desperate, faith-filled prayer these next few weeks? Please leave a comment below if so!
This blog is made possible through the gifts of readers like you, who give monthly or as they can to help me minister to people in writing and in person as a domestic missionary. Would you consider helping me? Find out why, how, and the benefits for you here. And, thank you in advance for your support!
The Amazon links above are my affiliate links. That means, if you click through my link to purchase a resource on Amazon, Amazon will pay me a small commission (at no additional cost to you). Thank you in advance for supporting my blog in this way. And if you love reading legal mumbo-jumbo, you can delight yourself in my disclosure policy here.