A Prophetic Word For Your Spirit: Come Out of Hiding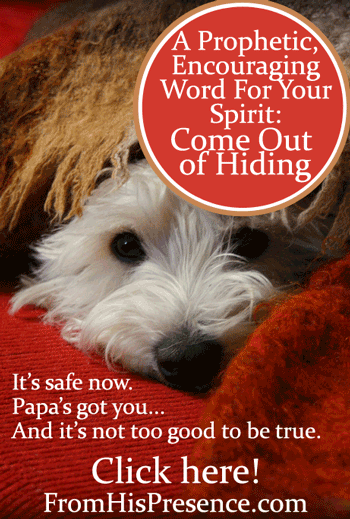 Today's blog post is a prophetic word for someone's spirit.
I've had the phrase "It's okay to come out now" (relating to someone's spirit) burning in my spirit for a couple of weeks. Then I started listening to a song (see the YouTube version below) that went along the same theme. And I feel like the Lord wants me to speak to some people today who have been wounded; people whose spirit has gone into hiding as a safety mechanism to cope with pain.
If that describes you–if you have been hurting and you've put up barriers around your heart that keep you from trusting–then I believe this word is for you:
"(Your name here), your spirit has been hiding. YOU have been hiding. But I want you to know that it's okay to come out now. It's safe.

Your Father has brought you into the Kingdom of the Son of His love (Colossians 1:13).  I know you've never known love before. You've placed yourself behind so many barriers because of that lack of love that you've experienced your whole life. But you were in darkness back then.

Now you are in the light. That is why it's safe.

The Father is whispering to you, "Come to Me. Receive My love, and let others love you too."

It's okay to open up. It's safe. Will things always be perfect? No, but you will always be loved, and you will always be safe in the Father's arms. Your Father in Heaven will always love you, and so will those whom He has placed in your life. It won't hurt.

So open up your heart to receive. Open your heart to fully embrace that which your Father is giving you in this season. It's okay to come out now. It's okay to embrace this new life. It's okay to trust that you can love and not lose.

Precious friend, receive. You are GREATLY beloved. Receive your Father's love, and rest in it. Know that it's safe to let yourself belong. It's safe to be loved. It's safe to love. It's safe to let yourself be the beloved son or daughter God has made you."
I thought you would also be encouraged by this song. Listen to Steffany Gretzinger sing "Out of Hiding / Father's Song" here:

Precious friend, I know it can be hard to look at what God is offering you and believe it can actually be yours.
BUT IT CAN BE. Christ gave His life so you could inherit the FULLNESS of His Kingdom of love. You CAN be everything God created you to be.
You can walk before God in white, in the purity and holiness of Christ.
You can be so saturated with the Word of God that you don't sin.
You can enjoy a sweet, beautiful relationship with your spouse.
You can enjoy covenant friendships with people who would be willing to give their lives for you and for whom you would also be willing to give yours.
YOUR house can be filled with peace.
YOU can be filled with joy.
You can be everything Papa God intends you to be. You CAN. God will help you…
So it's okay to come out now. It isn't too good to be true. Let yourself love. Let yourself trust. Ask God to help you take down the barriers you have put up over the years to shield yourself from the pain.
You're safe now.
Do you need to come out of hiding? Do you need to let yourself love, be loved, and trust?
Pray this prayer with me:
"Heavenly Father, I come before You in Jesus' name. Thank You for loving me. Thank You for saving me and filling me with Your Spirit.

Abba Father, I need help. My life has hurt for so long that I have put up barriers to shield myself from the pain. I've been hiding, and whenever people get too close, I come up with reasons to push them away. I haven't trusted because it has hurt too much to trust before.

Heavenly Father, I'm sorry. Please forgive me for harboring evil suspicions in my heart. Please forgive me for not believing You when You said that You make all things new. Please forgive me for holding my own past and other people's past against them–and against myself–when You said that in Christ, we are new creations.

God, I choose to let go. I choose to open my heart today. Please help me. I plead the blood of Jesus over every evil suspicion and wall of distrust in my heart. I renounce agreement with them and I repent for holding onto these lies. Please forgive me. Cover me with the blood of Jesus and wash me clean. Fill me with the Holy Spirit where those things were.

Abba, in Jesus' name, please help me to see people and situations the way You see them. Please help me to believe You in all things. Help me to embrace this new life You have given me, and help me to step out in faith, knowing that You will perfect all things that concern me.

Papa God, I know I am safe in Your arms. Please give me revelation and understanding of that at the very core of my being. I love You, Father, and I desire to walk in EVERYTHING You purchased for me with the blood of Jesus. Make me humble before You. Help me to receive Your love, love You back, and love others.

In Jesus' name. Amen."
May you be blessed with grace and peace from our Father and our Lord Jesus Christ, and with fellowship with the Holy Spirit today.
Did this post speak to you? If so, I'd love to hear about it. Please leave a comment below.