I Want To Be Obsessed With the Pearl of Great Price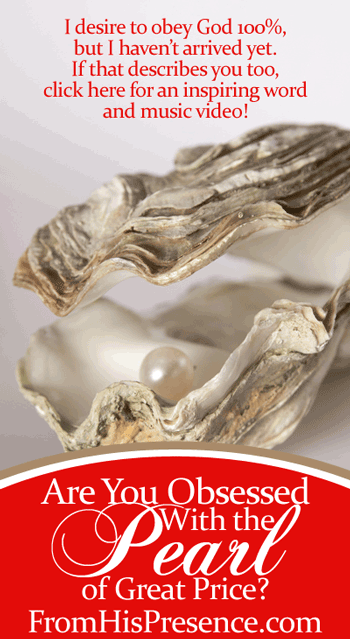 Yesterday, I had the best time with God… and then I messed it up.
I was spending some time alone with Papa at lunch. It was wonderful. The Holy Spirit drew me into this amazing time of travailing prayer. I felt so close to the Father; it was like I had been absorbed into the Father's heart. Time stopped, and I was totally lost in eternity.
It was sheer bliss. Nothing could be more beautiful, more fulfilling, more comforting, more pleasurable than that.
But right after I was done–before I even got up to go back to work–I messed it up. I had my phone with me, and someone sent me an ordinary question by text, and I responded rudely.
My conscience smote me for it. I could feel that I grieved the Holy Spirit. I was so ashamed of myself. I repented, but I still beat myself up for it. Then I had to rebuke the spirit of condemnation, and get right with God again.
I know Papa forgave me and forgot about it, but it felt awful to sin and tarnish that amazing time with the Lord with my flesh. I wish I hadn't done it. It would have been so much easier in the long run to respond rightly to that text.
Why did I do it? On looking back, I can see that I did it because Jesus was not important enough to me.
If He had been important enough to me, I would have considered His commands, His feelings, and what would please the Holy Spirit before I sent that text. But I didn't – not much, anyway. I sent it anyway, and it was sin.
That means I am not yet obsessed enough with the beauty of Jesus.
God, help me. Even writing this makes me cry. Papa God, I want to be obsessed with You. I want to be so close to You that I never, ever, ever sin. I want to know You more than I have ever known You before. I want to carry Your glory so powerfully that people get saved, healed, and delivered when I even walk by. I want to please You with all my actions and obey You 100% of the time.
I'm not there yet. But I want to get there. I'm trying to get there.
How do we get to that place of 100% obedience and intimacy with Jesus?
Jesus told us how to do it in Matthew 13:45-46:
Again, the kingdom of heaven is like a merchant seeking beautiful pearls, who, when he had found one pearl of great price, went and sold all that he had and bought it."
Jesus is that Pearl of Great Price. He gave us the solution to obtaining His Kingdom and intimacy with Himself right here in His Word. We don't have to wonder about how to go about it.
The solution is simple: Trade in everything for the one thing that really matters.
Matthew 16:24-27 tells us:
Then Jesus said to His disciples, "If anyone desires to come after Me, let him deny himself, and take up his cross, and follow Me. 

For whoever desires to save his life will lose it, but whoever loses his life for My sake will find it. 

For what profit is it to a man if he gains the whole world, and loses his own soul? Or what will a man give in exchange for his soul? 

For the Son of Man will come in the glory of His Father with His angels, and then He will reward each according to his works."
That means that if I want to be obsessed with Jesus and obey Him 100% of the time, I have to trade in my flesh. I have to trade in my time. I have to trade in everything I have. But in doing so, I receive the only One who matters in the long run.
I want to do that. I desire Jesus. Only He can satisfy. Only He is worth living for. Only He makes all things new. He is the Author, Finisher, and Restorer of all things. His beauty is incomparable; His glory matchless. He alone is worth the journey. He is the Pearl of Great Price, and He is worth trading everything for.
Are you with me? Do you want to go there too? You can. I can. All it takes is choices.
So what trading everything for the Pearl of Great Price look like, practically?
It looks like mundane choices. Usually not huge, earth-rattling choices. It looks like tiny choices that don't appear to matter, but oh my friend, they do.
It looks like giving up my flesh so I'm not rude to a friend.
It looks like skipping that football game on TV so we can get in the Word instead.
It looks like helping my husband when I don't feel like it.
It looks like walking away when I get angry, instead of going off at someone and making things worse.
It looks like getting away with God at lunchtime, instead of surfing the internet.
It looks like holding my tongue when I'd love to go off at someone.
Yesterday afternoon, I started listening to a song that illustrates all of this so well. It's TobyMac's "Lose My Soul." Watch TobyMac's music video here:
I don't want to gain the whole world and lose my soul. I don't want to gain my flesh and lose the anointing of the Holy Spirit. I don't want to gain TV time and lose my intimacy with God.
I want to trade everything in for the Pearl of Great Price. Jesus Christ is worth any sacrifice, any trade-in, any effort. So by the grace of God, I choose to trade in everything today and receive Him instead.
What choices will you make today?
Image courtesy of Max Garcia on Flickr via Creative Commons license.