Prayer Requests and Miracle Testimonies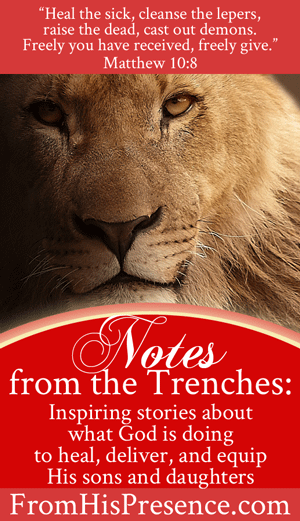 Hi everyone, I'm writing today to ask for your prayers.
Before I get to my prayer requests, though, let me share a few miracles and testimonies that your prayers have already accomplished. (I talked about some of these in a recent video on Facebook and YouTube, but there's even more to share.)
I've been sending out plenty of email updates on the ministry and various projects, but I haven't posted an actual ministry update here on the blog since this ministry update that I posted on May 1. So, there's a lot to share.
To be perfectly honest, it can be hard for me to share these things because I don't know if people will take the time to listen.
However, it's my desire to be a faithful servant and glorify the Father, Jesus, and Holy Spirit in everything I do. So I want you to know what HE has done, so that He will receive thanksgiving and get the glory from it.
So check out the testimonies and miracles below, and let's give glory to the King together, okay? (xoxo) 🙂 🙂 🙂
So that being said, here are some amazing things the Lord has done through this ministry and our community together since May:
First, the things for our readers that we serve:
In May, we saw 156,316 pageviews on this website alone.
In June, we saw 183,496 pageviews on this website alone.
In July, we saw 203,278 pageviews on this website alone.
So far in August, we've seen over 93,000 pageviews on this website alone.
From May 1 through yesterday, those pageviews were from 228,822 individual people (per Google Analytics). That means we preached the Gospel to 228,822 people just in the last few months.
From January 1 through yesterday, we had 471,653 individual people read our website at least once, per Google Analytics. HALLELUJAH!
We ALSO reached hundreds of thousands of people through our two articles published on The Elijah List in June.
We reached tens of thousands of more people through multiple articles published on Spirit Fuel.
A nationwide RADIO NETWORK sent out our articles to be published on their radio stations' websites ALL OVER THE USA. Here's just one example–on The Fish Atlanta: http://thefishatlanta.com/content/family/7-reasons-to-pray-and-not-lose-heart … and there are a bunch of these all over the country! HALLELUJAH! Reach more people, Jesus!
Charisma News published two of my articles on their site. The articles were about 11 differences between the Jezebel spirit and true prophecy. You can read those articles here and here.
We helped a dear, powerful pastor fund his mission trip to Cuba with a $1,000 seed, where he is training and discipling Cuban pastors.
We provided about 30 nice Bibles in English (and some in Spanish) for a local church whose people needed Bibles.
We sponsored a missionary who coordinates outreaches to unreached people groups. (This community sponsors this missionary to unreached people groups every month.)
We gave away hundreds and hundreds of copies of my Faith that Sees the Impossible Happen video class to people in our free Presence Seekers University (PSU) email community.
We gave away hundreds and hundreds of copies of my Understand and Activate Gifts of Healings video class to PSU subscribers.
We launched my newest, free mini-course: Church History 101. So far, 335 people have signed up for Church History 101 to further their Christian education and build their faith.
I launched and released a free, printable guide about How to Take Communion at Home for our PSU email community.
We gave away hundreds of other VERY valuable products about healing from spiritual abuse, healing from toxic churches, getting free from a spirit of poverty, and more–all part of a series of flash giveaways I did as spiritual warfare.
We hosted our second School of the Prophets on July 13, with live worship, crazy-awesome personal ministry and impartation, and hours and hours of teaching about finances and abundance in the Kingdom.
Additionally:
I edited three books for two different pastors in the last six weeks. (You need to claim that as a seed if you're called to write a book. What you make to happen for someone else, God will make happen for you.)
We have provided audio and video editing for 3 different ministries in June, July, and August (either by me or by one of our subcontractors).
We provided website consultation for 4 different pastors' ministries.
We funded and purchased a beauuuutiful 2009 Toyota Rav-4 for a youth pastor who desperately needed a car. It's paid for, done, and this pastor now has a reliable car to transport students in–AND she is free from a car payment. HALLELUJAH!
The teenagers and middle-schoolers that WE sent to evangelistic youth camp WENT to camp.
This was an outreach project we funded in April, if you remember. This youth group had over 40 people that signed up for youth camp, but 15 of them needed scholarships and they needed transportation for the whole group. We paid for all 15 kids that needed help, plus a charter bus to get the whole group and their chaperones there, several hours' drive each way. (Total cost $4,675.00). And they had tons of testimonies of salvations, rededications to Christ, people called into the ministry, and more.
We also sponsored Igniting Families, a ministry to parents and children.
A big part of our passion is to raise up laborers into the harvest field. Another big part of our passion is helping pastors. So when we add those up, taking into account our passion for and experience at online ministry, we help a lot of pastors to take their ministries online so they can reach even more people.
At the end of May, an opportunity arose for our ministry to help Pastor Madaline McFarland and Igniting Families go online to a greater extent and minister to struggling parents, families, and children. So, I have been working closely with Pastor Madaline this summer as she and her husband have taken their ministry worldwide. What a privilege it has been!
Pastor Madaline just had her first live event last weekend–a live intercessory worship event for moms praying for their children.
And she had one praise report already. The day after the event, one of the teenagers we had been praying for gave his heart to Jesus! Hallelujah!
We have continued to build out our Spanish ministry, which I am desperate to launch.
We have so many articles translated into Spanish now. I am just trying to get them all loaded into the Spanish site, and we'll be on the road. PLEASE pray for us about that!
We also, in THIS community, raised money for the local church that I attend–Dwelling Place Church International–to purchase video cameras and broadcasting equipment.
Thanks to your generous donations, together we contributed over $10,500 for this effort. They ended up getting all the equipment that was available–equipment which is perfectly suited for their needs and facility. The most recent estimate I heard was that they ended up with $75,000 worth of camera equipment. PRAISE BE TO JESUS!
We have also received SO many testimonies like this one:
"Dear Jamie,
Thank you for your encouraging prophetic words. At the beginning of the year, I started asking God to give me wisdom and to help me fully understand His will for my life. I've been spending much time in prayer like never before, and seemingly a call to intercede for my family and loved ones but for others He puts in my path and in my heart.

I have a strong desire for interceding in prayer as a whole. That being said, this email has helped me and encouraged me to keep praying and believing to receive more of God's anointing in this area. Also, I want you to know that you were an answer to my prayers as I was lead to your 21 Day Breakthrough Plan on YouVersion Bible app. It truly blessed me.

… I so thank you and pray God's blessings on you and your family. Learning a lot about tithes from you, and [about] financial breakthrough.

God Bless You! Sharon"
And this one:
"Hi Jamie,

I stumbled on this article from YouVersion Bible app. I was first of all blessed by the 5-day plan on victorious fasting, and then again this. I have never understood fasting as much as I do now. I enjoy it so well; and most of all, my relationship with God is clearer.

Thank you for your time to bring this realization to many, and for allowing the Holy Spirit work through you.

Hoping to hear from you more and more.

Joey"
Jamie, [I am] very grateful, thanks for changing my life through Christ Jesus. The Holy Spirit has asked me to forgive all that have hurt me and obey God.
God bless.
Rachael"
And from these readers, who also were reading the Healing from Rejection and Abandonment mini-course:
Thank you so much, Jamie. I really thank God for the great work He's doing through your ministry. I feel completely healed. I feel inner peace and peace of mind.
May God bless you and your family, in Jesus's name.
K.M."
"Dear Jamie, I just wanted to say that the timing on your message must have been ordained by the hand of God straight to me. I am a survivor of [abuse], and rejection and abandonment became a norm in my life. Thank you for caring and being obedient to God's voice to share your revelation to others that are suffering.

I know without a doubt that this is what's holding me back from the life God wants me to have; and am now going to fight the enemy who is afflicting me. God bless you and thank you for your words of inspiration!!!
Robin"
"Thanks so much, Jamie. I am blessed to have been a part of your program. I have seen the need to let go of what's holding you down. Sometimes you don't want to face it, but letting go of what hurt you brings inner joy.
I am healed from bitterness and anger.
Thanks,
T.D."
"Jamie,
Thank you so much. That message really hit home for me, because that is exactly what I was doing. Right now, I'm crying and asking God to take control of my life."
"I couldn't even finish reading without weeping. I cannot stop crying. I feel this word in my spirit and [it] is speaking to my heart. I believe with all my heart that God gave you this word just for me. I'm speechless and in awe right now. Thank you, Abba Father.
L."
"Dear Jamie … I just want to thank you for serving God in this capacity. Your words and teaching, through the power of the Holy Spirit, have absolutely changed my life. …"
I could go on and on with these testimonies.
People send testimonies every single day. We get dozens of them, and sometimes hundreds of them, every week. All glory to the Father and to Jesus Christ His Son!
And finally, most recently, you all generously decided you wanted to contribute to provide a paid-for meeting space for the local church I attend in Cleveland, Tennessee–and the mighty soul-winning move of God that is going on there.
44 people have been saved or rededicated to Jesus just in the last few weeks in that house!
And to help them, we are helping provide a paid-for space. So far, in the last two weeks, between you and us (mostly your donations, plus a few hundred dollars from our general budget), we have been able to contribute $7,777.77 to provide a paid-for meeting space for this move of God.
GLORY BE TO GOD MOST HIGH.
Beloved, thank you. YOU AND GOD make these things possible.
And now, may I ask you to pray for me and this ministry? Here are our needs:
FIRST:
Wisdom regarding my schedule. I need wisdom regarding what to do and what not to do, so I don't get too overloaded. The stress level I've been experiencing the last few months has been through the roof. Way too high; unhealthy. I am training people at the various ministries to do the things that I have been helping with, so that is going to help a lot. But the training process takes time.
SECOND:
Wisdom regarding what to do myself versus what to sub out. I have had several people email me lately and volunteer to help me, but I have no idea what to ask them to do! Lord, show me! Helpppp! 🙂
THIRD:
Financial provision. Father God ALWAYS provides, and He has helped us do AMAZING miracles for our outreaches and for the pastors we help. But, for our general budget that funds THIS ministry, we need to not run quite so lean.
We need several hundred of you to become monthly partners with this ministry, and all the rest of you to donate as the Lord leads for our general budget (as much as you can) today.
If you'd like to partner with us monthly, you can do that here: PayPal monthly partnerships and Gumroad monthly partnerships
And if you'd like to sow a one-time donation, here are the links for that:
Together, we are discipling people, healing hearts, sending out laborers into the harvest field, and prophesying the Word of the Lord over the whole earth–but it really is TOGETHER. I can't do it alone. It takes ALL of us. So, please honor the command of God in Galatians 6:6 and sow into this ministry if the Lord has used us to bless you. 🙂
FOURTH:
Our inner healing retreat in London is almost sold out. In November, we are taking a team of pastors who specialize in healing and deliverance ministry, to minister to our UK readers. Please pray for our team's safety, and for the Lord to bring every person to that retreat that needs to be there (and to deliver us from anyone who should not be there).
Please also pray for our funding for November's inner healing retreat.
Unlike many places in Christendom, our ministry pays for these trips for our ministers who serve. I'm not going to tell pastors in their mid-70s that they need to send letters to all their friends to raise money for their mission trip. That is SO dishonorable. No. Instead, I'm going to HONOR the men and women of God and pay for their plane tickets, hotel, food, transfers, etc all expenses paid.
These don't need to use up their retirement income to serve our readers; our God is generous enough to pay for whom He sends out.
We have already bought and paid for our team's airfare. HALLELUJAH!
Airfare was really expensive, running from over $900 to as much as $1,100 per person. We couldn't pay that much, so I fasted and prayed and asked God to reduce the airfare. HE DID–by hundreds of dollars per person–and we snagged it.
Thank You, Lord!
So now, we are believing God to send the money for hotel, food, transfers, conference materials, and incidental expenses associated with the trip.
FIFTH:
I need the Lord's help getting a lot of office tasks done. These are day-to-day things that are not my big strength. Filing paperwork, organizing, sending out articles to magazines for publication, etc. I really need grace and strength to do this. My heart and skill is to create, to forge ahead, to minister, etc. It's really hard for me to handle the operations by myself.
We did hire someone to help with the daily bookkeeping over the last few months, so that's going to make working with our CPA easier. But I still need SO MUCH HELP from the Lord in this area. Please, pray for me.
SIXTH:
Please pray for our 19-month-old son, who has been having significant feeding issues. We are getting him help and medical intervention right now and this is stressful and hard.
FINALLY:
Please pray for my husband's health and my health. We are also having some challenges right now, but we are going to be fine. I would just really appreciate your prayers for us personally and for our health.
Beloved, THANK YOU for being part of this community.
Thank you for loving us and for being part of our ministry. Thank you for all your notes, cards, emails, and messages. We love Jesus so much and are so grateful that He sent us YOU.
Please keep loving Him and obeying Him. Seek His face, study His Word, and put Him first.
And if this ministry blesses you, please also partner with us on a monthly basis or send in one-time seeds as you are able to do so. We get testimonies all the time about this ministry being good ground, and about how the Lord blesses people for sowing. I praise God for that; and I believe that happens because we are seeking God, honoring His Word, and raising up YOU to grow and enter the harvest field yourself.
I love you very much. I pray for you daily. Thank you for praying for me too.
Love in Christ,
Jamie Rohrbaugh
FromHisPresence.com