Do you need Kingdom multiplication and abundance in your life?
I know I do. No matter how blessed we are, we can always be more blessed! It's called "Kingdom multiplication," and we can all come up into a higher level of God's provision by contending for it!
Well, this morning, as I was praying, the Lord told me to go to John chapter 6. When I did, He showed me what I feel Holy Spirit calling "The Abundance Formula" … and I am SO excited about this!
John 6:1-13 contains the story of Jesus feeding over 5,000 people by multiplying five barley loaves and two small fish. Here's what it says: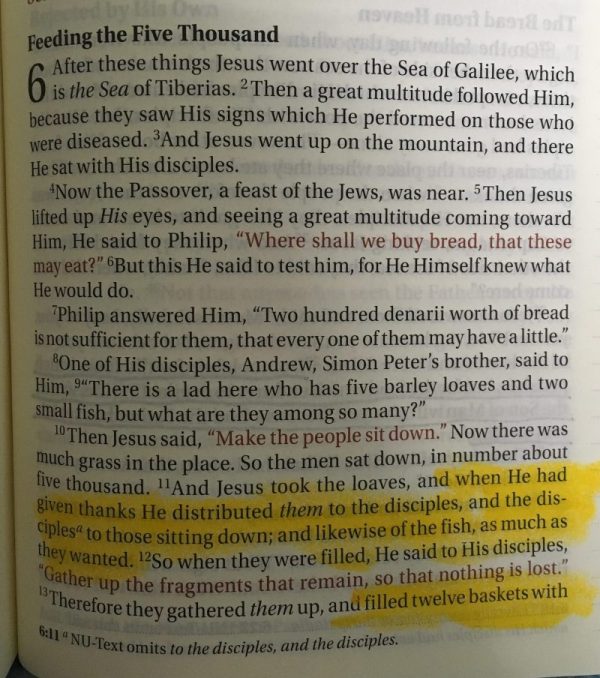 And you know what? What Jesus did for those 5,000 people, He will do for us too. He fed them from almost nothing–but He took that "almost nothing" and multiplied it like crazy.
So here is the Abundance Formula that Holy Spirit showed me.
As you follow the story in the image above (John 6:1-13), you can see these 5 keys to Kingdom multiplication:
Key 1: Recognize that Jesus already knows what He will do.
You may feel out of control, but He's got this–even if you don't feel like it yet. He already knows exactly what He will do, for He will always manifest HIMSELF. He can't do anything else. He's got no other tricks in His pocket than manifesting everything He is, so He's very predictable! God is God, and He cannot deny Himself!
Think of it this way, also:
Whatever mountain you are facing, God has already been there.
He's already lived through your future; He's the God who is, and who was, and who IS to come. That means He is CURRENTLY inhabiting your FUTURE. You haven't seen tomorrow or the next day yet, but GOD is already living there. He IS in the "to come."
So whatever you've got going on, He already knows what He will do. You just need to find out what HIS game plan is, and get aligned with that.
Related: Take the FREE Abundance Bible Study Challenge–a whole new way to study your Bible and build your faith for abundance!
Key 2: Even though HE knows what He will do, God will test you anyway.
Jesus asked Philip where they should buy bread so that all those people could eat. He was asking Philip if he, Philip, could provide for them.
But Philip could not.
Philip did not have the resources to feed 5,000 hungry people. It doesn't even appear from the story that Philip could provide for himself! (It was a young boy who had the food, not any of the disciples.)
A person could surmise that the disciples might have had 200 denarii in their communal coffers (John 6:7). However, if they did, even that would not have been enough.
Yet, Jesus still tested Philip … and Philip had to admit that he, Philip, could not provide.
What's the takeaway?
Are you feeling worried right now? You're in the testing part of this process. Go to the Lord and humbly admit that you cannot provide for yourself. Then, proceed with the next key!
Related: Sign up for free email updates from our finance/motivation blog, Over Not Under, and receive my free ebook–15 Prayers for Financial Increase–immediately in your email inbox!
Key 3: Rest.
Jesus made the people sit down. They sat down as if they were going to eat, even though the only food in sight consisted of five barley loaves and two small fish!
God is very serious about rest. He REQUIRES us to do it. In the book of Hebrews, chapters 1-4 have the main theme of describing WHY God's people should rest, HOW they have failed to rest, and HOW they can start resting now–along with telling us how mad God gets when we refuse to rest!
Resting doesn't mean we do nothing. You can still act while you rest. However, you DO have to rest in God if you're going to receive anything from Him. In God's opinion, failure to rest is called "distrust," or "lack of faith," and He doesn't respond to that.
So … rest! Get a word and stand on it! Depend on God, and give yourself a break!
Related: Read my blog series about how to rest in God AND still reach your destiny here.
Key 4: Radical thanksgiving.
This morning, as I was praying, the Lord showed me how Jesus gave thanks before He multiplied the bread and fish. Thanksgiving came before abundance! And, if we look at the situation truthfully, it was radical thanksgiving–thanksgiving for something Jesus had faith for, but could not see with His natural eyes.
Right now, if you need God to multiply your provision, you need to stop and give radical thanksgiving.
That is what I did this morning. As I read John 6, Holy Spirit told me to stop and give thanks. So I did. I thanked Him for everything I could think of:
My son;
Our home;
My family;
The Bible in front of me;
and anything else I could think of!
I just thanked Him and thanked Him, even for crazy, ridiculous-sounding stuff like the paint on the walls!
But you know what? I felt His unction on me to just give thanks. It was an urgent matter in the Spirit. Why? Because thanksgiving opens Kingdom doors. Thanksgiving opens the windows of Heaven. And what you bless and thank God for increases in your life.
I believe this is a prophetic word for you too. STOP WHATEVER YOU ARE DOING AND GIVE THANKS. Yes, I'm shouting. 🙂 Stop and give thanks! It will open up what has been a closed gate of blessings in your life!
Key 5: Expectation.
Jesus kept multiplying the bread "as much as they wanted" (John 6:11). That will preach.
When I wrote yesterday's blog post, Holy Spirit dealt with me about this.
Here's what happened: Like I said yesterday, we need a certain amount of money for the ministry in order to meet expenses at the end of the month. The Lord always comes through with this. ALWAYS.
However, I WANT more than that. We need about $5,000; but I want $7,000 so we can start outsourcing some work, hire an assistant, hire an audio editor, etc—and then start providing more scholarships for the inner healing retreat. We need dozens of scholarships, and I want the money to award them all. I sense that would be a great exploit–a goal/great exploit worthy of God (Daniel 11:32).
Well, when I was writing all that out yesterday, I was tempted to just tell you we needed bare-bones expense money. Just enough to get by.
BUT then Holy Spirit nudged me and I could tell He wanted me to write a "faith amount" for what we truly need, expansion and all, not for just what we need to scrape by.
It was hard.
Honestly, I think Holy Spirit wanted me to stretch my faith and believe Him for $10,000. We could help SO many people with $10,000, and we could give so many scholarships for the retreat.
But honestly—and I say this with sorrow—I did not have the faith at the time for $10,000.
Yesterday, I had the faith for $7,000, so that's what I wrote. All the while yesterday, though, while I was writing, I was wondering: if I had the faith to meet His challenge to believe Him for $10,000, would He provide that too?
And of course He would. It's a no-brainer. So today, after fueling myself more in the Word on this topic in John 6, I can honestly say I have the faith for the full $10,000–which is going to provide our expenses plus a whole lot of scholarships to the inner healing retreat. And I'm STOKED, because it's going to come in.
(Give or purchase products here through Gumroad or donate here through PayPal if you'd like to help.) 🙂
Beloveds, God will give you what you expect.
You have to really expect it, though. It's called "faith," and it's what He responds to. You can't just wish you expected it. You can't just dream of it. You have to know that you know that you know that GOD WILL DO IT.
And He will … as much as you want.
Beloved, God's Word shows us a pattern that is far higher, and much more abundant, than our current reality.
But you know what? That same word also outlines how we can bring our reality UP to meet the standard of HIS reality. God's Word clearly outlines the keys. All we have to do is stick with what He says and do things the way HE shows us to do things.
If we will do that, we will see Kingdom multiplication in our lives. The Abundance Formula works. It's just a simple path to obeying the commands of God by:
Recognizing that Jesus already knows what He will do;
Recognizing His tests when they come, and standing firm;
Resting in Him and His Word;
Giving thanks to God effusively, and becoming a radical thank-er; and
Expecting Him to show up and show out, as much as we want. 🙂
Which key do you need to work on today?
Do these 5 keys in The Abundance Formula help and encourage you today? If so, leave a comment below! I'd love to hear what Papa is saying to you!