Personal Prayer Requests and April Update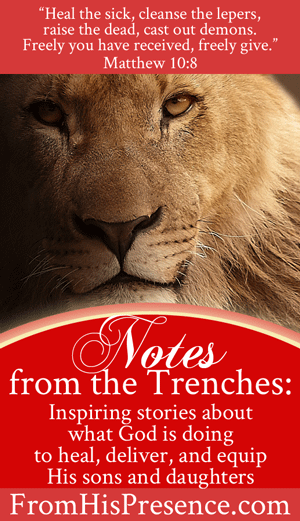 Hey loves,
It's a new season, and I'm excited about it! Wanna know why?
The enemy is trying to get me to quit the ministry, crawl into bed, cover my head, and cry. BUT GOD is telling me to recalibrate, reduce unnecessary work on my plate personally, and He'll set me up for so much more future effectiveness so we can reach more people for Him together.
Go, JESUS!
I'm going to tell you all about this today, and humbly ask for your prayers–and your help, if you are not already helping.
First, a huge ministry update:
April was a huge month in which God did so much. I am so thankful to be able to bring you this report about what all happened!
In April, Holy Spirit led us to make some huge contributions to ministers and hurting people. Specifically:
The lieutenant at the jail receiving our gift of Bibles and financial books for prisoners.
We purchased $576.36 of materials for a much-needed improvement at a local church. This started and finished the project.
We donated $1,000 to a pastor's ministry in financial need.
We spent many of my work hours–volunteer labor worth hundreds and hundreds of dollars, plus about $80 on supplies–to help THREE local pastors take their ministries online. One pastor has successfully launched and two more will be launching within the next couple of months.
We donated $500 to a church in need.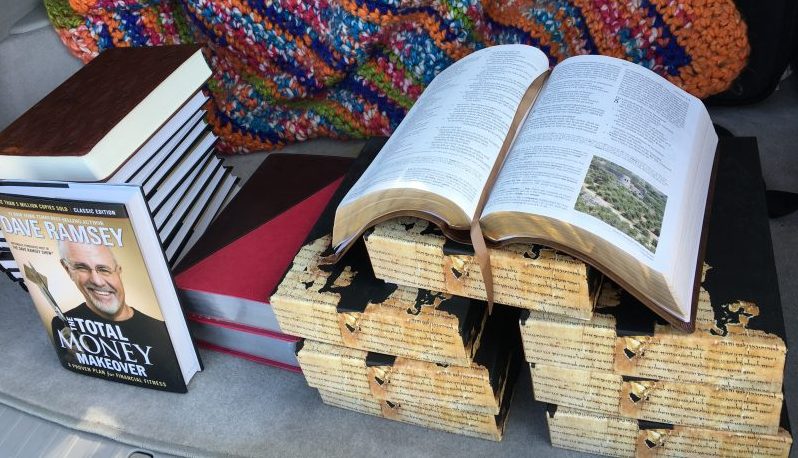 We also donated books and Bibles to a local jail ministry that we vetted and believe is good ground. This is a partnership that the Lord opened for us a couple of months ago, and I am SO excited about it! Here's what this ministry provided:
10 new copies of Dave Ramsey's book The Total Money Makeover (cost of $158.30) to be given to prisoners at the lieutenant's discretion;
8 (EIGHT!!!!!) brand-new, just-released Archeology Study Bibles with soft, leatherlike covers and all manner of study notes and cultural/archeological explanations of what the reader is reading about;
2 very nice study Bibles with pink-and-brown leather-like covers and lots of helpful notes inside; and
1 very nice journaling Bible.
The Bibles cost around $600 combined. They will be handled by the lieutenant at the jail, where she will hand them out to prisoners whom she personally knows will use them and value them.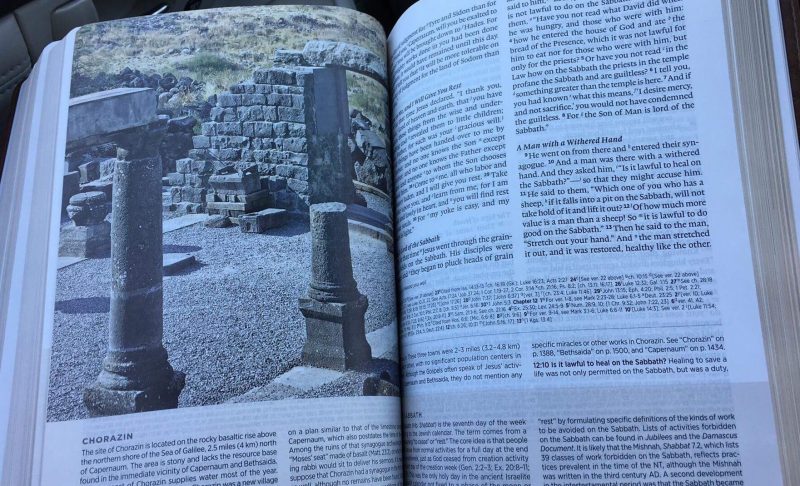 Also, all the books and Bibles for the prisoners are brand-new, and they are all very nice Bibles that I would LOVE to use myself (if I were looking for a Bible). That is very important to me.
Why?
Because although all sorts of Bibles contain God's Word, some Bibles look and feel so cheap that no one wants to touch them to read them. Also, all the Bibles are large print, so that they can be read without straining the eyes.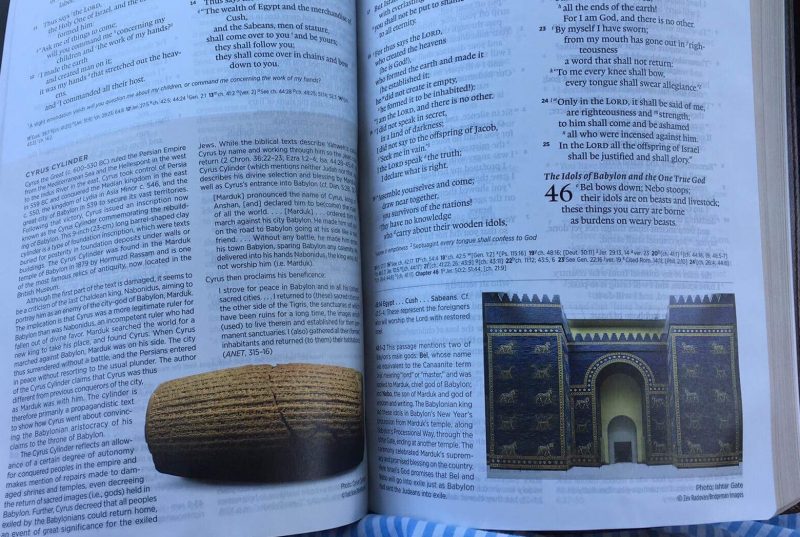 Another reason it's important to provide nice Bibles to people in need, not cheap-o ones, is that a gift is a reflection of what you think of the recipient. When you give someone a Bible that is nice, you communicate to them that they are WORTH a nice present–both to you AND to God.
On the other hand, when you give someone a Bible with a yucky cover, tiny print, and nothing to make it interesting outside the work of the Holy Spirit, they don't value it. They don't realize the value of what they've been given.
Would they realize it if they read it and converted? Sure! But they have to get there first. They have to be willing to touch the thing first. Giving prisoners a nice Bible, instead of a cheap-o one that feels yucky, is a good way to pique their interest.
There's more than one way to approach evangelism.
It's the GOODNESS of God that brings men to repentance, so we do our best to give good gifts like Father does.
We also have a book proposal that made it through two rounds of approvals at a traditional publishing house recently.
Please continue to pray that God will open doors with the right publisher, right place, right time, right contract, etc. 🙂
All of these things were in addition to the writing and maintaining of our online ministry with blog posts and more.
In April, we saw 168,560 pageviews on this blog alone. Those pageviews came from over 70,000 individual people. That's 70,000 people we are serving with the good news of salvation and victory in Jesus Christ.
We also reached people in April through our outreaches on other media outlets, such as Spirit Fuel, The Elijah List, and our main social media channels–Pinterest, Facebook, YouTube, and Twitter. Hundreds of thousands of people.
These things would not have been possible without you.
They simply wouldn't. No way at all. You prayed, and God answered. You shared blog posts on social media to reach more people than I could alone. You also knew we had financial need, and God moved on your hearts; you gave, and we put the money to good use.
I give God all the praise for these things, and I honor Him as our Source. But, I do thank and honor you too, because YOU allowed yourselves to be Papa's hands and feet to reach all these people.
And now for the personal stuff:
There will always be tough times in life, y'all. That's not news to you and it's not news to me. There will also be tough times in ministry. I LOVE doing the Lord's work, but there's no doubt it's not easy. Nothing in the Kingdom that's worthwhile is without its challenges.
Well, you know that the last few months have been a very trying time for me. And, that is still true.
It feels very overwhelming to run a global ministry while learning how to be a new mom to a (now) four-month-old baby too. Of course. And the enemy wants me to quit the ministry, crawl in my bed, cover my head, and cry … but I'm not gonna do it. I've been around the block too many times and come too far to look back. Whether things are miserable or wonderful, I'm all in with Jesus.
But I do feel that, right now, we're at a crossroads where I have to recalibrate some things in order to move forward successfully and not impact my health.
The Lord is systematically having me re-boot all of my systems–everything about my life. And He has shown me that this will not only defeat the devil, but will actually catapult me into a whole new level of effectiveness for Him.
Among other things, that reboot looks like:
Getting an assistant. I can't run this ministry anymore by myself. This ministry has become bigger than me, and I can't even tell you how many back-end tasks have to be done every day … many of which simply aren't getting done, because I can't do them. I need an assistant.
Throwing away stuff from my house. We're simplifying in every way possible.
Getting a bookkeeper. I know how to do accounting, but I'm called to preach and teach, not do bookkeeping. I need to outsource the things I'm not called to do, just like the apostles did and Moses did. I need to focus on ministering to you, not updating ledgers.
Getting an audio and video editor. I have audio sermons I can't release because I can't find the time to edit them. I have clips for video I can't release because I don't know how to edit video.
So. Here's the thing:
Assistants cost money. Bookkeepers cost money. Outsourcing things costs money.
I don't have the money yet. It's not in the bank yet. But you know what else? My Father has the money. Every time we have stepped out in faith to expand our borders, Father has come up under us and provided the money.
Every time. In January, I had to hire a Pinterest administrator. I couldn't reliably handle Pinterest anymore, because pins have to be pinned several times a day at specific times. With a newborn baby, it was just too much. Our blog was really suffering because of this, as Pinterest is one of our big sources of traffic.
So we hired an administrator. A pastor's wife who would hear God about what to pin and when to pin it–and for whom the opportunity was a blessing. That has worked out PERFECTLY. She is a blessing to us and the ministry is a blessing to her, and she gets great results on Pinterest.
But when we hired her, honestly? I was terrified.
It costs $465 per 31-day month for Pinterest administration. This is a fair rate for what she is doing, and I'm not going to pay anyone less than fairly. But we didn't have the $465. I was stepping out on faith to hire her. I had to conquer fear to do that. I had to conquer timidity and walk in faith instead. But you know what? Papa came up under us and has provided the money every month.
So that's what I'm believing God to do now.
I can't go on the way things have been. We're at a crossroads and we have to re-calibrate. I'll be a crying mess if I try to keep on the way things have been, and we all know it's not God's will for any of us to be a crying mess. 🙂
So we're just going to make some changes, and those changes will set us up to reach way more people and do way more ministry than we ever could have without those changes.
Here's what I need from you:
I need your help.
I need and humbly ask all of you who benefit from this ministry to intercede for us. Intercessors have never been more important to me than they are right now.
I also need all those of you whom the Lord has been prompting to support this ministry financially, to go ahead and do it.
You can make random donations through PayPal or through Gumroad. You can become a monthly partner through PayPal or through Gumroad. Or, you can purchase products from our digital store–ALL of which are essential, Spirit-filled teaching that will help you walk in victory.
A word about that:
Beloveds, I don't make products for my health. I don't make products because it's fun, and I don't make products because it's easy. It's neither fun nor easy to record teachings, make videos, and write books.
I DO make products because I am trying to replicate every way the Lord has brought me out of darkness into His wonderful light ON PAPER, or on video, or on audio.
I had NO ONE to help me learn most of this stuff. Yes, I went to classes and seminars. I studied and read books. Those things are important and so helpful.
But, most of what I have learned, I learned by sitting on my floor with my Bible and my journal, praying and reading and listening to Holy Spirit.
THAT journey is what I have replicated and transcribed into the products I have for sale on our Gumroad store. THAT journey. Those keys to victory. THAT life-transforming path to freedom.
For that reason, if there's even one single product on our Gumroad store that you haven't read/watched/listened to yet, you need to get it and read it, watch it, or listen to it. Every product, every person. This is serious, folks. If you want to go on with God, you've got to do the work to grow and learn and get yourself free.
Selah.
So anyway, back to the ministry update.
We gave away a lot of resources to pastors and ministries in April because the Lord impressed upon me a long time ago to operate by first need, first claim. God needed His money back before we needed it for expenses, so He got it first. That's how we operate all the time. This keeps us living by faith, but I know Father God is good for His Word.
We had the resources to complete the work of the ministry last month because you were faithful and gave. THANK YOU FOR THAT. I am so grateful.
This month, however, we have the same needs all over again.
Our overhead has to be paid every month–lots of internet software fees, email costs, and more. Also, I have to be paid every month (I'm an employee of the ministry now) because I can't minister if my family can't pay the bills. We also have our Pinterest administrator and other subcontractors to pay every month.
So we need your help.
I need you to pray, and if the Lord leads you to do so–especially if you are not already helping support this ministry and it blesses you–then I need  you to give.
We have expenses coming due this month that we do not have the money to pay. We need about $7,000 USD right now to pay overhead, payroll, and hire several subcontractors (including an assistant for me about 15-20 hours per week) so we can get more sermons and teaching to you more often (including free teachings).
Also, this fall's inner healing retreat is much on my heart.
From this month through August, we're focusing extra funds that come in (over expenses) on providing scholarships for the September inner healing retreat.
I'm still in the process of reviewing applications with our board and approving scholarships. However, we have dozens more applications for scholarships than we have money available.
(If you applied for a scholarship, you will be hearing from me. It takes time, but don't give up hope and keep your calendar clear for those dates.)
We do have to pay regular ministry expenses first, before we can award extra scholarships. However, I'm believing God to provide.
So we need you. I need you. I can't operate this ministry alone, but together we can shake the world by reaching people and equipping laborers to go into the harvest field themselves.
'Nuff said. Thank you for praying and giving.
And now for the baby update:
My baby is eating his toes. Right now, laying beside me, he's eating his feet. It's the cutest thing ever.
That said, he's doing so much better each week. My journey off dairy has been challenging, but I'm sticking with it. And Elijah is doing SO MUCH BETTER without dairy! (Who knew?)
He's also talking nonstop. When we go to church, it's the funniest thing. I wear him in a wrap, and he goes to sleep during the (loud) worship. Then, he wakes up and wants to help our pastor preach during the sermons. He has a lot to say.
He does still have quite a bit of reflux and still vomits up a lot of his food. We may be seeing some additional doctors about this sometime soon.
Elijah was also dedicated to the Lord this last Sunday, on what is Mother's Day here in the USA.
Our pastors, Pastors Jamie and Judy Jacobs Tuttle, placed an apostolic and prophetic blessing on him and it was so beautiful. I love knowing that I don't own this baby, but rather have only been entrusted with him as a gift from Heaven.
Elijah has been on a nursing strike lately, where he's developing so much that lots of other things are interesting to him–but eating is not so interesting. I'm concerned about that and praying and working with him to get him back eating like he should be.
Overall, though, Elijah is doing great. We are overwhelmed with love for him and so thankful for him. He is truly a gift from Heaven.
And two praises:
My c-section incision has gotten a lot better over the last month or two. This is an answer to prayer. Thank you for praying!
AND …
We got a sales contract on a little house lot we bought many years ago but never built on. We got our full sales price. Even at that price, we are taking over a 25% loss on the land–but we need the money to get us closer to purchasing a new-to-us vehicle for my husband to drive. So, we are incredibly thankful for the sale. (It is scheduled to close on May 30.)
So here are my prayer requests:
Please pray for my son, that he will eat like he should, keep his food down, and keep growing. 🙂
Pray that Papa would bring our blog posts and materials to the right people, in the right place, at the right time to be a blessing to them and to glorify His own name.
Please pray for our ministry's finances, that we would have all we need for expenses, plus subcontractors and an assistant, PLUS everything we need to meet every retreat scholarship that has been applied for.
Pray that Papa God would prepare the hearts of all the people who are attending the retreat.
Pray that EVERYONE who needs to sign up for the retreat to sign up and attend.
Pray for our baby to sleep well at night. I've been getting about 4-5 hours' sleep many nights lately. I'm grateful for those hours, but sure could use a few more. 🙂
Pray for the Lord to provide us with a new vehicle for my husband to drive. New-to-us is fine.
Pray that I would have grace, strength, and wisdom as I re-calibrate so many areas of life this month.
Pray that God would give me wisdom as I outsource work to others.
Pray for the pastors and ministers we are helping, that they would be faithful and diligent as they enter the new frontiers of online ministry and media communication.
Beloveds, thank  you for praying.
Thank you for marching onward with me as we labor together in God's harvest field. Thank you for helping me equip pastors and ministers to function in the social media age. Thank you for helping me reach hundreds of thousands of people for Jesus each month.
I am SO grateful for each of you. We could not do this without you. May Papa crown you with joy and great reward this day, in Jesus' name–and may the seeds you have sown come up a thousandfold.
Love in Christ,
Jamie