10 Keys to Finding Prosperity During Famine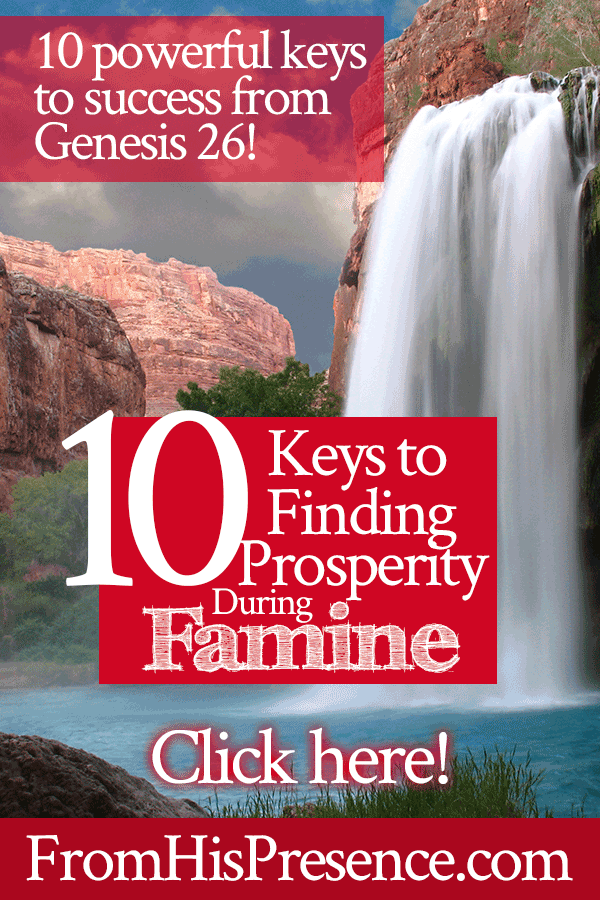 Are you concerned about a financial famine right now? If so, the Lord gave me a word for you today that is going to encourage you and show you exactly how HE wants you to navigate ANY hard time. Read on for 10 keys to finding prosperity–even extreme prosperity–during famine!
Many people are concerned about living during hard times right now. However, the Lord has plans for you to PROSPER despite what circumstances around you look like.
Yes, that's right. God wants you to PROSPER during a challenging time, or even during a famine–even if the wicked do not prosper.
Remember that He works ALL things together for your good, if you love Him and are called according to His purpose. I don't know if you love Him or not; you do. But IF YOU DO, then you ARE called according to His purpose. 🙂 And THAT means that difficult situations are opportunities for you to prosper and be blessed!
Related: No Need to Fear Your New Season; My Story about a Season that Hurt
Remember God's promise to you in Romans 8:28, which says:
"And we know that all things work together for good to those who love God, to those who are the called according to His purpose."
So if you're entering into what looks like a difficult season …
No matter what the world, the flesh, your neighbors, your friends, or the media say …
GOD SAYS that this thing is going to prosper you.
To get yourself in the proper mood for this word, listen to Fred Hammond sing "We're Blessed" on the YouTube video below, and then continue with the rest of the word below that!

The Lord has been speaking to me powerfully about how to prosper in the midst of famine.
I know this word is for you, because many people are concerned about the economy and other worldly situations right now. However, the Lord says to you, "Keep your eyes on Me! Listen to My truth, and heed it, and you will prosper!"
Here is the passage that the Lord wants me to encourage you from, about finding prosperity in the midst of famine:
Genesis 26:1-14:

"There was a famine in the land, besides the first famine that was in the days of Abraham. And Isaac went to Abimelech king of the Philistines, in Gerar.

Then the Lord appeared to him and said: 'Do not go down to Egypt; live in the land of which I shall tell you. Dwell in this land, and I will be with you and bless you; for to you and your descendants I give all these lands, and I will perform the oath which I swore to Abraham your father.

And I will make your descendants multiply as the stars of heaven; I will give to your descendants all these lands; and in your seed all the nations of the earth shall be blessed; because Abraham obeyed My voice and kept My charge, My commandments, My statutes, and My laws.'

So Isaac dwelt in Gerar. And the men of the place asked about his wife. And he said, 'She is my sister'; for he was afraid to say, 'She is my wife,' because he thought, 'lest the men of the place kill me for Rebekah, because she is beautiful to behold.'

Now it came to pass, when he had been there a long time, that Abimelech king of the Philistines looked through a window, and saw, and there was Isaac, showing endearment to Rebekah his wife. Then Abimelech called Isaac and said, 'Quite obviously she is your wife; so how could you say, 'She is my sister'?'

Isaac said to him, 'Because I said, 'Lest I die on account of her.''

And Abimelech said, 'What is this you have done to us? One of the people might soon have lain with your wife, and you would have brought guilt on us.' So Abimelech charged all his people, saying, 'He who touches this man or his wife shall surely be put to death.'

Then Isaac sowed in that land, and reaped in the same year a hundredfold; and the Lord blessed him.

The man began to prosper, and continued prospering until he became very prosperous; for he had possessions of flocks and possessions of herds and a great number of servants. So the Philistines envied him" (Genesis 26:1-14 NKJV).
Out of this passage, the Lord showed me 10 keys to dwelling in prosperity despite any famine around you:
In the order they appear in the Bible passage above:
1) Don't go to foreign kings in search of prosperity or protection.
In Genesis 26, there was a famine in the land. Isaac wanted to go down to Egypt and seek the protection of Pharaoh.
Egypt was a prosperous land because it sat on the Nile river, where there was plenty of water for the crops. You can easily see why Isaac would have naturally thought that Egypt would be his solution.
However, God said no. The Lord told Isaac not to seek the protection or provision of foreign kings.
The Lord wanted Isaac to look at Him, and Him only, for his safety and provision.
Related: Prophetic Word: Stop Waiting for a Kingmaker!
In the same way, no matter what you are going through right now, the Lord doesn't want you to look for protection from foreign kings. Instead, He wants you to look to Him and Him only.
When you walk through famine, our God shall supply all your needs. He promised. He is better and more fruitful than the Nile River could ever be, for He is the River of Life and the Living Water. When you believe in Him, out of your belly shall also flow rivers of living water.
As it says in John 7:37-38:
"On the last day, that great day of the feast, Jesus stood and cried out, saying, 'If anyone thirsts, let him come to Me and drink. He who believes in Me, as the Scripture has said, out of his heart will flow rivers of living water.'"
The river of God is abundant. He provides all our needs, spiritually, physically, emotionally, and financially. The river of His Holy Spirit, who lives inside you, transmits everything you need to you, for He provides from His goodness for the poor (Psalm 68:10).
What's the point? Don't look to foreign kings for protection or provision in famine.
Instead, look to God and God alone. He will instruct you and teach you in the way you should go. He will guide you with His eye upon you. He'll show you the way you should take; and, when you take it, you'll come forth shining like gold. According to your faith be it unto you!
2) Live in the land of which the Lord tells you (or has already told you).
God Himself has already told you what land He has for you. Some of you are already walking in it, as I am; however, when times get hard, the enemy tempts us to abandon ship.
Whatever the enemy is tempting you to do–wherever he is tempting you to go right now–DON'T LISTEN!
Look, so times are hard. What is that to God? Seek Him more! Fast and pray! Claim His promises, for He WILL come through!
It is not possible for God to let you down.
Faithfulness is not something the Lord has; it's who He is. It's His very nature, through and through, and He cannot deny Himself or divest Himself of His divine nature. As it says in 2 Timothy 2:11-13:
"This is a faithful saying:

For if we died with Him, we shall also live with Him. If we endure, we shall also reign with Him. If we deny Him, He also will deny us. If we are faithless, He remains faithful; He cannot deny Himself."
So what are we worried about? God is faithful! And in order for Him to let us down, He would have to cease being God and get off His throne, for as God He cannot be anything BUT who He already is!
So if you want to prosper in famine, you've got to inhabit the promise. You have to stay put right in the place the Lord told you about–the place He told you He would bring you into.
That means:
Don't abandon ship! Don't back down! Don't alter your confession of faith in God, and in His Word!
If you live by faith, as I do, you've got to stay put! Don't be tempted to give up and give your land up. Instead, confess your faith out loud. Shout it if you have to do so; do whatever it takes to make YOURSELF believe your confession! Stay in that land!
3) If you dwell in that land and stay in it purposefully, the Lord will be with you and bless you.
If you stay right where God put you, the Lord will be true to you every time. If you obey His Word and meet the conditions for His promises–namely, obedience–then you will reap the benefits. The Lord will keep His promises and will perform His oath to you.
Don't doubt that the Lord will bless you, as long as you keep obeying Him and stay where He put you!
4) The Lord will still multiply your legacy if you obey.
You've been wanting growth, but suddenly in the famine it seems even survival will be a blessing. However, the Lord says to you today:
"I see all your desires, and I will fulfill them. I am not oblivious to the fact that you want to grow. I want you to grow more than you do. But I have things up My sleeve you do not see, and I am working, so I need you to trust Me."
The Lord wants you to know that He will still grow you, increase you, and use you for His Kingdom. He has not been taken by surprise, no matter what is going on in your life. He is STILL going to use you and give you nations for your inheritance if you will believe Him, ask Him, and be willing to receive!
5) He will preserve your land for your descendants.
The Lord promised Isaac that He would give Isaac's land-of-promise to Isaac's descendants. This applies to you too, for some of you are afraid you are going to lose everything–but if you will seek the Lord and obey Him, no weapon formed against you can prosper. The Lord will preserve His blessings for you and hand them down to your posterity.
6) You will still be a worldwide blessing if you will obey.
Want to reach the world? Awesome, because there's no greater time than the present! God's people are uniquely positioned during this famine to act as the watering-house and provision-house for the world.
For example:
The world needs comfort, and we've got comfort to give!
The world needs good news, and YOU have Good News to give!
The world needs reassurance, and we have reassurance to give in Christ Jesus!
Greater is He who is in us than he who is in the world, so everything the world needs right now, WE HAVE. We have the Kingdom of God, and the abundant provision, help, hope, peace, joy, and righteousness thereof.
So what are you waiting for? Get fired up and tell the world some good news!
Here are some examples of good news you could tell people right now:
Tell them Jesus loves them and gave Himself for them.
Tell them that your God shall supply all your needs–and their needs, too–according to His riches in glory in Christ Jesus.
Tell them that there's healing in the house–healing in the house of the Lord! Healing in your hands! Healing in the Word of God!
Tell them that they can cast all their burdens upon the Lord, and He will sustain them!
Tell them they may feel like they've been cast adrift on an ocean of worry, but if they will call upon the Lord, He will answer them and show them GREAT and MIGHTY things they know not of!
The world needs good news and you have good news to give, beloved. Want to take nations? NOW is the time to do it. What are you waiting for? Go for it!
Related: 9 Power Gifts of the Spirit: Healings that Change the World
7) The enemy will come even in while you're encamping in the land the Lord gave you.
The land in which God has placed you is not a land free from warfare. Be keenly aware that you have an enemy, and your enemy is the devil. Don't let your guard down.
Always remember that there's nothing new under the sun; the same tricks the enemy has used against you in the past are the same tricks he will try to deceive you with again.
Don't let him. Stand firm in the Lord and put on the armor of God.
Keep that armor on at all times, as follows:
"Finally, my brethren, be strong in the Lord and in the power of His might. Put on the whole armor of God, that you may be able to stand against the wiles of the devil.

For we do not wrestle against flesh and blood, but against principalities, against powers, against the rulers of the darkness of this age, against spiritual hosts of wickedness in the heavenly places. Therefore take up the whole armor of God, that you may be able to withstand in the evil day, and having done all, to stand.

Stand therefore, having girded your waist with truth, having put on the breastplate of righteousness, and having shod your feet with the preparation of the gospel of peace; above all, taking the shield of faith with which you will be able to quench all the fiery darts of the wicked one.

And take the helmet of salvation, and the sword of the Spirit, which is the word of God; praying always with all prayer and supplication in the Spirit, being watchful to this end with all perseverance and supplication for all the saints …" (Ephesians 6:10-18).
We're in a battle, and the battle is not against flesh and blood.
It's against "principalities, against powers, against the rulers of the darkness of this age, against spiritual hosts of wickedness in the heavenly places." Therefore, never let your guard down. STAND and be on guard, even when you're in the Lord's territory–and even during famine!
8) Do not give in to the temptation to lie; and don't receive the lies with which the enemy tempts you, either.
Basically, stay out of alignment with the enemy in any form. The enemy is a liar and the father of lies, and he is a thief.
Jesus taught us that the devil–the thief–does not come except to steal, kill, and destroy, so the enemy will tempt you and lie to you even when you're camping out in the land the Lord gave you. However, DON'T LISTEN TO HIM:
Don't listen to the enemy.
Don't listen to his demons and minions.
Don't listen to other people who are swayed by the enemy, either, who are walking in anything other than 100%, absolute FAITH in the Word of God.
Don't go for the lies. Lies are displeasing to God, whether they come from your mouth or from the enemy's mouth.
Do not believe anything except God's own truth. Don't accept the lie; don't agree with the lie; don't allow the enemy to lie to you; and don't allow anything but TRUTH into your life.
If you stay in truth and avoid lies, not only will you keep out of sin (because lying is sin), but you will also avoid many dangerous situations in which the enemy would love to entrap you.
Remember what Jesus said in John 8:32:
"And you shall know the truth, and the truth shall make you free."
Stay in truth. Stay in right standing with God.
Keep confessing and believing God's Word, and nothing else–and you will be free … even in the midst of famine. You won't be ensnared in the famine; you won't become entangled. YOU will be free to PROSPER.
9) Don't fear for your life. The Lord your God is with you wherever you go.
The devil is not greater than God. Instead, GOD IS GREATER THAN THE DEVIL. The enemy's whisperings cannot change that. The media's trumpetings of doom cannot alter that. Greater is God who is in you than he who is in the world.
So what should you do during a time of famine if you want to prosper? This:
Don't be intimidated.
The God who rules the universe still dwells within you. The same Spirit who raised Jesus from the dead lives within you. You have His Word and His exceeding great and precious promises to protect you. His angels are encamped around you if you fear Him, and they will deliver you.
Don't be intimidated! Don't be afraid! Be filled with God's perfect love instead!
Related: The Jezebel Spirit Wants to Kill You (How to Stay Safe)
Faith is not the opposite of fear; LOVE is.
Love is the only thing that heals fear.
Therefore, if you want to be free from fear, stop and remember right now:
how much your Father God loves you;
how Jesus gave His life for you; and
how Holy Spirit, who dwells within you, has promised you complete protection and safety in Him at all times.
You were made to dominate and govern over the earth, and that hasn't changed just because the world says a famine is happening.
Your place of protection, safety, and power in Christ Jesus was not altered when some newscasters decided to trumpet doom over your nation. Your place of authority in Christ did not change when a sickness or disease or shortage was released somewhere in the world. YOU still dominate, and you're called to dominate. That's what the Bible says.
Don't forget it. Don't fear for your life. God is with you! So, what do you do? Only this:
"Be anxious for nothing, but in everything by prayer and supplication, with thanksgiving, let your requests be made known to God;

and the peace of God, which surpasses all understanding, will guard your hearts and minds through Christ Jesus" (Philippians 4:6-7).
Pray. Don't worry or be anxious. Be wise, yes; but cast your burdens upon the Lord, and He WILL sustain you.
10) SOW IN THE LAND! And you will reap in the same year a hundredfold.
To me, Genesis 26:12-14 is one of the freakiest passages in Scripture. It says:
"Then Isaac sowed in that land, and reaped in the same year a hundredfold; and the Lord blessed him. The man began to prosper, and continued prospering until he became very prosperous; for he had possessions of flocks and possessions of herds and a great number of servants. So the Philistines envied him" (Genesis 26:12-14).
Did you get that?
The world was trumpeting messages of gloom and doom because there was a famine in town. But, ISAAC was SOWING.
Isaac trusted God and sowed into that trust. He sowed as the Lord said, remembering that as long as the earth remains, summer and winter, seedtime and harvest WILL NOT FAIL.
And what REWARD did Isaac receive for his faith? He reaped IN THE SAME YEAR a hundredfold.
Related: Name Your Seed When You Sow an Offering
Wow. Not only did Isaac receive a harvest on his seed, but he received that harvest in the same year and a hundredfold. Then, God blessed him and began to prosper him. BEGAN!
Did you see that? The word "began" is vitally important. Crucial, even.
Isaac would have sown seeds before, but those seeds did not prosper him. The Bible says that God began to prosper him, however, when he sowed seeds in famine.
In other words, it was sowing seed IN FAMINE that God Isaac blessed and prosperous; he was NOT prosperous before, even after all the seeds he had sown into fertile seasons!
That will preach.
Do you want to prosper in what the world calls a season of famine?
If so, then you need to sow even in famine.
Sow into good ground. Sow diligently and faithfully. Sow what God tells you. But for heaven's sake and your own, SOW!
Some people get tempted to hunker down in famine and stop sowing. Don't let that be you.
If you lose faith now and jump ship from what God has asked you to do with His money, you're going to miss your blessing. This is key:
God wants you to sow IN FAMINE.
He wants you to sow in the land He has promised you.
He wants you to sow into the land where He has called you to be.
Sow into the land that He told you about.
Remember that when YOU sow, you will reap; and then you will have what no one else has, for no one else is sowing.
THAT, my friend, is what positions you for prosperity. When you "have"–because you have sown–and no one else has anything (because they hunkered down and did not sow during the famine), you will be suddenly positioned for great wealth.
That's how Joseph bought the wealth of Egypt during the famine in his day. Joseph "had," and the rest of the land "had not," so Joseph prospered and everyone he associated with prospered too. If Joseph had not had anything to trade or give during that time of famine, Joseph, all of Egypt, and even God's people would have been hurting for certain.
Related: For more about sowing and reaping harvests, read my financial blog, OverNotUnder.com.
If you sow into good ground during famine, believing, you will reap.
Sow in faith. Do it right now if you've fallen off the path of sowing that God wants you to be on. Then, pray and ask God to give you a hundredfold return in this same year.
When you reap your harvest, you will become prosperous because then the doors of trade and wealth are open to you.
But you have to obey; you have to dwell in the land and in the truth; and you have to sow!
Do you want to prosper right now?
If so, don't listen to what the world says about it being a season of famine. Look at what God says.
Believe Him. Believe on His name. Dwell in the land He told you about. Reject lies. Embrace truth, and sow for a great harvest.
Is Holy Spirit speaking to your heart today through this word? If so, leave a comment below! I'd love to hear what He's saying to you!