The Jezebel Spirit Wants To Kill You (How To Stay Safe)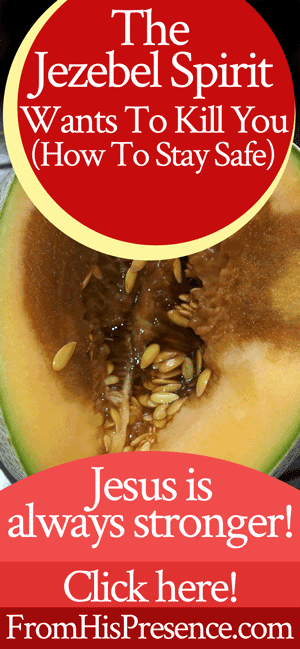 Do you know what the Jezebel spirit is? Are you armed with information about how it operates, and how you can stay safe from it?
Lack of teaching in this area is a real weak spot in the Body of Christ. In case it helps, I wanted to add my thoughts for you today.
First, to get a basic understanding of what the Jezebel spirit is, please read my two prior blog posts:
(The posts above also contain links to resources that will help you study more about this topic if you wish.)
There are a TON of details in those two posts–details that you HAVE to know in order to recognize this seditious spirit when it tries to make an influx into your life. Please run, don't walk, to read those two posts.
And after that, I want to talk to you about how the Jezebel spirit wants to kill you–and how to stay safe in Jesus.
Here are some key things to know about the Jezebel spirit:
1. The Jezebel spirit is the enemy's false substitute for the Holy Spirit.
Please understand that there is an unholy substitute for every holy thing. For example:
Drugs are the unholy substitute for the Presence of God. People who do drugs are looking for pleasure and fullness of joy–but they won't find it, because the unholy substitute can never fulfill. Only the Presence of God can bring fullness of joy and pleasure (Psalm 16:11).
Adultery is the unholy substitute for solid brother/sister relationships between men and women in the Body of Christ.
The enemy can't flow in God's anointing, and he can't create. But he loves to pervert, mock, and deceive. It's all with the intent to steal, kill, and destroy.
Remember that Jesus said:
The thief does not come except to steal, and to kill, and to destroy. I have come that they may have life, and that they may have it more abundantly" (John 10:10).
The Jezebel spirit is the enemy's demonic principality that mocks the work of God's Holy Spirit.
In doing so, it mocks the voice of Holy Spirit, also known as the prophetic. It mocks and tries to pervert the move and conviction of Holy Spirit as well. It will try to cast down anything Holy Spirit does, or abort His move anywhere He moves.
That's why you often hear about Jezebel coming against the prophetic move of God. One of that demon's biggest assignments is to seduce, control, and annihilate prophetic people. If it can't do that, it will try to kill prophetic people and/or their ministry–whether through actual death or through character assassination. It's because Holy Spirit moves through prophecy.
2. It is not a mere demon. It is a higher-level spirit, most likely a principality, that sits over geographic areas.
The Holy Spirit of God desires to speak God's Word (prophecy) over people and nations, calling them into freedom in Christ. However, the evil principality we call the "Jezebel spirit" desires to forth-tell the lies of the enemy over people and nations, bringing them into bondage to the enemy.
I don't know about the rest of the world, but the Jezebel principality definitely sits over the United States of America (and is generally recognized as so among the prophetic community). As such, it has a much larger influence than one demon. It wants to influence everyone, including you and including me–but it can't if we stay safe in Jesus.
3. The term "Jezebel spirit" was coined because the evil Queen Jezebel in the Bible (wife of wicked King Ahab) was controlled by this spirit.
However, Jezebel didn't invent this spirit. "Jezebel spirit" is simply a term that we use to be able to discuss the actions of an evil principality that long pre-existed the actual woman Jezebel. Therefore, it's important to keep in mind that it wasn't her spirit; she was not the originator of it. She was seduced by it, just like people can be today.
The actual spirit is a spirit of CONTROL … and it can influence both men and women.
4. The Jezebel spirit is subservient to the demonic principality Baal.
The "bel" in the word "Jezebel" was actually a reference to Baal in the original language. Evil Queen Jezebel in the Bible was a servant of Baal.
(By the way, the act of cutting–cutting oneself–is a manifestation of the worship of Baal. See 1 Kings 18:28. But that's another story for another day….)
Because the Jezebel spirit is subservient to Baal, its goal is to bring everyone under eventual submission to Baal. IT CAN'T REACH THAT GOAL IF YOU STAY HIDDEN IN CHRIST. Jesus is SO much greater! Remember, greater is He who is in me than he who is in the world! First John 4:4 says:
You are of God, little children, and have overcome them, because He who is in you is greater than he who is in the world."
ALWAYS keep in mind that the devil is not the equal of Jesus. His minions are NOT the equal of Jesus. The devil is a fallen angel; that's all. His minions are fallen angels.
There is only one Jesus; only one Holy Spirit; and only one God the Father. There is only one God, and He is All-powerful.
And if you stay hidden in Him, no evil can befall you. DON'T BE AFRAID.
However, you do need to be discerning. And one of the things we all need to understand, in order to discern between good and evil–between the holy and the profane, which can often look verrrrrrry similar–is that the Jezebel spirit truly wants you to worship a false god (Baal). It uses control, sexual perversion, and rebellion to pull you in if you let it.
Be wise. Don't let it.
5. The Jezebel principality manifests itself in many ways. It is NOT limited to the common understanding that we often have in church circles.
The popular understanding of the Jezebel spirit, in church circles, is that Jezebel is the spirit that makes some loose individual try to seduce the preacher–or the spirit that inspires some false prophet to rise up and kick the pastor out of the church so he/she can be the pastor.
It's true that those ARE manifestations of the Jezebel spirit. But they are not the only manifestations.
Remember that this spirit wants to control. It wants to pervert. And very importantly, it wants YOU to rebel. It wants to draw you into lawlessness.
So where else can this foul spirit manifest?
It is the principality behind sexual perversion. If someone has an addiction to pornography or any other sexual perversion, they are being influenced by the Jezebel spirit.
It is the principality behind rebellion. When lawless people rebel against godly authority in the home, in the church, or in the nation, they are being influenced by the Jezebel spirit.
It is the principality behind control. When someone seeks to control, they are being influenced by the Jezebel spirit.
6. People can be impacted by this spirit in varying degrees.
For example:
Someone might have just a little bit of rebellion, refusing to get under authority in their home or church. That's a small level of influence by this spirit.
Someone else might be trying to overthrow or seduce a pastor and divide a church. That indicates that they are being influenced by this spirit at a much bigger level.
And yet another person might be using their nationwide voice to inspire sexual perversion and rebellion across an entire nation. That's a HUGE level of domination by the Jezebel spirit.
From the examples above, you can see that anyone could be impacted by this spirit. The only way to stay safe from its evil influence is to stay hidden in Christ, and to continually check ourselves to make sure our actions, motives, inspirations, and sources line up with the Word of God and are totally dependent upon Holy Spirit.
7. Like spirit flocks to like spirit.
This principle is true whether for good or for evil. People who walk in a pure spirit will supernaturally be drawn to others with a pure spirit. People who live holy lives will be friends with others who live holy lives.
And people who are influenced by an unholy spirit will flock to others who are also influenced by that spirit. Adulterers hang out together. Drunkards hang out together. People influenced by the Jezebel spirit will be drawn to others who operate in that same spirit.
This is why it's important to be strong in your faith in Christ; in your identity in Christ; and in the power of God's Word. If you're walking in a pure spirit, you may feel outnumbered sometimes.
But don't ever be intimidated by numbers.
Remember that one of the objectives of Jezebel is to attract as many people to its cause as possible. With like spirits flocking to like spirits, you may occasionally feel like Elijah–the prophet whom Jezebel attacked. In the wilderness, Elijah whined to God:
… I have been very zealous for the Lord God of hosts; because the children of Israel have forsaken Your covenant, torn down Your altars, and killed Your prophets with the sword. I alone am left; and they seek to take my life" (1 Kings 19:14).
And you know what God said to that? He told Elijah to get up, move out, and go on to his next assignment. Then God said:
Yet I have reserved seven thousand in Israel, all whose knees have not bowed to Baal, and every mouth that has not kissed him" (1 Kings 19:18).
What was true for Elijah is true for you too. God is still greater than evil. So even if you feel outnumbered sometimes, don't let it get you down. YOU ARE NOT OUTNUMBERED. You just get up, move on, and move out to your next assignment. God wins in the end. 🙂
So why is it so important to understand NOW what this unholy spirit looks like?
Because, if you love Jesus and are seeking after Him, you're a target. ESPECIALLY if you are prophetic, value the prophetic, or want to be prophetic (which should include all of us, according to 1 Corinthians 14:1) … YOU are a target.
Here's why:
God is on the move over the face of the whole earth. He's moving in power and victory, and Holy Spirit is pouring out the Third Great Awakening. And where God pours out His Spirit, the enemy tries to counteract the act of God.
In particular, when Holy Spirit is poured out, God's people begin to prophesy.
Remember that the Jezebel spirit is the false spirit of prophecy. It's the enemy's unholy substitute for the true Spirit of Prophecy (the Holy Spirit, who testifies of Jesus) on the earth. The enemy wants to silence the true Spirit of Prophecy. So he sends his unholy spirits to try and quell what God is doing.
Therefore, if you are seeking after Jesus, and particularly if you have ANYTHING to do with the prophetic–even if you prophesy at an individual level, where you simply hear God and encourage others, even if you don't have a "churchwide prophetic ministry"–you are a target.
Since I'm assuming we all want to obey God, hear Him, and say what He says, then that makes all of us a target.
So what do we need to recognize in order to stay safe from the Jezebel spirit?
1. First, as I mentioned above, recognize that there is absolutely NO reason to be afraid.
Once you know what to watch out for, and how to compare everything you see to God's Word, Holy Spirit will help you discern between the holy and the profane.
It's just like staying safe from a shark attack. (I got this illustration from a beloved spiritual mother of mine … thanks Diane!) 🙂 See, if you're in the water with the shark, you can't see the shark approach you. You don't know he's there. You're in danger.
However, if you drag that shark up onto the parking lot, not only can you see him–so you know he's there–but you also render him completely helpless. That shark can't bite you. It can't even move. Its ability to hurt you is completely dependent on being hidden in the murky water.
Light always reveals, always exposes, and always brings truth. God is LIGHT, and in Him is no darkness at all (1 John 1:5)!
Would you help me with my work of reaching people for Jesus as a domestic missionary? I need you; we are in this together! This blog, and all of the Kingdom work we do in this community together, are made possible through your partnerships, donations, and product purchases.

If you'd like to help, please check out the partnership details and products available for sale here. And, thank you in advance for helping make this blog and everything we do together for the Kingdom possible!
2. Next, you can always stay safe if you compare what you see to the Word of God.
When you observe the fruit of a person's life, does what you see line up with God's Word?
Matthew 7:15-20 says:
Beware of false prophets, who come to you in sheep's clothing, but inwardly they are ravenous wolves. You will know them by their fruits.

Do men gather grapes from thornbushes or figs from thistles? Even so, every good tree bears good fruit, but a bad tree bears bad fruit. A good tree cannot bear bad fruit, nor can a bad tree bear good fruit. Every tree that does not bear good fruit is cut down and thrown into the fire. Therefore by their fruits you will know them" (Matthew 7:15-20).
The fact that Jesus told us wolves come in sheep's clothing means we have to look underneath appearances to distinguish wolves from sheep.
Someone can be the sweetest, most loving person in the world, but underneath still be influenced by the Jezebel spirit.
So how do we tell the difference? What do we look for underneath?
Remember that all the rules of caution apply here. Please be sure you read about those rules of caution in the two posts I linked to at the top of this page! It's better to be WRONG than right when you suspect someone is walking in an unholy spirit.
However, some of the red flags I have seen wolves wearing under those false sheepskins include:
Source of power: Everything supernatural, everything prophetic, has only one source: God. If someone teaches that anything from the Lord can be produced in our own power, be careful.
Protocol: Protocol makes Jezebel mad. Why? Because Jezebel loves lawlessness. It operates in, and inspires, rebellion. So people inspired by the Jezebel spirit will eschew protocol. Truly prophetic people, on the other hand, value and adhere to protocol because it protects people, preserves integrity, and fosters humility.
Protocol is not the Law. It's not the same as legalism. But it is necessary for anyone who wants to be a reliable prophetic voice in the Kingdom.
Accountability: People who operate in the true prophetic, and have true authority in the Kingdom, will believe in submission to godly authority. They will be both submitted to authority and accountable. They will often seek out multiple layers of spiritual covering, and will often have more than one source of accountability.
On the other hand, people who don't operate in the Holy Spirit will spurn accountability. They do not want to submit to authority.
Attacking truly prophetic people: People who operate in the Jezebel spirit will first try to seduce/control a prophetic person. They will try to bring you onto their side.
However, if that does not work, the demon knows you've got its number. In that case, then the person influenced by the unholy spirit will then turn and attack you. It will use intimidation, accusation, character assassination, lies, gossip, rumors, and more in order to try and take you down. They will try to silence you and kill your ministry if they can.
If that happens to you, you hide in Jesus. He will work it out for your good.
Here are some things you need to know if you are being attacked by someone walking in the Jezebel spirit:
1. Remember that your enemy is the devil and his minions–not the person who's attacking you.
We don't wrestle against flesh and blood, but against forces of darkness. Ephesians 6:12 says:
For we do not wrestle against flesh and blood, but against principalities, against powers, against the rulers of the darkness of this age, against spiritual hosts of wickedness in the heavenly places."
That being said, what next? Well, we have to love the person who's attacking us, and pray for them. (That doesn't mean to stay close to them, though. Boundaries are good.)
Matthew 5:43-48 says:
You have heard that it was said, 'You shall love your neighbor and hate your enemy.' But I say to you, love your enemies, bless those who curse you, do good to those who hate you, and pray for those who spitefully use you and persecute you, that you may be sons of your Father in heaven; for He makes His sun rise on the evil and on the good, and sends rain on the just and on the unjust.

For if you love those who love you, what reward have you? Do not even the tax collectors do the same? And if you greet your brethren only, what do you do more than others? Do not even the tax collectors do so? Therefore you shall be perfect, just as your Father in heaven is perfect."
2. The difference between accusations and godly confrontation is that godly confrontation is done based on the procedure described in Matthew 18.
Confrontation is always about something you did, and people go to you first. Accusation, on the other hand, is not usually about anything you did. Accusations can be about things you never did; but, often, accusations are vague criticisms of who you are. Accusations come against your DNA. THAT IS A VERY BIG DIFFERENCE!
Godly people work out their differences, based on actual events that occurred, in humility without attacking someone's DNA or character. Lawless people come against who you are. Very big difference.
3. The spirit of intimidation nests and works with the Jezebel spirit.
Intimidation is one of Jezebel's favorite tricks. If someone tries to intimidate you (e.g. "I'm going to tell so-and-so about you …") at all, but especially in order to control or manipulate you, that's a huge clue about which spirit is inspiring those actions.
4. Don't ever come into agreement with the spirit of intimidation or with any accusations/lies.
If someone has a problem with something you did, that's a different thing. It's entirely possible you could have been wrong! I have been wrong a bunch. I'm far from perfect, and I have messed up a lot. But I have also done what I could to make those things right as much as possible.
However, despite the fact that the enemy has, at various times, come against me with lies and accusations, I REFUSE to come into agreement with those lies. Lies are from the enemy, and I'm not going to insult the Holy Spirit in me by agreeing with them.
In John 8:44, Jesus said to the Jews:
You are of your father the devil, and the desires of your father you want to do. He was a murderer from the beginning, and does not stand in the truth, because there is no truth in him. When he speaks a lie, he speaks from his own resources, for he is a liar and the father of it."
Any lie about you is ONLY from the devil. God is TRUTH, and God cannot lie. Titus 1:2 says:
in hope of eternal life which God, who cannot lie, promised before time began …"
So any time people tell you lies about yourself, you know those lies were inspired only by the enemy. NEVER by God, for God cannot lie.
Remember also that Jesus said to those same Jews:
Jesus answered, 'If I honor Myself, My honor is nothing. It is My Father who honors Me, of whom you say that He is your God. Yet you have not known Him, but I know Him. And if I say, 'I do not know Him,' I shall be a liar like you; but I do know Him and keep His word'" (John 8:54-55).
Jesus was attacked. He was told horrible things about Himself by people who hated him–people who were simply repeating the enemy's lies. However, Jesus refused to come into agreement with the attackers. He wasn't going to submit to peer pressure to negate who He was, and He wasn't going to insult or belittle His relationship with the Father.
Why? Because then He would have been a liar like them.
And if you come into agreement with false accusations/lies that come against you, you make yourself a liar too … and you insult the Holy Spirit in you.
This doesn't mean you shouldn't submit to correction. If we do something wrong, we need to be corrected. But remember: correction is about something you actually did. When we are corrected, we make things right. Accusation has nothing to do with something you actually did. Accusation is about who you are (and sometimes does contain lies about things people say you did, but you didn't).
So when the enemy comes against you with lies, don't agree. Yes, submit to correction if you did something wrong. But do not agree with the enemy's lies. If you do, you become a liar like he is.
Selah.
Keep in mind that the true prophetic and the Jezebel spirit will often look very similar on the outside.
You really have to peer around the edges to distinguish the difference. This requires observation, comparison to God's Word, and lots of prayer. Prayer, prayer, and more prayer. It's better to be wrong than right about something like this–for the sake of the other person.
However, for your own sake, in private, it's better to discern rightly so that you aren't led astray.
So how do you keep yourself free from the Jezebel spirit?
Abide in Jesus.
Let God's Word abide in you.
Pray for the spiritual gift of discernment of spirits. (And please be very careful with that gift, whether you have it or only think you do, by the way.)
Pray for wisdom.
Compare all things to God's Word (Isaiah 8:20).
Embrace accountability. Seek it out purposefully.
Submit to spiritual authority–your pastor, apostle, etc. Everyone in spiritual authority over you.
Pray and ask God to cleanse you from any open door to this spirit that is in you.
Out of the list above, some of them are kind of obvious. But practically-speaking, if you are looking for practical actions that will help you, know this:
Rebellion is the most common open door to the Jezebel spirit.
If you want to keep yourself in check, with clean hands and a pure heart, avoid the trap of rebellion!
First, submit to authority! Seek out accountability! If you notice yourself being rebellious, halt! Back up! Get right with God! And get with your accountability partner and confess your faults one to another (James 5:16).
That doesn't mean you follow everybody out there like a lemming, calling it "submission to authority." You're still responsible to obey God first. Don't follow people or leadership who ask you to do ungodly things that don't match God's Word.
But, you do need to submit to godly authority in your home. You do need to submit to godly authority in the Church. And you do need to submit to governmental authority, as long as it is godly, as well.
Above all, remember that Jesus is greater.
Be ever filled with the Holy Spirit and His testimony of Jesus, and you will be safe from evil influence. Abide in Jesus. Abide in His love. Let His Word abide in you. Obey Him in everything, and seek Him with all your heart.
There is a lot more to be said on this topic, and I may send out some FAQs to our Presence Seekers University crowd later. However, for now, I hope the points above help. 🙂
What additional questions do you have about the Jezebel spirit? Feel free to leave your questions below, and I will try to answer them as I can. Thanks!
Would you help me with my work of reaching people for Jesus as a domestic missionary? I need you; we are in this together! This blog, and all of the Kingdom work we do in this community together, are made possible through your partnerships, donations, and product purchases.
If you'd like to help, please check out the partnership details and products available for sale here. And, thank you in advance for helping make this blog and everything we do together for the Kingdom possible!