How To Pray Against the Jezebel Spirit and WIN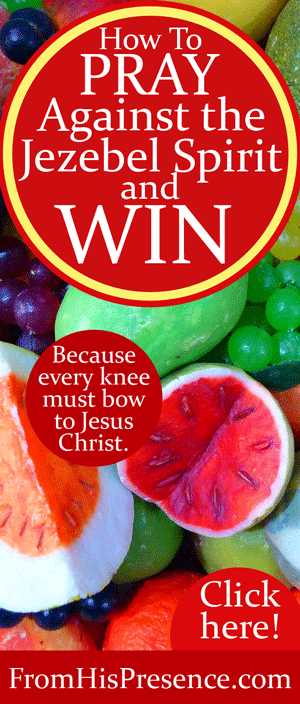 So you read how to recognize the difference between the Jezebel spirit and the true prophetic. Did you recognize anything? Are you dealing with a Jezebel spirit in your home, church, or organization?
If so, don't panic. Jesus is SO, SO, SO much greater than any evil spirit. Jehovah God, Yahweh, the Creator of the universe, still sits on the throne. He and He alone is the governmental center of the earth, and He is still in charge.
It's very important to understand this. The devil is not the equal or opposite of God. The enemy is is a fallen angel who was completely defeated by Jesus Christ at the cross of Calvary. God is still God. He is the only God. All the victory and all the authority belong to God.
God Almighty is well able to drive every evil spirit out of your life, your family, and your church. How?
He will do it in answer to your prayers. Rest assured, beloved, of this truth:
There is no force of darkness strong enough to withstand the power of sustained intercession.
God hears and answers your prayers. If you will begin to pray in accordance with His will, He will muzzle that thing and cast it out.
So here's how to pray against the Jezebel spirit and WIN:
The first and MOST IMPORTANT thing to know is that the Jezebel spirit is a false spirit of prophecy. This is KEY. Why?
Because when we intercede, we come in the opposite spirit.
"Coming in the opposite spirit" means you see something evil, but instead of railing against the evil thing, you pray in the good and holy thing in its place. For example:
You see? There is an unholy substitute for every holy thing, but we don't focus on the unholy thing because we can't afford for it to fill our horizon. What you focus on, you empower … and we never want to empower the work of the enemy in our lives.
So when we pray, meditate, and speak, we want our thoughts, prayers, and words to be filled with the good and holy thing that GOD wants to do.
That's why the apostle Paul wrote in Philippians 4:8:
Finally, brethren, whatever things are true, whatever things are noble, whatever things are just, whatever things are pure, whatever things are lovely, whatever things are of good report, if there is any virtue and if there is anything praiseworthy—meditate on these things."
So when we want to pray against the Jezebel spirit and win, we come in the opposite spirit.
I want to make it clear that "opposite" does NOT mean "equally strong."
The good and holy thing from God is ALWAYS stronger. The enemy's attempts to pervert a good and holy thing can never, never, never overrule or outweigh the power of Who God is or of what God created. The good and holy thing is stronger, every time.
So what is the opposite of the false spirit of prophecy? The true Spirit of prophecy.
And what is the true spirit of prophecy? The testimony of Jesus is the true spirit of prophecy.
The Bible is very clear on this:
And I fell at his feet to worship him. But he said to me, "See that you do not do that! I am your fellow servant, and of your brethren who have the testimony of Jesus. Worship God! For the testimony of Jesus is the spirit of prophecy" (Revelation 19:10, emphasis mine).
The Lord showed me this with an absolute lightning bolt of revelation awhile back, when I was asking Him how on earth to pray against a Jezebelic situation. I studied and studied, and all of a sudden, He showed me this:
Release the testimony of Jesus, which is the true spirit of prophecy, into the situation. When you do, Jesus will muzzle the Jezebel spirit and drive it out.
So that's what I and others did. We prayed and released the testimony of Jesus. And Jesus came through and absolutely drove that thing out.
What does it mean to release the testimony of Jesus? It means:
Pray for Jesus to be glorified in the situation.
Worship Jesus in spite of and over that situation.
Worship Jesus and praise Him for being the Overcomer, the Victor, Mighty Warrior, and Lord of hosts who WINS EVERY TIME.
Literally sing the Name of Jesus in your worship. Over and over if you have to. Sing the Name of Jesus until you sense breakthrough in the spirit realm.
Magnify and exalt Jesus in every way in your worship.
Thank Jesus for being in charge and for fighting the battle for you–even before you see the victory manifest.
Pray for the humility of Jesus to be released in every person involved in the situation (Philippians 2:5-11).
Pray that every person involved would follow the example of Jesus and submit to God and godly authority.
Plead the blood of Jesus over every aspect of your home, family, church, and over the specific situation.
To release the testimony of Jesus, you just focus on Jesus. I mean REALLY focus on Jesus. Do it aggressively. Lift Him up. Exalt Him. Pray for everything in the situation to look JUST LIKE JESUS.
Develop a magnificent obsession with the Son of God, and focus EXCLUSIVELY on Him. As you do, you will be releasing the true spirit of prophecy over the situation that concerns you … and He will muzzle the Jezebel spirit, keep it silent and bind its influence, and drive it out.
Every knee must bow to Jesus Christ, and every tongue must confess that He is Lord, to the glory of God the Father.
Every time.
By the way… Isn't that awesome? I'm in awe of Jesus. How simple is the Gospel! Jesus Christ is our wisdom, our righteousness, our sanctification, and our redemption. He's the One who saves us and the One who wins our battles.
JESUS is the Center of everything. He is ALL we need … and no one can even argue when you lift Him up! No one can compete with Him. No one can suppress Him and no one can conquer Him. His victory is guaranteed, and lifting Him up is absolutely unattackable.
Thank You, Jesus. You're amazing. Thank You.
So beloved, if you're dealing with a Jezebel spirit, don't be afraid. Jesus already won this battle on the cross. So lift Jesus up. Release the testimony of Jesus. Come in the opposite spirit. And Jesus will win every time.
Now, there are some additional, specific things you can pray for when you see a Jezebelish situation that will help bring deliverance and healing to the situation.
I'm just going to list these things briefly, and you can print them off and pray into them. If I tried to explain each one, we'd be here all day; and they are pretty self-explanatory anyway. So pray these things specifically into your situation:
For your leaders to have a spirit of valor;
For your leaders and yourself to be immune to seduction;
For healing of bitterness;
For complete freedom for everyone impacted;
For every person to be filled with God's perfect love that casts out fear;
For a great spirit of humility to come on every person from the Holy Spirit;
For every person to operate in gentleness;
For great discernment on every side and in every person impacted;
That, when correction is needed, God would lay out the case with proper facts and witnesses;
For every person to be filled with the purity of Jesus by the Holy Spirit;
Healing for all the people the Jezebel spirit has tried to seduce;
For your leaders to have wisdom to discern both time and procedure if correction is necessary;
For all involved to address the situation with love;
For there to be an emphasis on repentance on all sides;
For godly sorrow and brokenness in the Jezebelite;
For God to search your heart, close any open doors to the enemy, and remove any influence that the Jezebel spirit may have over you;
For you and all people involved to be protected from suspicion, strife, and vain imaginations;
For the great victory that God finished before the foundation of the earth to be manifest in this situation;
That any confrontation would be godly;
That the Holy Spirit will bring conviction where it is needed;
Clarity and true revelation for the Jezebelite;
For your leaders to be able to discern between real repentance versus feigned repentance or mere remorse/embarrassment when the Jezebelite is corrected;
For godly sorrow and love on all sides;
That all would have great wisdom, knowledge, and discretion from the Holy Spirit;
Healing for those who have followed the person influenced by Jezebel; and
For God to show you His hand continually at work in the situation.
Beloved, you can pray against the Jezebel spirit and win every time because Jesus Christ already won the victory.
Stand firm. Lift up Jesus. Pray, pray, and pray some more. Worship the Risen and Exalted Christ, and trust Him to perfect all things that concern you.
As you do, you will see the victory Jesus purchased on the cross manifest in your situation.
Did you find this post helpful? If so, please leave a comment below with your thoughts or even your questions. I'd love to hear from you.