How To Win In Spiritual Warfare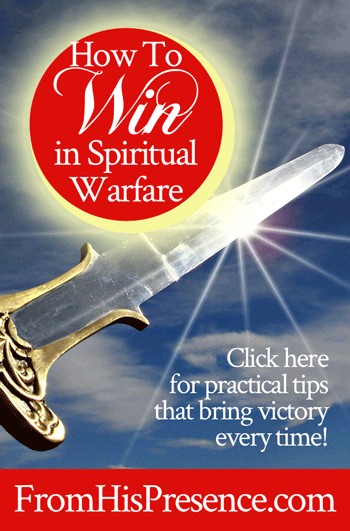 Are you fighting a tremendous spiritual battle today–whether for yourself, your family, your church, or even in intercession for a nation? If so, you can win your battle by lifting up the testimony of Jesus.
I wanted to share some tips today about the very easiest way to WIN in spiritual warfare and intercession. These are tips I shared with our Presence Seekers University community awhile back, but I think everyone who reads can really benefit from them.
A few weeks ago, I was laid out in God's glory and Holy Spirit drew me into a time of intercession.
He led me to pray first for the UK, then for North Korea, then for the USA, then for our blog readers.
While I was praying, I was listening to my friend Kara Green's new album, Presence of My King (now available on iTunes). This album is a huge help in intercession because it was birthed out of a spirit of intercession.
(Many of you have heard Kara sing if you've ever bought any of my live workshop sets, such as 21 Kisses, Keys to Supernatural Favor, or Kingdom Authority 101. And if you haven't gotten Kingdom Authority 101 yet, PLEASE get it. You must understand how to wield authority before you can ever win in spiritual warfare. This 4-part MP3 teaching set is available for instant download on my Gumroad store.)
Kara is not only my friend, but she's my God-sent partner in ministry. She and I work together–with her leading worship, me preaching and interceding–like only God can orchestrate. We just fit like a hand and a glove. 🙂
Anyway, Kara and I used to lead prayer meetings together every single week at our church. Every Sunday morning, she would lead worship and I would lead our intercessory team as we gathered to pray for America, for the church, and for each other.
During that time, our team had to do spiritual warfare about many things that are normal prayer points in churches.
For example, we prayed for:
Unity in the church;
For God to help with various situations around the church's ministries or events;
For salvations, healings, and deliverances to be manifest in the church services;
For Holy Spirit to do His work;
For any Jezebelic attack to be defeated, etc.
We prayed for all the standard things that church intercessors have to pray for.
During that time, we learned that Jesus is both our worship and our warfare.
What does that mean?
It means that, instead of just doing traditional intercessory things like simply praying and praying (although prayer is still good), we actually tapped into greater breakthrough when we lifted up the name of Jesus over every particular situation.
For example, if we knew that a Jezebel spirit was trying to influence the Body with rebellion, disunity, or sexual perversion (such as tempting people to look at pornography, etc), we also knew that the Spirit of Christ is the antidote for the Jezebel spirit.
The Jezebel spirit is a false spirit of prophecy that manipulates and controls. What's the true Spirit of Prophecy? The testimony of Jesus, according to Revelation 19:10, which says:
And I fell at his feet to worship him. But he said to me, "See that you do not do that! I am your fellow servant, and of your brethren who have the testimony of Jesus. Worship God! For the testimony of Jesus is the spirit of prophecy."
So, here are the principles we applied:
1. To win in spiritual warfare, always come in the opposite spirit.
For example, if there is a spirit of lust coming against your spouse, to defeat it you would pray:
for your spouse to be filled with a spirit of purity;
that your spouse would love righteousness and hate sin;
that your spouse would be filled with the fruit of the Spirit, including self-control.
If someone is causing disunity in the church, you pray in love, humility, agreement, and godly perspective.
If a church body is in financial lack, you pray in a generous spirit of giving, obedience to the Word about tithing (so they can be blessed financially), and a revelation of God's abundance. That's what it means to "come in the opposite spirit."
So when we, as intercessors, fought in spiritual warfare against the Jezebel spirit, we didn't just sit there and rail at that evil spirit.
We came in the opposite spirit–which is the testimony of Jesus! (Remember that the testimony of Jesus is the true spirit of prophecy.)
How did we do that?
Well, to release the testimony of Jesus:
1. We went into worship and prayer that focused exclusively on Jesus.
We got really specific about focusing on Jesus. There are plenty of songs out there that are nice, but are not about Jesus. There's a time and a place for those songs. But this wasn't that time.
2. We began to sing and pray the name of Jesus over and over and over when needed.
Hey, it's not simplistic. The name of Jesus is power!
One of Kara's songs, "How I Love You," actually has Kara singing Jesus' name over and over at different points of the song just because we could feel the warfare in the meeting–and the only way we could feel it being defeated was to sing Jesus' name, over and over! (But we always got breakthrough!)
3. We prayed through the descriptions of what He looks like, from the book of Revelation.
Revelation chapters 1-3 contain beautiful passages about what Jesus looks like. And when you focus on Jesus …
whose eyes burn with fire;
whose feet shine like brass;
who has a sword coming out of His mouth;
whose hair is white like wool; and
who walks in the midst of the 7 golden lampstands (which represented the churches) …
… you can't help but get wrecked. 🙂
4. We read the Scriptures from Revelation, in which the 24 elders, the angels, the four living creatures, and every creature on earth and under the earth are worshipping Jesus.
That's where Kara's song "Blessing and Honor," the first track on her album, came from. We were lifting up the name of Jesus from the "Blessing and honor, dominion and power" passages in Revelation one day … and the song that came forth was so powerful, we never stopped singing it. We sang it every week!
5. Then we'd call on Jesus as all His names.
This is one of my favorite things to do EVER. We'd pray and sing into Jesus as:
the Waymaker;
the Lamb, slain from the foundation of the world;
the Root and the Offspring of David;
the Bright and Morning Star;
Immanuel;
Wonderful;
Counselor;
Mighty God;
Everlasting Father;
and on, and on, and on.
Our team and I would pray Jesus' names, and Kara would sing them; then she'd sing them, and we'd pray them.
Over and over and over and over and over.
And as we released the testimony of Jesus, several things happened.
We were simply releasing the sound of His name, His wonder, His beauty, His power, and His worship over the meeting, church, community, and nation.
But when we did, we saw God move in power.
First and foremost, God's glory sat on us so strongly that you couldn't stand up. I led a lot of prayer meetings laying on the floor on the stage, covering my head with a tallit … just because the glory was so strong you couldn't stand to minister.
Secondly, we could feel the glory of God and His Holy Spirit building, as it were, a tent of immunity around us and around our church. Simply lifting Jesus up like that brought us into the secret place of the Most High (Psalm 91), where no evil could befall us and no plague could come near our dwelling.
Next, the prophetic word always came forth; because, again, the testimony of Jesus is the spirit of prophecy. Want prophecy to flow in your church service? Focus on Jesus, Jesus, Jesus in your worship and prayer in that service.
Also, we always were overcome by a tremendous sense of awe and gratefulness at the shed blood of Jesus.
Remember it's the shed blood of Jesus that bought EVERYTHING, including access to God, for us! (This is where Kara's song "Your Blood Goes On" comes from. She was just so overwhelmed one day at a workshop with awe of what Jesus has done, and the spontaneous song came out of her spirit to thank and honor Jesus for His blood.)
We always sensed breakthrough in the spirit realm when we prayed this way. More importantly, we SAW breakthrough actually happen in the form of answered prayers, defeated enemy attacks, and huge moves of God.
Every week.
So what's the takeaway for you? Well, I already mentioned that, to win in warfare, you come in the opposite spirit. But you also need to know:
Jesus is both your worship and your warfare. And the easiest way to win any battle is by releasing His testimony, focusing on Him, magnifying His name, and exalting Him.
Too often, we try to make spiritual warfare too hard. We think we have to march around the city seven times, pray for a personal appearance from the angel Gabriel, or other such things.
But we don't.
The absolute simplest way to win is to magnify Jesus.
The way to win is to focus on Jesus and make Him SO BIG in your view that you can't see anything else. It's to tell Him in your worship:
how beautiful He is;
how magnificent He is;
and how He is SO MUCH STRONGER than anything that ails you, your family, your marriage, your finances, your church, your community, or the nations.
And when you do that, you actually give Him permission to go to war on your behalf over all those things. You literally enthrone Him over your situation, or over whatever other situation you are praying about; and you will see Him move.
That's what I do in my personal worship. That's what Kara and I do every time we minister together (since she often travels with me when I preach). We go into worship and prophecy together, lifting up the name of Jesus …
… and every demon in hell bows to the name of Jesus.
Beloved, there is no force in heaven or hell that can defeat or resist the testimony of Jesus.
Age to age, He's still the same. He's the Alpha and the Omega, the First Word and the Last Word. He gets final say in EVERY situation. And He is both our worship and our warfare.
So do you need to win your battle today?
Get out some worship music. (You can grab Kara's new album, Presence of My King, on iTunes or here: http://www.karagreenworship.com/presence-king-album-now-available/.) Or get out whatever songs you like best that focus entirely on Jesus. You can even sing a new song to the Lord out of your spirit, magnifying the name of Jesus!
And after you get your music out, sit down and worship!
I mean, really worship. Look at Jesus bigger. Look at every aspect of Him. Especially look at those aspects of His nature that you need to see released into your situation.
Need healing? Look at Him as Healer.
Need comfort? Look at Him as Counselor, Everlasting Father, and Prince of Peace.
Need your spouse delivered from impurity? Look at Jesus as the Pure and Spotless Lamb of God, and lift Him up over your spouse's situation. Jesus is bigger!
Whatever your need is, lift Jesus up over it. Release the testimony of Jesus!
Beloved, winning in spiritual warfare doesn't have to be hard. Sometimes the simplest warfare is the best! Jesus Christ, our Savior, Redeemer, Counselor, and Friend, is also Jehovah Sabaoth–the Lord of Hosts; the God of angel armies. He is all we need.
When we look at Him bigger and release both His name and the testimony of who He is, we win in warfare every time.
Do these tips help you see practically how you can win in spiritual warfare? If so, please leave a comment below! I'd love to hear from you!
Would you help me with my work of reaching people for Jesus as a domestic missionary? I need you; we are in this together! This blog, and all of the Kingdom work we do in this community together, are made possible through your partnerships, donations, and product purchases.If you'd like to help, please check out the partnership details and products available for sale here. And, thank you in advance for helping make this blog and everything we do together for the Kingdom possible!