My 3 Favorite Ways To Use a Tallit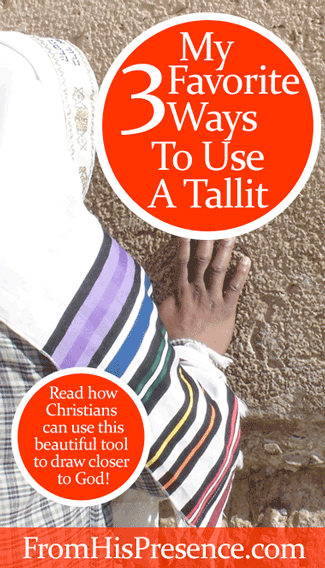 Confession: I used to think using a tallit when you pray was weird.
It's true. I did. And it took a dramatic event to change my mind.
Awhile ago, something happened that made me feel spiritually uncovered. When this thing happened, I could really feel the absence of that spiritual covering right away.
It was horrible. The only way I can describe that feeling is: it felt like I had been tossed out on the interstate highway of spiritual warfare with little-to-no protection from oncoming cars. I felt like I was suddenly on the front lines of battle with no army behind me.
I went home, crumpled to the floor of my study, and cried.
I had a tallit that a friend had given me. It sat on the shelf and had for a long time, because I always thought using a tallit was weird. But my pastor had always taught us that it represented the covering of God.
As I sat on the floor of my study that day, I needed covering. I felt so exposed. So I retrieved that tallit. I put it over my head like it was a shield between me and the world–a shield between me and the battle. And you know what?
God covered me.
I could feel it. There was a noticeable difference in how I felt and how much peace I had when I had my tallit over my head, and when I didn't.
So I stuck with it. I kept that thing with me. I slept with it at night because I needed that covering. It was a rough time. Eventually I got that spiritual covering back and everything became ok again. But I had learned a valuable lesson by experience about tallits:
A tallit represents covering, and using one brings supernatural manifestation of the Holy Spirit.
It's been quite awhile now since the incident above happened, but I've continued to use my tallit while I pray and at other times. If you're interested in using a tallit too, let me tell you about my 3 favorite ways to use a tallit:
1. I use a tallit when I pray to represent God's covering and His secret place.
Psalm 91 tells us:
 He who dwells in the secret place of the Most High
Shall abide under the shadow of the Almighty.
I will say of the Lord, "He is my refuge and my fortress;
My God, in Him I will trust" (verses 1-2).

"He shall cover you with His feathers,
And under His wings you shall take refuge;
His truth shall be your shield and buckler" (verse 4).
The secret place of the Most High is that place right in God's throne room, where you are aware of God and God alone. It's that place where it's just you and Abba Father, and it's where all things are made right again.
And somehow, when I cover my head with my tallit, any place becomes the secret place. The tallit blocks out the world and helps me focus in on Him alone. It's His wing; I can feel His feathers covering me.
Placing my tallit over my head when I pray helps me enter quickly into radical encounter with Jesus.
2. I use a tallit to represent my covering over women I mentor.
I met recently with a dear friend of mine whom I was going to mentor. It was our first meeting. When we sat down, I felt like the Holy Spirit was telling me to place my tallit over her shoulders.
Honestly, I felt very weird doing that, and I told her so. I had no idea why God would tell me to do that, but I was positive it was Him. So I did (and she was ok with it). And after our meeting, I could see why the Lord told me to do that.
It was as if placing my tallit over my friend represented my pulling her under my spiritual wing. It represented my covering over her: that I was making a covenant with her to walk with her, love her, pray for her, and impart to her anything holy on my life that God wanted for her life too.
The tallit was like my wing, and placing it over her was symbolic of that mentoring relationship we were establishing. It was cool. I would never have thought of it, but the Holy Spirit knew.
So since then, both my husband and I have continued using our tallits to represent covering over people we mentor. We've let a precious brother we are doing life with use my husband's tallit when we're praying together–because it represents our covering and brotherly love over him. It's been powerful, too.
3. I wrap myself in my tallit when I sleep, and you would not BELIEVE the sleep I get when I do.
I started doing this during the traumatic time mentioned above, but it gave me such deep sleep that I kept it up. So every night, I spread my tallit over my pillow, lie down, and then pull the ends of the tallit back over myself. And it's unreal. I sleep so deeply and soundly when I use my tallit–way more deeply than I sleep any other time.
As a matter of fact, and this may sound strange–but I have found there to be such peace and rest attached to that tallit that I can cover myself with it almost anytime and fall asleep pretty quickly anywhere. It's like as soon as I place it over my head, this supernatural rest comes over me, and often I'll just keel over and be out like a light. 🙂
So those are my 3 favorite ways to use my tallit. If you are considering getting one, this is also important to know about using a tallit:
A tallit gets heavier and more anointed with use.
I have been through several tallits, because I keep giving mine away. And each time I've started over, when I've taken the tallit out of the bag, even though it's been great, it's felt like a mildly-anointed piece of fabric.
But after I have used each tallit a few times, they have gotten "heavier" and heavier with glory.
It truly is like the anointing of your prayers and worship soak into the very fiber of the fabric and remain. And the more you use your tallit, the more anointed it gets. (Maybe it's something like the apostle Paul praying over cloths and people getting healed?) So my current tallit is the one I've had the longest, and I feel like it's dripping with anointing. (Which is maybe why it makes me pass out in sleep when I put it on.) 😉
So I want you to be aware of that. If you've never prayed with a tallit before, get it out, anoint it with oil, pray over it, dedicate it to the Lord, and then use it. A lot. And the more you do, the more benefits you will reap from its use.
Are you intrigued? Are you ready to get yourself a tallit?
Get one that you like, but I can tell you that I really like–and have had good experiences with–the acrylic ones made in Israel by Talitnia on Amazon. They come in all price ranges, colors, and several different sizes, so you can pick the one you like.
If you're interested in purchasing one from Amazon, I've placed several Amazon links below to tallits I like personally.
The long, skinny ones are great for one person. My husband and I purchased one recently for a dear friend who is head of his family. We got him a larger one, because not only can he wrap himself in it, but he can also wrap his wife and child in it at the same time (it's pretty big). So if you're the head of your family, you might want a larger one like that.
Anyway, without further ado, here are a few of the more affordable tallits I like on Amazon (the blue one is the big one we got for our friend who is head of a family):
No matter which tallit you get, you will enjoy it and it will be of great benefit to you. (And the Amazon links above are my affiliate links. When you purchase a tallit from Amazon using these links, Amazon will pay me a small commission at no additional cost to you of course. My family thanks you in advance.)
Have you ever used a tallit? If so, what's your favorite way to use it, and what benefit do you feel when you do?
Image courtesy of Yuval Saar on Flickr via Creative Commons license.