A Personal Note From Jamie About the Shift In Spiritual Seasons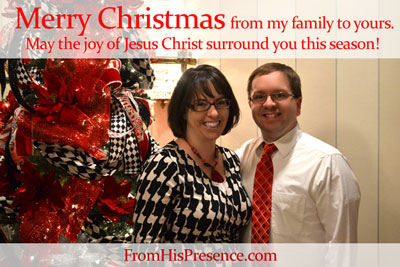 Dear reader,
Merry Christmas! I hope and pray you are doing well and feeling great in this lovely Christmas season. Here at my house, it's been a peaceful month. My husband and I have taken it easy this month, and we're starting to feel rested up from a marathon 4th quarter. 🙂
I wanted to take a moment and tell you about some personal things. I'm really excited about 2015. I've been asking God lately what He wants to do in my life this coming year, and He's been giving me some beautiful things. Not for the blog per se, although there's some of that; but mostly just for me personally. He's been speaking to my heart as only our Father can. Sometimes you just need to hear from God, you know? (Or actually all the time. I couldn't live without His voice.)
So here's the thing. When God starts downloading about a new season, it's not just a new season for one person. When God changes the spiritual season, He does it for everybody. That means YOU, too. The same way everybody is impacted when autumn gives way to winter, so everyone across the Body of Christ is impacted when the spiritual seasons change.
And God is doing a new thing right now. There's a shift in spiritual seasons. He's doing a new thing for me, but He's doing it for you too. And I don't want you to miss it.
What's God doing that I don't want you to miss?
1. He's downloading His plans for this upcoming year, and for this new season of your life. This is so key right now.
2. He's downloading new, specific prayer directives that you need in order to see your destiny come forth.
3. He's downloading new understanding about how to stay strong and stand firm in the Lord, maintaining our emotional stability in daily life.
I'm in awe personally, because I needed a new day.
I've been working terribly hard, and I've felt pretty tired the last couple of months. But God has been pouring out so much of this awesome stuff that it's been like a rain on my soul. I've been thirsty, and He's been watering my spirit, my emotions, my mind, and my will. I feel so much better. It's a new day.
And I've heard from you that you need refreshing too. You need a new beginning too.
God will give you that new day you desire. It's a new spiritual season, and YOU can take full advantage of it.
He's given me a series of posts that will help explain, practically, how to receive God's downloads about this new season of your life. They're deep. They're meaty. And I need time to write them.
So this Christmas week, I'm going to take a break from blogging after this post. I'll be writing behind the scenes, but I won't post any new posts this week after today. (You'll be enjoying Christmas anyway, so I know you won't mind, right?) 🙂 And I'm going to focus my writing time on this post series about how to receive God's downloads for 2015.
I'll plan to publish it next week, starting December 29. It will be just in time, because I want you to have this info before the new year rolls over. 
Would you start praying now for God to download His plans for you for 2015? And would you plan to set aside time on New Year's Day to be alone with Him and receive?
This is a moment. In the Bible, in Greek, it's called a "kairos" moment–an opportune time in which God is working and moving to do something special. It's a moment you don't want to miss. The time is now. It's a new season, and God has something special for you.
Thank you for reading, as always. I thank God for you. Thank you for reading my blog, and commenting, and chasing God with me day in and day out. May His Kingdom come in your life and mine in new and amazing ways this coming year.
Love in Christ,
Jamie