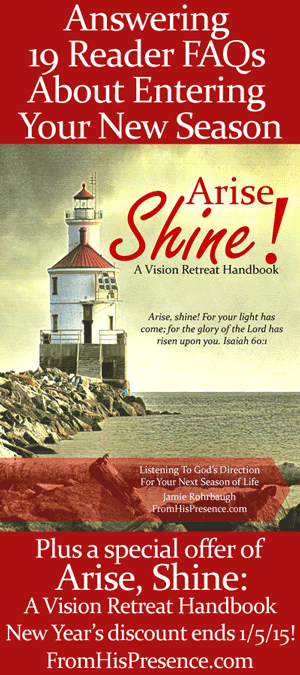 Your response has been overwhelming already. Bunches of you, my amazing readers, have purchased "Arise, Shine!: A Vision Retreat Handbook" since last Thursday when I released it for the first time. I'm excited for you if you've grabbed it already, because it will give you the tools you need to record God's vision for YOUR life too, and to stay on track with loads of anointed focus.
And in case you haven't gotten your copy yet, there are 18 hours left of this special offer. The offer will end at midnight tonight–January 5, 2015.
To recap:
My offer is for my book, called "Arise, Shine: A Vision Retreat Handbook" PLUS a whole bunch of awesome bonus material. This is a workbook I wrote for my personal mentees, and I've never released it to anyone else before. I love my people, and I poured my heart and spirit into this book, and the Holy Spirit sat down on me to write it like you wouldn't believe.
It's going to bless you.
"Arise, Shine!" includes the tools I use personally to record God's vision for my life, and TO STAY ON TRACK WITH HIS VISION. It will give you the tools you need to record God's vision for YOUR life too, and to stay on track with loads of anointed focus.
"Arise, Shine" is a downloadable, printable, step-by-step guide that will help you walk through your personal vision retreat from beginning to end. It's a workbook that includes 6 faith-building teaching sections about hearing God and developing intimacy with Him. It also includes exercises (with forms) on the following subjects:
Building a Memorial;
Soaking & Prayer;
Listening & Writing the Vision;
The Reason You Exist;
Your Mandate From Heaven;
Values & Priorities;
Defining Success for Yourself;
Your Personal Life;
Marriage & Family;
Children;
Finances;
Making Written Goals; and
Celebration.
As a special part of this offer, I'm also including awesome BONUS MATERIAL:
My personal tool for evaluating how I'm doing with life balance, the "Shine-O-Meter" (I use it every week, and often daily);
My reading list form;
Personal vision forms for men and women; and
My personal weekly goal forms that I use (3 different versions for different walks of life).
All of these materials are downloadable, printable forms. (They are not available in hard copy format.) They are also formatted in the beautiful lighthouse design you see on the book cover above, to remind you of the Holy Spirit shining His light into your future. 🙂
This material will help you stay on track with the vision God gives you and keep shining all year long! I've never offered it before the last few days, but the offer is open to you for 18 more hours.
Only 18 hours remain.
I've priced "Arise, Shine" and all its accompanying bonus materials at $15. But because it's a new season of new beginnings, I felt led to offer the entire set to you for only $8. (8 is the number of new beginnings in the Bible.)
So "Arise, Shine" is available to you now through midnight tonight (Eastern time) for $8. After that, the price goes up to $15 and stays there.
So are you ready to map out your new season? If so, get Arise Shine today! It will be of invaluable assistance in helping you step purposefully and joyously into everything God has for your new season!