The Difference Between the Jezebel Spirit and True Prophecy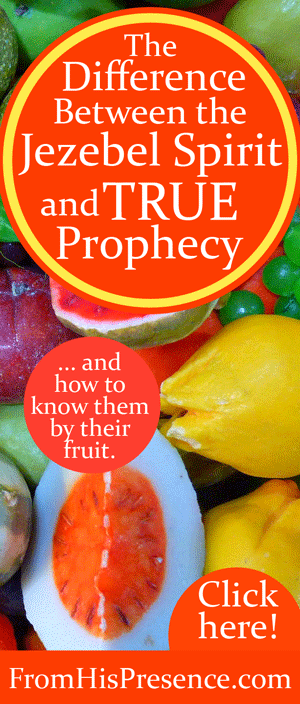 Dear Body of Christ,
Not all that glimmers is gold. Not all that you can see through is pure. And not everything that claims to be godly actually is.
Someone recently told me about some very unholy advice they had received. It was a piece of advice that no one in their right mind–not even an unsaved but reasonably-ethical person in the business world–would have condoned. And this person told me: "I had a weird feeling about it, but they were in the prophetic ministry, so I figured it must be all right."
Uh, stop there. Halt everything. Stop the presses.
Never, never, never take anybody's advice based strictly upon their position or appearance. Never.
Why not? Because people sometimes gain positions because the enemy put them there, not because God put them there. And appearances can be made to be anything a person wants them to be.
That's why God said to the prophet Samuel:
But the Lord said to Samuel, "Do not look at his appearance or at his physical stature, because I have refused him. For the Lord does not see as man sees; for man looks at the outward appearance, but the Lord looks at the heart" (1 Samuel 16:7).
God doesn't see what men see. God sees things completely differently. He looks on the inside.
So how do you know who and what to trust? Two ways:
Test 1: The #1, irrevocable, infallible test of truth is this question: Do this person's words and actions line up with the Word of God?
The Bible is the inerrant, infallible test of truth. Isaiah 8:20 says:
To the law and to the testimony! If they do not speak according to this word, it is because there is no light in them.
If it doesn't line up with God's written Word, it's not legit. Ever. Run from that thing and get its influence out of your life.
Test 2: You shall know them by their fruit. In Matthew 7:15-20, Jesus was very clear on this. He said:
Beware of false prophets, who come to you in sheep's clothing, but inwardly they are ravenous wolves. You will know them by their fruits.

Do men gather grapes from thornbushes or figs from thistles? Even so, every good tree bears good fruit, but a bad tree bears bad fruit. A good tree cannot bear bad fruit, nor can a bad tree bear good fruit. Every tree that does not bear good fruit is cut down and thrown into the fire. Therefore by their fruits you will know them.
You will know them by their fruit. Unfortunately, however, many Christians don't know their Bibles well enough to know if something lines up with God's Word or not, and they don't know what fruit to look for. And that, my friend, is a recipe for trouble. If you don't know the Word, and you don't know what fruit to look for, you can be taken in by seduction and lies.
We need to arm ourselves with truth so we will be safe from the wiles of the enemy.
Truth lines up with God's Word. Truth is Christ-centered, Christ-glorifying, and Christ-magnifying.
Anything else is NOT truth. If we're solid on that understanding, we have a much better chance of being immune to evil forces when they come around.
Additionally, however, there are certain actions and signs that it's helpful to know about. Why? Because when you see someone doing or saying something that seems like a big red flag, it might be. And you need to be able to tell the difference between:
godly leadership versus ungodly leadership;
the Jezebel spirit versus the true spirit of prophecy; and
a true prophet and a false prophet.
But before we talk about exactly what fruit to look for in discerning between a godly, prophetic leader or person operating in a true spirit of prophecy compared to an ungodly leader or person operating in a Jezebel spirit, let's talk about what several things:
where I got my information;
what a Jezebel spirit is; and
what a Jezebel spirit IS NOT.
First, what a Jezebel spirit is NOT:
The term "Jezebel" does NOT describe a woman who wears makeup, dyes her hair, wears jewelry, or wears pants. A Jezebel spirit is not a term we are going to use to malign women. AT ALL.
If you think "Jezebel" does mean those things, or if you even think it's ever appropriate to criticize women for things like makeup, hair, and jewelry, you are sadly mistaken.
Trying to keep women under your thumb and "in their place" is evil. Women were created in the image of God, just like men were; and all humans should be honored at all times. Legalistic rules and regulations (such as "you can't wear makeup" and "you can't wear pants") are just as evil, so get over your rules and regulations, please. (And don't bother to email me to defend your rules, regulations, or bias against women, please. I'm not interested.)
What a Jezebel spirit IS:
A Jezebel spirit is a demon–the same demon that influenced Queen Jezebel in the Bible. Jezebel was the foreign wife of King Ahab of Israel. She was a wicked queen who controlled, murdered, seduced, and led the nation deep into idolatry. She was eventually killed at the order of Jehu, who became a righteous, prophetic king right after Ahab was killed. (And by the way, the fact that she was killed by a prophet is important.)
We also see this spirit referenced by Jesus in Revelation 2:20, in His message to the church at Thyatira:
Nevertheless I have a few things against you, because you allow that woman Jezebel, who calls herself a prophetess, to teach and seduce My servants to commit sexual immorality and eat things sacrificed to idols."
The Jezebel spirit is a demon that influences people (and can possess someone who is not saved, but can only influence–not possess–someone who IS saved). It is a false spirit of prophecy (Revelation 2:18-23), and it wants to teach. It is also a spirit of control and manipulation–hence seduction. It can influence individual people, churches, and even nations.
And where I got my information:
I got my information from several places, the most important one being life experience.
Right after I got saved, I began attending a church that was part of the denomination I grew up in. A woman with a Jezebel spirit was there. She prophesied to me that I was supposed to marry a particular individual. (Wrong, wrong, wrong! That is so unholy! If ANYONE EVER prophesies to you that you're supposed to marry a particular person, RUN like the wind and get away from them!)
This woman also did many other strange things in the name of prayer. She would go into trances that were very weird, but she said it was God. She would also tell people they were going to be martyrs. It was very odd. I didn't know what was up, but I prayed a lot and sought God through His Word.
I had never been taught about spiritual warfare, prophetic ministry, hearing God, or anything like that.
The denomination in which I was raised did not believe that the charismatic gifts of the Spirit, such as prophecy, miracles, healing, and so on, still operate today in the Body of Christ. So I knew NOTHING about this stuff.
But here was this woman telling me that God told her I was supposed to marry this particular man. Obviously, that was a little close to home, so I asked God for help. He sent me a book called Unmasking the Jezebel Spirit by the late John Paul Jackson.
I read and studied, but it took me some time to begin understanding what was going on.
I eventually came to understand that this woman operated in a Jezebel spirit of manipulation, control, and false prophecy. And even before I began to understand this, the Lord by His mercy drove a wedge between me and her and completely removed our relationship from my life. (Thank You, Lord!)
Eventually, after I did understand, and after I had a radical encounter with the Holy Spirit that changed my life forever, and after I left that church and began attending my home church today (which is the house of my spiritual fathers), the Lord made me go back and try to find the other people who were impacted by this woman's demonic prophecy to me, to make things right.
THIS IS KEY:
I did everything I could to make things right with those people; and when I did so, the Lord closed that door that the enemy had tried to open in my life.
After that grand introduction to spiritual warfare by life experience and John Paul Jackson's book, I kept learning from:
Bible study and comparing what I saw to the Bible. This is the biggest way I learned.
Mentoring and teaching from my pastors over the prophetic ministry of our church.
Classes from Streams Ministries about how to hear God, how to interpret dreams and visions, and how to operate correctly in prophetic ministry.
Various sermons I heard;
More life experience as an intercessor and watchman-on-the-wall for my church when Jezebelic situations have arisen that have had to be dealt with in prayer.
I always try to cite my sources if I've learned something from a particular place. However, in this case it's hard to do that because I've learned from a conglomeration of sources and a whole lot of life experience for the last fourteen years. But if you want to learn about this stuff, I recommend any of the resources above. It will all help.
And above all, focus on Jesus, pray, and read your Bible. 🙂
Now, on to the rest of the story …
Here's how the Jezebel spirit tries to influence:
In its smaller spheres of influence, it incites rebellion. It wants to control and manipulate people in the home and in interpersonal relationships.
As the rebellion grows and the spirit gains larger spheres of influence, it wants to control churches and spiritual leaders.
In its largest realm of influence, it uses rebellion and sexual perversion to try to bring a nation into sin and, eventually, into the worship of the occult.
So the Jezebel spirit is actually a demon. It's important to keep that in mind, because we need to keep our perspective right.
In order to think about a Jezebelish situation rightly, we have to separate our thoughts about the demon (obviously, that we want to get rid of it) from the way we treat the person who is allowing that demon to operate in their life. That means we have to be careful to treat people who are influenced by this demon ("Jezebelites") in a godly way.
How you should treat someone who is walking in a Jezebel spirit (a Jezebelite):
First and foremost, you should be very careful before accusing anyone of walking in such a spirit. Remember that only God truly knows our hearts.
If you are concerned about someone, ask God for discernment. Notice behaviors and red flags. Pray without ceasing. But be very, very careful before you label someone. You may find it necessary to watch a situation for years before you feel like you have a clear sense of what is going on … and even after you think you have a clear picture of the situation, prudence says it's still best to be cautious.
But while you're dealing with a situation–and before, and after, and always–Christ calls us to love the Jezebelite.
Yes, you still need to be discerning and wise. Walk softly and carry the big stick of unceasing prayer. But remember that the battle is not against a person, but rather against actual evil spirits.
Ephesians 6:12 tells us:
For we do not wrestle against flesh and blood, but against principalities, against powers, against the rulers of the darkness of this age, against spiritual hosts of wickedness in the heavenly places."
Every person, whether they harbor a Jezebel spirit or not, is a person for whom Christ died.
Just like any other person, a Jezebelite needs to be healed and delivered. Healing and deliverance generally will only happen when the person decides they want help, but still: they are a hurting person (whether you realize it or not) with inner wounds and open doors to the enemy. Those doors need to be closed and the wounds healed, so they can walk in freedom and the abundant life Jesus died for them to have.
But until the Jezebelite decides they want help–at which point your senior leaders will do the helping, not you–I would strongly recommend you stay as far away from the Jezebelite's advice and influence as possible.
Don't be rude. Just be careful who you allow to speak into your life, ok? Don't allow evil to influence your life. Be influenced by godliness and holiness instead. Stay under authority and choose your friends wisely.
But sometimes correction is needed.
We do not wrestle against flesh and blood. We love the person, but not the demon or the demonic behaviors. The person needs to be healed. The person is not the enemy; the enemy is. But the person may still need to be corrected for his or her own ultimate good.
But when that correction is needed, unless you are a senior leader of the church in which that person is operating, correction is NOT YOUR JOB.
Correction in this situation is the job of leadership. It must be handled very carefully and wisely; and your leaders will know how to handle it.
So what do you do if you see someone being influenced by a Jezebel spirit?
It depends on who you are.
If you're a peer, pray for the Jezebelite AND FOR YOUR LEADERS.
If you're an intercessor, pray for them and for your leaders some more.
If you're an armorbearer or an intercessory "watchman on the wall" for a church or ministry, pray about whether you should or should not bring your concerns to your pastor. If the Lord tells you that you should, then ask God for wisdom, direction, timing, etc if any such conversation is to occur. [Watchmen: Earnestly consider that the watchman who does not cry out is responsible for any shedding of innocent blood that could have been avoided (Ezekiel 3:16-21).]
And if you're the pastor, you already know what to do. (And if you find yourself in a Jezebelic situation and haven't personally dealt with such a situation before, you will find John Paul Jackson's book Unmasking the Jezebel Spirit to be extremely helpful.)
The long and the short of it is:
Always be careful with a situation like this. The last thing you want to do is accuse someone unjustly–or accuse them at all. Correction and accusation are not the same thing. Discernment and suspicion are not the same thing. So if you are in a situation with a potential Jezebel spirit, be sure to arm yourself with prayer, much study, and with observable facts (not mere suspicions or feelings).
Ok? Now, without further ado …
Here are some of the primary differences between the Jezebel spirit and true prophecy:
(… which you can read to be the same as the difference between the Jezebel spirit and true prophetic ministry, true godly leadership, etc):
1. The true prophetic will always be Christ-centered. A Jezebel spirit, on the other hand, tries to exalt and draw attention to the Jezebelite.
Jesus will be exalted in everything a true prophetic person does. Jesus will be the focus of everything a godly spiritual leader does. You will see this in the everyday lives of your godly leaders.
For example, someone with a true prophetic spirit will be attracted to places where Christ is exalted like a bee is attracted to honey. Someone operating in a Jezebel spirit, however, will avoid places where Christ is exalted. They may present a good face, but they will actually do everything they can to stay far, far away from places and people who radiate the Spirit of Christ.
2. Someone with godly character will submit to his or her godly authority figures (pastors, bosses, wives submitting to husbands). However, someone operating in a Jezebel spirit will operate in outright rebellion.
Usually, this starts with small acts or words of rebellion, and grows into larger acts of rebellion as the person gives themselves more fully to the unholy spirit.
So just because someone used to seem ok, doesn't mean they are ok now. If you're seeing red flags and you have warning bells going off in your head over a particular situation, you may want to give that situation a closer look.
3. Beware of someone who skyrockets to fame in your church or ministry organization, with no foundation of service.
All godly leaders (prophetic or not) and all prophetic people are built over time. They serve as sons for years before God gives them influence or leadership authority.
However, someone operating in a Jezebel spirit often comes out of nowhere and skyrockets to elevation and promotion, without those foundational years of service in a house of God. Beware of someone who comes out of nowhere and is suddenly elevated without having a foundation of service for his or her ministry in a place.
This DOESN'T mean that people can't be promoted quickly.
The way God handles promotion in the Kingdom is often that He will have people serve and serve and serve for years in obscurity. During those times, nobody may know them at all. They are serving, as Jesus said in Mark 6:4, without honor in their own house. God does this because serving without honor develops character and perseverance in a person.
But then SUDDENLY happens. Suddenly, after years of service, God will promote you.
Bill Johnson, senior pastor of Bethel Church in Redding, California, explains it this way: You may feel like you're not making any progress for years. But you just keep serving anyway. Then when God moves to promote you, He lifts you to that higher level so quickly that it's AS IF you had been growing in influence and promotion the whole time.
Watch this short clip from a Q&A session with Bill Johnson for a terrific explanation of this phenomenon:
So God does come suddenly, but you will always see godly leaders and true prophetic people built over time. I've heard well-known, mature prophetic voices in the latter seasons of life say they believe it takes 10-20 years to make a prophet. I'm sure it takes just as long for a pastor, teacher, or other godly leader to really mature in ministry.
4. The true prophetic will always point you toward your leaders. A Jezebel spirit will try to separate and divide you away from your leaders.
I've never seen this principle fail. If somebody is trying to divide you away from godly leaders whose character and results line up with the Word of God, that thing trying to divide you away is a Jezebel spirit.
If only, if only we could GET this in the Body of Christ. We need our leaders. They are over us because GOD put them there.
Romans 13:1 says:
Let every soul be subject to the governing authorities. For there is no authority except from God, and the authorities that exist are appointed by God.
A Jezebel spirit will tell you that you don't need your leaders. It will tell you that your godly leaders (whose ministry lines up with the Word) are doing something wrong the moment they do something you don't like. It may even tell you that you can do everything your leader can–and better; or that the Jezebelite can and should take the place of your leader.
All of these are wrong, wrong, wrong. Read your Bible, beloved. We HAVE to stay under godly authority in order to be in right standing with God. This is serious stuff. Please. Wake up, wake up, wake up and RUN, don't walk, away from people and lies of the enemy that try to get you away from your leaders.
5. The true prophetic will encourage and build you up. A Jezebel spirit will flatter you.
It's hard to describe the difference, but let me say this: if someone seems toooooo sugar-sweet with their compliments, something is probably up.
Yes, we should all be encouraging. That is the purpose of prophetic ministry–to edify, build up, and encourage. But flattery is not the same as encouragement. Flattery operates by an unholy spirit that tells the Jezebelite what your weak spots are, so the Jezebelite will know where he or she can use flattering words to seduce you. Flattery happens when an evil spirit is trying to use your weak spots as open points into your life so it can win favor, influence, and ultimately CONTROL over you.
You can SMELL the difference. Flattery reeks.
True encouragement from godly leaders and true prophetic people will make you feel the love of Father God. True encouragement will lift your chin and help you stare into the face of Father. Real encouragement will push you closer to God.
But flattery will only draw (or attempt to draw) you toward better thoughts and closer relationship with the Jezebelite.
6. The true prophetic will encourage you, equip you, and build you up. Someone with a Jezebel spirit will try to make you codependent on them.
A Jezebel spirit wants to seduce and control you. Someone operating under a Jezebel spirit will try to keep you to and for themselves.
On the other hand, godly leaders and people operating in the true spirit of prophecy will build you up and fling you out into your destiny. The true prophetic will give you freedom and encourage you to soar.
7. Truly prophetic leaders will remain under authority and adhere to protocol. Those operating under a Jezebel spirit will not.
Examples of adhering to protocol include:
Maintaining proper boundaries between women touching men and vice versa;
staying within your chain of command; and
making sure that prophetic words and counsel are encouraging and upbuilding in nature ("God will give you the wisdom to make the right decision. You do hear His voice," rather than directive ("The Lord told me you should marry so-and-so or take that new job").
8. When someone with a truly prophetic spirit preaches, teaches, or prophesies, the Holy Spirit will bear witness in your heart. But a word from a Jezebel spirit kills the anointing.
When a word is birthed by the Holy Spirit, there will be an increase of anointing in you when you hear it. Your heart will burn within you for Jesus.
However, when someone with a Jezebel spirit prays, teaches, preaches, or shares a prophetic word, it's like someone dumps a bucket of ice on the meeting. The anointing and fire disappear from the worship service and from your heart. It kills the mood completely.
9. A true prophetic spirit will turn the hearts of the fathers to the children and the hearts of the children to the fathers. But a Jezebel spirit will try to turn the hearts of the people toward the Jezebelite.
Malachi 4:5-6 says this:
Behold, I will send you Elijah the prophet before the coming of the great and dreadful day of the Lord. And he will turn the hearts of the fathers to the children, and the hearts of the children to their fathers, lest I come and strike the earth with a curse."
Isn't it interesting that God describes the Elijah as the one that turns the hearts of the fathers to the children and the children to the fathers–when Elijah is the prophet whose ministry killed Jezebel? Hmmmmm … very interesting indeed.
A Jezebel spirit will build a tribe around itself. The Jezebelite will try to gain a following. Sometimes it succeeds. The damage it can do to your church or organization has a lot to do with how much of a following it's allowed to gain.
A true prophetic spirit, however, will also have influence–but the person who is filled with the Holy Spirit will use his or her influence to:
build others and launch them into effective service;
to build a cohesive team that operates together as the Body should;
to build up the ministry area in which they're serving; and
to build the church.
Look at the fruit. When you see someone with a Jezebel spirit, there's unlikely to be any real building or effective equipping going on. But someone operating in godly leadership or the true spirit of prophecy will always build up others and fling them into their destiny like Jesus did. That's the whole purpose of prophetic ministry–to encourage, edify, build up, and equip.
11. Truly prophetic people get their prophetic words directly from God. A Jezebel spirit will recycle other people's words.
A Jezebel spirit has no connection with the Holy Spirit, so it has no godly revelation or fresh bread. However, to maintain appearances, it will take the stale bread of someone else's old word or elementary teaching, and try to re-present it as something new and revelatory.
Someone operating in true prophecy, however, will have an intimate relationship with and sensitivity to with the Holy Spirit. They will usually spend lots of time alone with God in prayer, worship, and the study of God's Word … and their prophetic words and teachings are filled with the fire they receive from that secret place of God's presence.
You can taste the difference. A real prophetic word will light you on fire. It will resonate with your spirit. The Holy Spirit will bear witness in your spirit. It might make you cry, or even whisper as the awe of God overwhelms you.
But a false word from a Jezebel spirit will be flat, boring, and unfruitful in your life. And as stated above in #8, it will often feel like someone just dumped a bucket of ice on your meeting.
Basically, the true prophetic will resound with the testimony of Jesus and the fruit that Jesus commanded us to bear in our lives.
Revelation 19:10 says:
And I fell at his feet to worship him. But he said to me, "See that you do not do that! I am your fellow servant, and of your brethren who have the testimony of Jesus. Worship God! For the testimony of Jesus is the spirit of prophecy."
It's all about Jesus. Watch for God's Son, God's Spirit, and God's Word to be manifest in your leaders and in those who call themselves prophetic.
And if you don't see the testimony of Jesus … if you don't see humble and faithful service when no one is looking … if you don't see people being equipped and encouraged…
Pray. Study. Talk to your pastors if you need to.
This is not an all-inclusive list. And one red flag isn't enough to diagnose a situation or to say that a person has a Jezebel spirit.
Maybe someone just has a teaching issue. Maybe they just don't know and need a little gentle correction. However, that doesn't mean you ignore the red flags. Ask God for discernment, and look carefully at the fruit of the situation you're seeing.
And no matter what, be sure that your life is being influenced by God Himself, by His Word, by the godly leaders He has placed over you. "To the Law and to the testimony! If they do not speak according to this Word, it is because there is no light in them" (Isaiah 8:20).
Did you find this post helpful? If so, please leave a comment below with your thoughts or even your questions. I'd love to hear from you.