Women: Bullies Stole My Sense of Femininity (But God Gave It Back)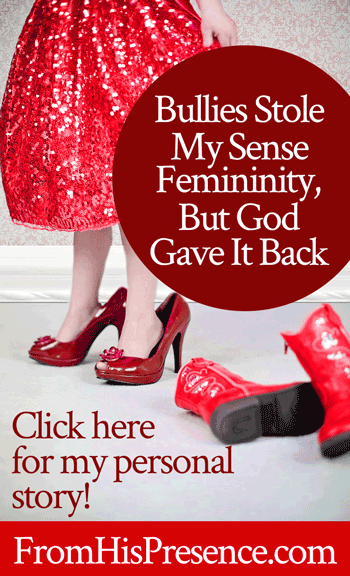 "Do you like my frogs?" I asked him. We were in college and I adored him; I wanted his affirmation so badly.
The frogs I referred to were in my hair. They were two of the cutest little green, ceramic frogs you've ever seen, and they sat on the ends of little bitty hair clips. They coordinated with my outfit, and I felt cute as a button. I wanted him to see the beauty and whimsy in my heart.
"Yeah, if they were on my two-year-old daughter," came his harsh response.
Perhaps I shouldn't have expected a man to be enthusiastic about hair clips, but I didn't realize that at the time. I was crushed by his response. Those words stirred up years of feeling inadequate.
When I was younger, I had been badly bullied.
Cruel words assaulted my ears and burned into my soul, and I remembered every one of them:
I remembered the little boy in elementary school who said, "If looks didn't matter, I could have been dating Jamie."
I remembered the cutting words of the teenage boy who said, "If you want to punish Jamie, make her look in the mirror."
I remembered girls in the locker room who stole my clothes, didn't invite me to parties, and openly mocked me in class and on the school bus.
I remembered the nights I cried myself to sleep and the suicidal thoughts I battled.
I remembered the hopelessness and despair of years of trying to fit in—trying, trying—to be good enough, pretty enough, funny enough.
Anything to be loved; anything to be accepted for who I was.
The memories hurt, and I had had enough. So I drew a line in the sand—a dark line.
My battered soul could tolerate no more. I resolved to no longer open my heart to others or provide any opportunity for others to hurt me. I believed that if I could withdraw into a dark place, I would be safe within the shadows.
Later, when I was alone (so as not to let my friend know how much his words hurt me) …
I sadly took the frog clips out of my hair.
I also took the hair bows, scarves, and headbands out of my wardrobe.
I got rid of my sparkly makeup and glittery hair gel—things that used to bring the sparkle out in my personality.
I no longer felt whimsical or beautiful, so I went down to the basics and didn't look back … until 15 years had passed.
Fifteen years of looking at other women and thinking, "I'm not pretty like you."
I felt continually inferior whenever I was around women who were obviously comfortable in their femininity. I couldn't measure up:
I didn't have a different purse for every outfit.
I didn't wear colored shoes or high heels 24/7.
I would rather fast on bread and water for 40 days than wear a tutu or a boa in public (and I have zero desire to fast on bread and water, I assure you).
Nothing about me sparkled during those 15 years.
Yet, deep in my innermost heart, I missed the sparkle. Longed for it. Yearned to be whole again. I missed the hair bows. I missed whimsy and beauty. I longed to feel classy and elegant and ladylike again. I longed to let my personality shine … if only I could be safe.
At the end of 15 years, my heart had still not healed, but I set a goal to "become more feminine." I purchased a couple of books I thought would help me learn what women were supposed to look and act like. The first book, Becoming God's True Woman by Nancy DeMoss, was a divine appointment for me. I never did read the whole book; only the first few pages. However, within those first few pages, DeMoss messed with me right away.
At the very beginning of the book, she wrote:
"… when God created the first woman, he made a fully feminine creature. You and I did not become feminine because someone gave us a doll and put a dress on us—we were born feminine because we were created feminine" (page 25).
That passage hit me like a freight train.
I missed allowing myself to be myself in front of others. I longed to be able to show my personality on the outside of my self-created shadowland. I ached for the trappings of girlhood that I used to enjoy so much—for the beauty and elegance I associated with other women, but could not embrace for myself. I desperately wanted to feel like a woman again.
Reading DeMoss's words made me realize she was right: I didn't have to try to be a woman. God already made me feminine, and nothing I could do would ever make me more feminine or more acceptable. He made me the way I am.
The Lord spoke to me out of that book. He showed me that whether other people embrace who I am or not, I am still 100% woman, right now. Whether I am wearing hair bows, a dress, and high heels or flip flops and a t-shirt, I am still classy and elegant and beautiful … because God made me that way.
It was a life-changing revelation.
I couldn't absorb it all at once; I pondered on it for years. Changes came slowly as I allowed myself to feel beauty and embrace femininity again. Those changes, though—when they came—were obvious:
When my husband and I went on a cruise, I purchased a fabric rose to wear in my hair on a formal night. It was black and white and beautiful, and it matched my evening gown. I knew no one would know me, so I planned to be brave and wear it … and I did.
I rediscovered dresses. I have always felt elegant in dresses, but I had mostly abandoned them. One at a time, I found nice dresses to wear.
I painted my fingernails. The great cloud of witnesses fainted, but the photo of my new red fingernails got lots of rave reviews on Facebook.
I eventually gave myself permission to wear shoes that were not strictly utilitarian. I bought zebra-striped pumps—yes, zebra!—and cheetah-inspired mile-high heels… and actually wore them a few times, before my knees informed me that I needed zebra-striped flats instead. 😉
Were the clothes and shoes all that important? Maybe not to you, and it's true that they're not essential to womanhood. To me, however, they represented something deep, hidden, and special. To me, they represented a heart change:
I gave myself permission to be a woman.
I gave myself permission to be who God created me to be. I gave myself permission to be myself, to feel beautiful, and to look my best. I gave myself permission to show the same fun and whimsy on the outside that God had placed inside my heart.
It turns out that the trappings of feminine fashion weren't the point at all. The point was—and still is—that God made me a woman, and I can rest in who he made me to be.
I don't have to try to be less than God made me. Instead, I can enjoy his creative work in me. I can embrace the full extent of beautiful womanhood, whether that means climbing the corporate ladder (at which I had already excelled) or wearing pink ballet slippers (which I bought when I began healing).
Beloved sisters, have you been through something that robbed you of your sense of femininity?
Have you had to withdraw into a darker place in an attempt to protect yourself? Do you secretly long to let the beauty in your heart have its fullness of expression in every part of your world?
If so, I get it. Sister, please hear me when I say:
God made you unique and powerful. He made you beautiful and special. He made you rare, a priceless treasure.
When God made you a woman, he gave you a love for beauty and grace. He gave you the secret wishes of your heart. He made you mysterious and elegant. It's who you are. You already are the woman you've always wanted to be.
All you have to do is let her out.
So go ahead. Take your Creator's hand and step into this wonderful world of womanhood. Allow yourself to fully be who God crafted and formed you to be. The woman you are is a rare treasure, and the world is waiting to meet her.
Does this testimony speak to your heart? If so, please leave a comment below. I'd love to hear from you!