Prophetic Word: Stop Waiting for a Kingmaker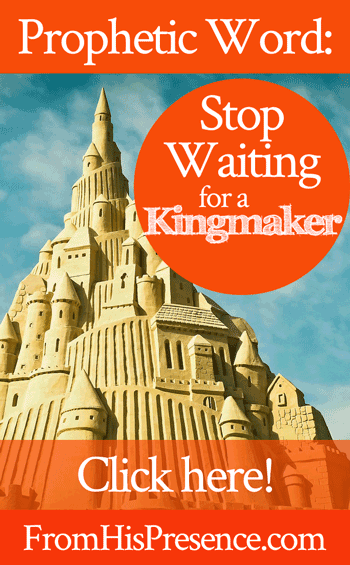 Are you a minister who has become discouraged because the ministry opportunities you desire have not come? Has your faith tarnished, despite your best efforts at keeping it bright and shiny? Have you become sad? If so, read on! Father gave me an encouraging word for you.
In the 1400s, there was a man in England named Richard Neville (called "Warwick"), the 16th Earl of Warwick. History still debates about whether he was a "good guy" or an unsavory character, but one thing is certain: he had influence.
Warwick was called the "Kingmaker."
Warwick himself was not a candidate for the crown of England, but he had so much influence that he deposed–and helped to enthrone–kings during the Wars of the Roses. He had influence with England's citizenry, with the aristocracy, with armies, and even with foreign governments. People who wanted to be king wanted the Kingmaker on their side.
And the Lord showed me that, in today's church, many ministers are waiting for their own version of the Kingmaker to show up.
The Lord has shown me many ministers who know what they are called to do. Their hearts yearn and hunger to function in their calling–or to function in their calling more fully. They feel fully alive when they do what they were born to do, and just trudging through when they are not.
The problem is that, with or without knowing it …
Many of these ministers have been waiting for the Kingmaker to show up.
They have been waiting for other people to take them, raise them up, and establish them in ministry. They have been waiting for others to introduce them to key contacts. They have been waiting to be invited to do what they are called to do:
Waiting for the church invitations;
Waiting for the dinner invitations;
Waiting to be included in the plans of others;
Waiting to be drawn into the inner circle of the spiritually-elite.
And it just hasn't happened. They have become sad and discouraged as they have waited for the Kingmaker. Bent and broken, they are now questioning both their faith and their call.
If that describes you, know this:
The Kingmaker is not coming, but the King–your Maker–has already come.
Your faith has been tarnished because you have not seen doors open for your ministry. You have wondered and questioned everything you stand for. Your heart has been broken over and over again as you have been passed over, passed by, and seemingly forgotten.
But I believe the Lord wants to call your attention to the fact that He already called you. And when He did, His call did not come with a need for a kingmaker. He called YOU, and the responsibility is yours alone.
He is the King, you see, and He made you.
The fact that He made you means He has authority over you. And when He created you and ordained your life, He made you to function in a certain way and to do a certain thing. That thing is His mandate on your life.
Merriam-Webster defines "mandate" as:
"1: an authoritative command
especially : a formal order from a superior court or official to an inferior one
2: an authorization to act given to a representative …"
The Lord has given you an authoritative command.
He has issued an order from His superior seat in His superior court to the inferior seat of your life. He has given you HIS authorization to act as His representative.
And when He did, He did not issue that command along with the condition that someone else give you permission to obey His command as well.
Reinhard Bonnke began his international ministry standing on a street corner, singing and playing the accordion.
When enough people gathered, he put down his accordion and preached. Why did he do that? Because it was the only door open to him at the time, and he was determined to be faithful. Bonnke's ministry has since seen over 78 MILLION decisions for Christ, along with signs, wonders, and miracles.
Bonnke didn't wait for a kingmaker. None of the kingmakers were even interested in him! Still, though, Bonnke decided to obey the King, His Maker, and preach the Gospel because he knew he was called, and he determined to obey.
Are you waiting for your kingmaker to arrive? Are you waiting for a kingmaker to notice you? Or, are you willing to obey the King, your Maker?
The Kingmaker is not coming, beloved.
In ministry, there is a trying process. There is a testing process. A certain amount of struggle is required to build your wings strong enough to carry you during the challenges and brutality that years of ministry can bring.
And being elevated by a kingmaker won't cut the mustard. Being elevated by a kingmaker makes you weak. You have to earn your microphone yourself.
So what can you do?
Here's what I would encourage you to do:
Search your heart. Between you and God, ask Holy Spirit to reveal to you whether you have been waiting for a kingmaker or not.
If you have, re-acquaint yourself with your original call. Look to the rock from which you were hewn.
Ask the Lord to show you HIS vision for how you can obey Him in the area of your call without waiting for someone's permission–just between you and Him alone.
Write down what He shows you.
Begin to pray and ask Him to show you next steps.
Obey each step as He shows it to you.
Always stay under authority, but know that your call doesn't depend on the Kingmaker's permission.
Too often, we get spheres of influence confused. If you're trying to do something in the Kingmaker's castle, then yes, you have to submit your thing to his/her authority. But if you're obeying God outside the Kingmaker's castle, the Kingmaker's permission is not needed.
We have too many ministers waiting for their respective Kingmakers to give them permission to obey God in places that are not part of the Kingmaker's authority. This is an unholy thing. Get under authority, but understand well where appropriate spheres of authority lay.
Beloved, if you've been waiting to be set free to minister, know this:
God already set you free. And he/she whom the Son sets free is free indeed.
You don't need a kingmaker. You need the King, your Maker.
Daniel 2:21: "And He changes the times and the seasons; He removes kings and raises up kings; He gives wisdom to the wise and knowledge to those who have understanding."
Does this word resonate with you? If so, leave a comment below. I'd love to hear what Holy Spirit is saying to you.