Prophetic Word: The Lord is Breathing Upon Your Waste Places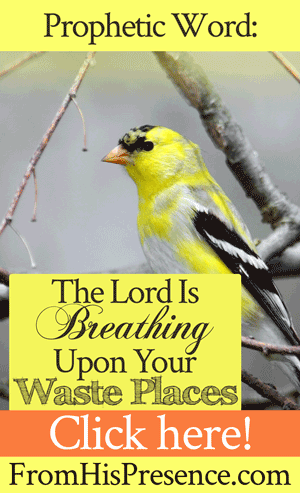 Beloved, have the once-verdant fields of your life become a dry and sterile wilderness? If so, be encouraged:
The Lord is breathing upon your waste places!
When I was praying recently, the Lord told me He was going to show me what was coming next. Then He took me to Isaiah 51.
This chapter contains too many gems to describe here, but I believe verses 1-3 in particular contain an essential prophetic word for God's people right now.
Isaiah 51:1-2 says:
Listen to Me, you who follow after righteousness, you who seek the Lord:

Look to the rock from which you were hewn, and to the hole of the pit from which you were dug. Look to Abraham your father, and to Sarah who bore you; for I called him alone, and blessed him and increased him" (Isaiah 51:1-2).
First, this word is for people who are already devoted followers and servants of Christ. Many of you have gotten so busy with certain things that you have drifted away from your original purpose. This drifting may be slight or it may be severe. Either way, it's time to re-calibrate.
I believe the Lord is asking each of us to review and return to our original call.
It's time to eschew busy work that produces no fruit. Strip yourself of things that God has not called you to do–especially things you have been doing only to please others. As you do, review the things that make you YOU.
Questions to ask yourself include:
What was your original call?
What are the greatest passions of your heart?
What have you been feeling Holy Spirit urging you to do–but you've been too intimidated, uncertain, or fearful to try?
When you re-calibrate yourself, don't be concerned if you find yourself alone.
When God called Abraham (then Abram), He told Abram to go OUT:
Go OUT from his family.
Go out from his father's house.
Go out from a familiar country.
Abraham had to leave all these things in order to arrive at the place God had for him. You will have to leave some things behind as well. However, it is in that place of total abandon to God that He can bless and increase you.
Many of you have been waiting for the transition to be easy before you try to cross over. You have been too fearful to take the plunge without an easy, risk-free door opening in front of you. If that's you, I believe the Lord wants you to know that following His glory is always a risk.
However, if you will follow, you will immediately see the Red Sea parting before you.
The Lord will bless and increase you IN the new place of risk–not before. The Promised Land is a land flowing with favor. It flows with milk and honey. All Egypt provided was a temporary place to stay, plus provision for the journey out.
Be grateful for Egypt, but go ahead and start the journey toward the Promised Land. Don't wait for the crossing to get easier or even look easier. Just follow the Lord, and He will open the doors!
Related: The Parting of the Red Sea Is Coming!
The Lord is breathing upon your waste places right now.
For the Lord will comfort Zion, He will comfort all her waste places;

He will make her wilderness like Eden, and her desert like the garden of the Lord; joy and gladness will be found in it, thanksgiving and the voice of melody" (Isaiah 51:3).
The word "comfort" in Isaiah 51:3 literally means "to breathe strongly upon" (Strong's Concordance, Hebrew word #5162). God is saying here that He is going to breathe strongly upon all your waste places, turning what has been your wilderness into a place of pleasure and delight.
Which fields in your life have become desolate?
What parts of your heart or ministry used to feel well-watered, but have become nothing but dry? THOSE are the places our Father is beginning to breathe upon now.
The Lord is now breathing upon all of your dead, barren places. As His breath hits each part of your life, you will see vibrant life emerge as if out of nothing. He is going to fill those wastelands-turned-gardens with joy, gladness, and song.
As the Lord breathes upon your waste places, you will feel like you are in a happy dream:
When the Lord brought back the captivity of Zion, we were like those who dream. Then our mouth was filled with laughter, and our tongue with singing. Then they said among the nations, 'The Lord has done great things for them.'

The Lord has done great things for us, and we are glad" (Psalm 126:1-3).
By the way, don't be surprised if the Lord begins to download new songs into your heart during this season, even if you've never written songs before. 🙂 These songs may be private and special between you and Him–or they could benefit others as well. Either way, new songs always accompany a new move of God.
Finally, you are entering a new season of fruitfulness.
The Hebrew word for "desert" in Isaiah 51:3 means "a dark and sterile place." When someone or something is sterile, it is unable to reproduce. However, God is breathing upon things that have formerly been sterile. Look for a sudden ability to reproduce–either spiritually or physically–to manifest in your life during this season.
Personally, I am in my second trimester of pregnancy–a pregnancy that I was told would not happen. Despite the negative predictions we endured, the Lord has breathed upon our dark and sterile places so that my husband and I could produce fruit.
I do not believe I am alone in this; but rather, I believe that our Father is moving largely across the Body of Christ to bring fruit where there was none before in many ways.
Beloved, the Lord is breathing upon your waste places.
Things that used to be beautiful, but have become dry, are about to blossom. Even now, if you look, you will see green shoots beginning to emerge from the dust. Land that has become fallow will yield a harvest again.
Do not fear your history. Do not think that just because something became dry and sterile means it will stay that way. The Holy Spirit–the divine Breath of Heaven–is breathing on you right now, and you are about to see a resurrection.
Does this word resonate in your spirit? If so, please leave a comment below. I'd love to hear from you!
Would you help me with my work of reaching people for Jesus as a domestic missionary? I need you; we are in this together! This blog, and all of the Kingdom work we do in this community together, are made possible through your partnerships, donations, and product purchases.
If you'd like to help, please check out the partnership details and products available for sale here. And, thank you in advance for helping make this blog and everything we do together for the Kingdom possible!