God Loves to Make You Laugh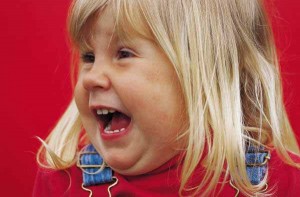 How often do you laugh?
I love to laugh. "Seriousness" is not a fruit of the Spirit!
Galatians 5:22-23 says, "But the fruit of the Spirit is love, joy, peace, longsuffering, kindness, goodness, faithfulness, gentleness, self-control. Against such there is no law." (And by the way, "longsuffering" doesn't mean suffering longer at all… it actually has an awesome meaning which I explain in detail in my post here, entitled "Do YOU Have Big Fierceness?")
The fruit of the Spirit is love, JOY… joy!!!
What does joy mean?
Joy is having a good time. Joy is laughter. Joy is being able to see the humor in things. Joy is looking at the bright side of life and believing things will get better, even if they look bad right now. Joy is knowing that God will work everything out for your good, no matter what.
God loves joy. He exudes it. Whenever He's around, His Spirit produces joy in you.
God loves to make you laugh.
For example, yesterday I laughed and laughed at something God did. I got a phone call from my doctor's nurse. She was telling me about my lab results, and she added this line: "The doctor says your blood is Type A positive."
After the call ended, I got so tickled at God for that! Everybody that has been around me for very long knows that my personality is totally Type A. I'm decisive; I almost always have direction and a plan; I'm not afraid to get out of the box; and I really don't care what other people think about what I do. Totally a Type A. 🙂
And now science has proven that I really am a Type A!!! Hahahahaha.
Type A positive, even… which is even more of a hug from God, because I used to be really negative (before I met Jesus), but the Holy Spirit has changed my heart so much that now I really am super-positive, (almost) all the time. 🙂
I was just laughing like crazy about that. I even updated my Facebook status and said: "Just got some blood work back and whaddaya know, the doc said my blood is Type A. Everyone who knows me is free to laugh at this point." 🙂 I don't mind if others laugh with me!
The point is, God loves to do and say things to us, all the time, that will tickle us and make us laugh. He's a Father. What father doesn't love playing around with his kids and hearing them giggle?
Romans 14:17 says, "for the kingdom of God is not eating and drinking, but righteousness and peace and joy in the Holy Spirit."
The kingdom of God is righteousness, peace, and JOY!!!!
I love to laugh. God loves to laugh. God loves it when I laugh, and God loves it when you laugh too.
So don't be afraid. Look for things to laugh about today. Ask God to help you laugh. Ask Him to be the one that tickles you! Then prepare to receive some JOY.
Yee-haw!!!!! Have a great time today!
Have you ever noticed God doing something that made you laugh like crazy? What was it? I'd love to hear your story; please leave a comment and share!