Don't Give Up! A Harvest Is Coming!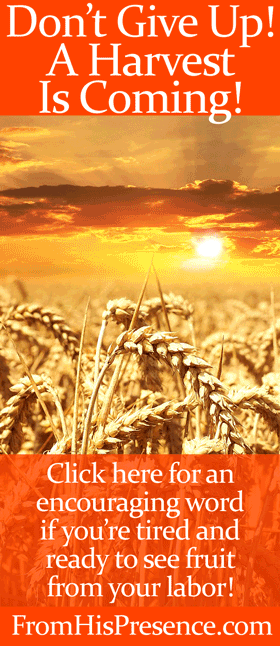 Have you gotten tired from working so hard? Do you ever feel like your labor has no reward? Are you tempted to quit RIGHT NOW? If so, I have an encouraging word for you today.
How it all started:
Once upon a time, I was feeling a bit tired and discouraged. I had been working very hard, and sometimes you don't see the reward of your labor right away, you know? I was definitely in the mood for some reward; something to renew my level of inspiration and re-energize me to keep on working.
So I prayed Psalm 91:15 and asked God to honor me, like He loves to do. (God will honor you too, if you ask; read all about that radical prayer here.) It's been awhile since I've really dug into that promise, but I want my life to always be clothed in honor AND reward. So I asked.
And you know what God did? It was amazing.
I didn't realize what He had done until the next day, but it was the weirdest thing. All day long that day, YOU (my lovely, wonderful, engaging readers) sent me the sweetest, most encouraging comments and emails. Those emails and comments meant the world to me. They blessed me all day long. (Thank you, thank you, thank you from the bottom of my heart!)
And when I was alone with the Lord this morning, He showed me that those comments and bits of encouragement were His way of honoring me. You might not have realized God was using you, but He was. He was using you to encourage me.
And I was floored when I realized how God had answered my prayer in that way:
Floored because the thing I was discouraged about had NOTHING to do with this blog … but He chose to talk to me about this blog anyway; this thing that I put SO much work into, day in and day out.
Floored because that means He sees how hard life is in general sometimes. He sees when nobody else sees. And He CARES.
Floored because He was showing me that my little, human, just-one-person self is IMPORTANT to Him.
And I suddenly saw that if this thing that was not on my mind that day meant that much to Him, then I know the huge thing that WAS on my mind meant just as much to Him, and He'll take care of that too.
And then God told me to read Galatians 6, and this Scripture jumped off the page into my spirit:
And let us not grow weary while doing good, for in due season we shall reap if we do not lose heart" (Galatians 6:9).
I tried to keep on reading in Galatians 6, but I couldn't. God stopped me right there. I was so overwhelmed with this encouragement and comfort that God sees, and He knows, and He cares … and He is going to bring me a harvest.
And if He took the time to encourage me about this blog, which was NOT my big prayer request …
Then I KNOW He saw and heard the big thing that WAS on my heart, and He will bring me a harvest from that too.
So what are you tempted to give up on today? What have you been sowing into and waiting, waiting, and waiting some more to reap a harvest from?
I believe the word of the Lord to you today is the same as it is to me:
Beloved, God sees your work and labor of love. He sees the love and time you have poured into your children, into your family, into making disciples. He sees the labor of your heart and your hands. He sees the love you hold, and the hope, and the dreams, and the desire of your heart.
He sees. And He knows.
And you know what? Hebrews 6:10 tells us:
For God is not unjust to forget your work and labor of love which you have shown toward His name, in that you have ministered to the saints, and do minister" (Hebrews 6:10).
I've loved that Scripture for a long time. It tells us that God considers it His just and holy obligation to reward your labor, and He actually considers it unjust to NOT reward your labor.
And since justice is part of God's very nature (righteousness and justice are the foundations of His throne) …
And since we know that God is wholly Just in every way …
And since He cannot deny Himself … 
Then we know that it is not possible for God to fail to reward us.
Did you get that? It is not possible for God to fail you.
It is not possible for God to let you down. It is not possible for God to fail to reward you. It is not possible for God to fail to bring you a harvest, because being a Rewarder is in the very fiber of His nature (Hebrews 11:6).
So beloved, no matter what you're struggling with; no matter what you're laboring toward; no matter what you may be discouraged about …
Don't give up! Keep on sowing! Keep doing good! A harvest is coming!
Beloved, God sees your work and your labor of love. He sees when nobody else sees. He knows exactly what you're going through. And His word to you today is this:
"Do not grow weary while doing good. Ask Me to renew your strength and courage. Ask Me to renew your level of inspiration. I will.

I see the little things that no one else sees. They are important to me. I care about what you–yes, YOU–are going through. I care about what you are doing.

Your work MATTERS. So ask Me for harvest. I will bring it, and you will reap the harvest you have labored for."
Thank You, Jesus. I receive Your Word today, and by Your grace, I'll keep on laboring.
Is this word meaningful to you today? Does it encourage your spirit? If so, please leave a comment below. I love to hear from you!