3 Prayer Points for Your 40-Day Fast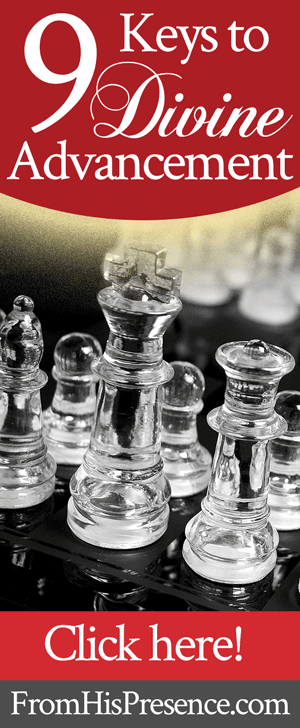 Dear Presence seekers,
So many of you have decided to fast with me for 40 days, from Ash Wednesday (February 14) through March 25. I'm thrilled by the response, and by your hunger for the Lord!
Fasting is a huge key to divine advancement.
Fasting brings acceleration. It moves Heaven and changes things on earth. It brings breakthrough in your life easier and faster than ever could have happened without fasting.
If you have not already done so, be sure to make a written prayer list to keep during your fast. Pray over it every day, as often during the day as you can.
By the way, some folks asked if I am recommending a dry fast–and the answer is NO!
Always DRINK WATER on any fast, loads of it! (Distilled water will help you fast more easily than tap water, too, because it won't make you chlorine-sick.)
Also, what you fast is up to you. It's between you and God; just be sure your heart is right and that your fast is a sacrifice of love. If what you give up means nothing to you (e.g. you fast from broccoli but you hate broccoli anyway), it won't mean anything to God either.
Related: Field Notes from My Fasting Failures
In case it helps, here are 3 prayer points for your 40-day fast that you might want to consider adding to your prayer list.
These are things that I believe Holy Spirit is breathing upon in a particularly-strong way right now.
1. Pray about your legacy.
Holy Spirit is pouring out a real anointing to leave a legacy right now, particularly a financial legacy. The Bible says:
A good man leaves an inheritance to his children's children, but the wealth of the sinner is stored up for the righteous" (Proverbs 13:22).
It is a good and holy thing to leave a legacy to your children and grandchildren. YOU have the opportunity in this life–a short opportunity, lasting only a short span of years–to change your family tree. YOU have the opportunity to leave a legacy in so many areas, too, like:
A legacy of godliness;
A legacy of enduring love;
A legacy of souls saved and lives reached for Jesus;
A legacy of your prayers; and
A financial inheritance that blesses both your children and your grandchildren, and even generations after that.
How amazing will it be for you to meet the souls in Heaven that you won or discipled for the Lord?
How amazing would it be for your children to remember and be influenced by your godly character? By your wisdom, love, and sound advice?
How awesome would it be for your children to remember hearing you pray for them when they slip out of their bedrooms at night and hear you on your knees at the midnight hour?
And how amazing would it be for you to leave a financial inheritance to your children, like:
A paid-for house;
A college fund for them and their children;
Cash gifts when they don't expect them, just to be a blessing; and
Yourself free of debt, so that when you go to Heaven, everything you leave behind will be only a blessing to them?
Wouldn't that be awesome?
It can happen to you. Holy Spirit is pouring out an anointing right now to:
decide what kind of legacy you want to leave;
determine what specific steps you need to take in order to leave that legacy; and
make the sacrifices you will need to make in order to do so–and have it be easy.
True story.
Holy Spirit is pouring out grace to make the legacy you want easy.
Oh, there will be sacrifice. But the anointing of God makes the sacrifice easy.
So …
Pray during this fast about the kind of legacy you want to leave.
WRITE DOWN the details of the exact legacy you want to leave (Habakkuk 2).
Pray about what kind of changes Papa wants you to make in order to do that.
Ask the Lord for His grace, strength, POWER, and anointing to make those changes, knowing that He has ALREADY not given you a spirit of fear, but of POWER, love, and a sound mind.
Pray also for angelic help as you step out in faith to make the changes you choose.
Then break your legacy down into little steps and start on the smallest steps.
You will find yourself thrilled and inspired as Holy Spirit meets you with His anointing, strength, grace, and motivation as you begin taking the steps you need to take to leave a good inheritance and legacy. And, you will find yourself gripped with the vision so strongly that you WILL be able to carry out the plan the Lord shows you.
2. Pray about restoration and healing of your relationship(s) with estranged parents and children.
The Lord is pouring out the Spirit of Elijah right now, which is Holy Spirit manifesting Himself through people the same way He did through Elijah. The Bible says:
Behold, I will send you Elijah the prophet before the coming of the great and dreadful day of the Lord.

And he will turn the hearts of the fathers to the children, and the hearts of the children to their fathers, lest I come and strike the earth with a curse" (Malachi 4:5-6).

And …

"He will also go before Him in the spirit and power of Elijah, 'to turn the hearts of the fathers to the children,' and the disobedient to the wisdom of the just, to make ready a people prepared for the Lord" (Luke 1:17).
When the Lord pours out the Spirit of Elijah, Holy Spirit works in and through you to:
Turn the hearts of the fathers to the children;
Turn the hearts of the children to the fathers;
Turn the disobedient to the wisdom of the just; and
Make ready a people prepared for the Lord.
I believe the Lord is pouring out a grace for reconciled relationships.
The reconciled relationship may not look like what you thought it would look like. New boundaries may be needed and may need to be enforced. However, a healing in your heart will come that was not there before. Pray for this if you have estranged family relationships!
3. Pray for restoration of your physical strength and health.
I believe the Lord is also pouring out a gifting and grace to make decisions that rebuild your health. Those decisions could include things like:
Stopping what you're doing to go for a walk each day;
Putting a time slot for going to the gym in your schedule, and actually keeping that appointment with yourself; 🙂
Making permanent changes in your diet as a result of this fast; and
Healing physical ailments.
What does your body need in order to regain its good health?
Write down those things on your prayer list. Present them daily to the Lord–whether your need is a miracle of healing or a desire, motivation, and grace to make better decisions and to care more about your physical health.
Whatever you need from the Lord, He will give it to you if you ask in faith! Remember that Jesus said:
Therefore I say to you, whatever things you ask when you pray, believe that you receive them, and you will have them" (Mark 11:24).
And the Bible also says that He'll help you want to:
Therefore, my beloved, as you have always obeyed, not as in my presence only, but now much more in my absence, work out your own salvation with fear and trembling; for it is God who works in you both to will and to do for His good pleasure" (Philippians 2:12-13).
Sometimes we don't start by actually doing; sometimes we need the Lord to help us want to.
But He gives more grace. He is working in you both to WILL–to want to do–and to actually DO His good pleasure.
Isn't He a good, good Father? He'll meet you at the point of your need.
So pray about your legacy. Pray about your relationships. And pray about your health …
… And believe God to keep His promises and answer all your prayers richly.
Do these 3 prayer points for your 40-day fast resonate in your heart? If so, please leave a comment below. I'd love to hear about what Holy Spirit is saying to you!