How Holy Spirit Wrecked Me Using Goals With Grace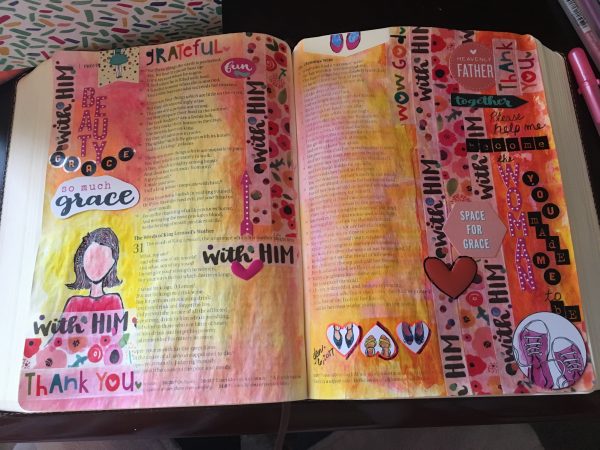 Beloved, do you struggle with taking care of yourself? If so, I want to talk to you today about something that's very personal to me. And very precious.
A few days ago, I received my Goals with Grace devotional kit from DaySpring. I loved it right away. It speaks to my heart and resonates with me.
But it took me until today to begin using the kit; and when I did, Holy Spirit touched me so powerfully.
See, I spent some time working on my life vision book earlier today. And one of the things that Father talked with me about first was …
… taking care of myself.
#Facepalm
I struggle with this.
I don't have low self-esteem. I know I'm worth it. I just struggle with taking the time. And honestly, I struggle with caring.
Because I care about a lot of things.
I care about God, and about my husband, and about my church, and about my family and friends. I care about you, tremendously. I care about hurting people.
But I feel like the world is not going to end if I don't end up with makeup on, one day or two days or three days. All the other things seem to be more pressing, much of the time.
Don't get me wrong; I usually wear makeup. (Even though I've been slacking sometimes, a few days recently.) But this taking-care-of-myself thing goes deeper than that. It's about looking my best, and even about being healthy, 100% of the time.
And on those days when I don't care all that much, it becomes a problem.
Oh, maybe one slobby day here and one slobby day there may not be so bad. But when it becomes a habit, and I just don't bother, because I'm too busy …
… or too rushed or hurried …
… or too preoccupied with everybody else's problems …
… or too (insert anything here) …
That's a problem.
It's a problem because I don't represent Father well when I don't care for myself.
If I don't care for my body, which is the temple of the Holy Spirit, and do the best I can with whatever I've got (even though I'm not a size 4 and never have been, etc), I fail to give myself the honor that I should give myself as a daughter of the King.
Papa is jealous over us, you know.
He's jealous over me, and He's jealous over you. And He doesn't want anybody–not even our own selves–to treat us with anything less than the dignity we deserve.
And this Goals with Grace kit was one big, fat, on-time word from God to me about my appearance, and about taking care of myself.
Oh, I'm not saying you would have to use it for that, if you get one for your self. The kit itself, although it does lend itself well to this topic, could be used for anything. It really could.
But something about it–its beauty and the shoe stickers and the "with Him" washi tape and the other die-cuts and stickers etc–really spoke to me as a rhema word about my appearance.
Supplies I used for these pages:
So I journaled about that today, in Proverbs 31. I went crazy using the Goals kit, but mostly I poured out my heart to Father in worship.
Because He loves me, and I'm His baby, and I desire to look and be beautiful inside and out … but I can only do any of the above with Him. If He helps me.
I cannot, cannot, cannot do it by myself.
See? I told you. This is very transparent, and I was not even sure I'd be able to make myself talk to you about this … but I'm called to live in the public eye, so here you go.
This stuff makes me cry.
So I used my Goals with Grace kit. I went crazy with it. And as I did, I meditated on the fact …
That I can only take care of myself with Papa's help.
That I want to be the woman HE wants me to be, without comparing myself to others. Simply finding the beauty and grace and elegance that He desires for me to have and walk in.
That I knew it would be a process, just one step at at time.
That I am so thankful for His help.
That I will mess up sometimes, but there's space for grace … so much grace.
That I can take care of myself and, yes, actually enjoy it and have fun.
And Holy Spirit ministered to me the whole time.
I put on two songs, both sung by Steffany Gretzinger and Jeremy Riddle. (I posted the videos below.)
(These are both cover songs for these singers, but listen to the covers for these songs today because of all the prophetic words mixed in with these two versions.)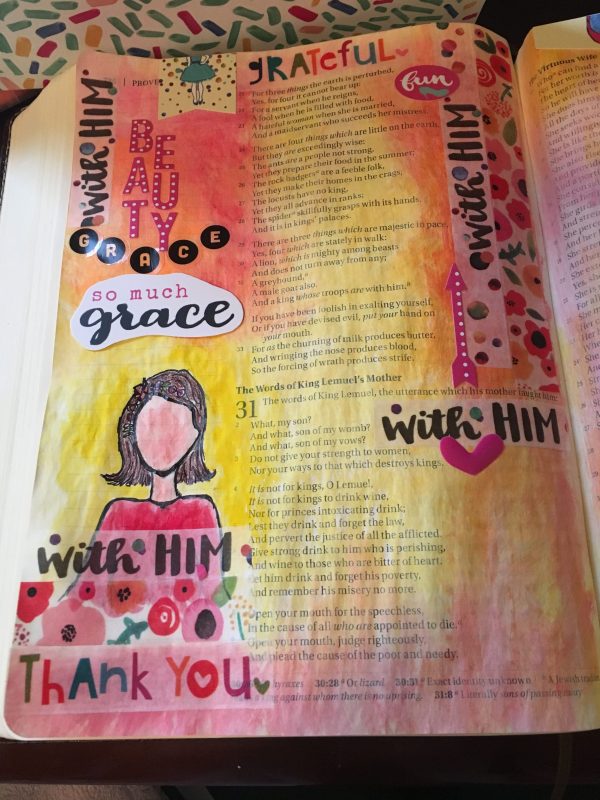 And as I listened to them sing God's Word over me, with loads of prophetic words mixed into the songs, Holy Spirit gave me a deeper revelation than I've ever had before …
… about how He thinks I'm beautiful. About how obsessed He is with each of His babies–you and me both. About how very, very good He is.
He loves us so much, beloved. So much.
And as Steffany Gretzinger sang, "'cause we are confident sons and daughters, confident sons and daughters, confident sons and daughters, singing out to our Father …"
I cried and cried.
I'm still crying, actually.
Because it felt like He really did make me confident in a new way that I've never felt before.
Confident in His love, in His care, in His watchcare over me.
After all … as the lyrics say, He "split the sea so I could walk right through it. My fears are drowned in perfect love. "You rescued me so I can stand and say, that I am a child of God!"
Oh, let's say that again.
"You split the sea so I could walk right through it. My fears are drowned in perfect love. You rescued me so I can stand and say, I am a child of God!" (lyrics from No Longer Slaves by Jonathan David Helser).
Beloved, Papa loves you.
He loves you so much. And it matters to Him how we take care of ourselves. It matters to Him how we live our lives.
It matters to God whether we are intentional with our time, our bodies, our maintenance and upkeep or not. This is important to Him, because we're His kids. And He's the one that clothes us with strength and dignity.
He knows we can't do it alone. But He is here to help us, because He's a good, good Father.
Listen to the songs below. And if you're a Bible journaler, want to become one, or if you want to use this kit for your vision book, get the Goals with Grace kit (affiliate link). Use it, and ask Papa to minister to you while you do.
But whether you want to use this particular kit in your devotions or not, know this today, beloved: His grace is sufficient for you, for His strength is made perfect in weakness.
Does this post speak to your heart today? If so, please leave a comment below. I'd love to hear from you.
Would you help me with my work of reaching people for Jesus as a domestic missionary? This blog, and all of my mission work in person, are made possible through your partnerships, donations, and product purchases.
If you'd like to help me, please check out the partnership details and products available for sale here. And, thank you in advance for helping make this blog and everything we do together for the Kingdom possible!