What Ever Happened To Honor In The Church?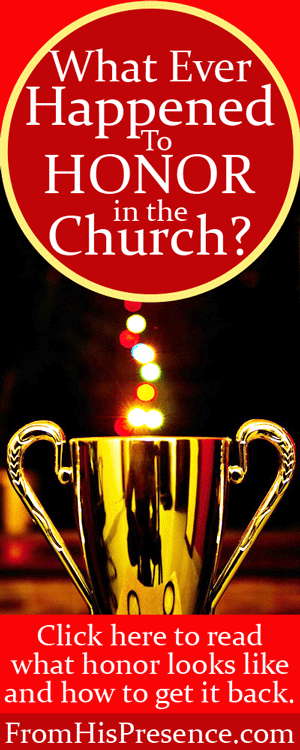 For many years before I gave my life to Jesus Christ, I hung out in billiards halls playing pool. I loved to play eight-ball, and my best friend and I would play for hours at a time as often as 4-5 times a week. I was addicted to playing pool.
I was a different sort of girl, but my friends I played pool with were a different sort, too. They were street-smart anarchists. They weren't thugs, for the most part; but, as Frank Sinatra famously sang, they wanted to do things "my way."
My friends were from the underworld and they knew about street code:
How to fight and how to survive in gang-heavy territory;
How to watch your back;
How to know if you were being followed.
They had guns–lots of them. And more importantly, they had "street cred."
They had hearts of gold, too. They loved me and took care of me, and they taught me about the world.
And you know what? That wasn't such a bad thing. Because one of the things those street-smart anarchists taught me is one of the most important spiritual principles I've ever learned, and for the most part, I don't think the Church has learned it yet. (Or if it has, it has often been forgotten.)
That principle is simply honor.
See, the game of pool isn't just a game. Playing pool is a demonstration of your character. Pool is all about "The Code."
If you've ever been associated with the underworld, you know exactly what I'm talking about. The game of pool is about character. How you play will show the world who you are, and how you play determines how much respect you get among your peers.
Oh, it's not about how skillful you are. You might not be very good at all, but you can still be worthy of respect depending on how you play. Or, you might be amazing at pool, but get no respect at all.
What makes the difference? It's how you adhere to the honor code of pool.
There's a code. It's a very common code that anybody who wants to play well or be respected learns. It involves things like this:
You don't lean on the table when other people are shooting.
You don't stand directly behind or directly in front of someone who's shooting.
If you are trying to make a shot and it's not obvious where you're aiming your ball, you visibly point out which pocket your ball is going into. This is referred to as "calling the shot."
You don't talk to your opponent while he/she is shooting.
If your opponent doesn't notice you calling the shot, you wait to shoot until he acknowledges your call.
If you shoot your ball into a pocket that you weren't aiming for, you don't shoot again until your next turn … even though technically you could. Why? Because you don't deserve to go again. You didn't make the shot you meant to make.
You always protect the table wood and felt. You never place a drink or anything else on the table.
You shoot gently and with strategy, always considering where you will leave all the balls when your ball stops rolling. You never shoot never willy-nilly or using brute force.
I could go on and on, but you get the point. And here's the thing:
If you play pool according to The Code, street people will notice and respect you.
But if you don't, it RAPIDLY becomes obvious that you are a person of small character, and you will get no respect… even if you win every game.
It's all about integrity. It's all about honor. People that play according to The Code do so because it's the honorable thing to do. Playing with honor shows respect for the game, respect for themselves, and respect for those around them.
And I think it's oh-so-sad that unsaved street people have figured honor out, but many people who claim to be followers of Christ have not.
Why do I say that many followers of Christ haven't figured honor out?
Well, because I see a tremendous lack of honor in the way we often treat one another. The Bible has more to say about honor than street code ever could. For example:
Let love be without hypocrisy. Abhor what is evil. Cling to what is good. Be kindly affectionate to one another with brotherly love, in honor giving preference to one another; not lagging in diligence, fervent in spirit, serving the Lord; rejoicing in hope, patient in tribulation, continuing steadfastly in prayer; distributing to the needs of the saints, given to hospitality" (Hebrews 12:9-13).

"Honor all people. Love the brotherhood. Fear God. Honor the king. Servants, be submissive to your masters with all fear, not only to the good and gentle, but also to the harsh. For this is commendable, if because of conscience toward God one endures grief, suffering wrongfully" (1 Peter 2:17-19).

"Honor your father and your mother, as the Lord your God has commanded you, that your days may be long, and that it may be well with you in the land which the Lord your God is giving you" (Deuteronomy 5:16).

"Therefore whoever resists the authorities resists what God has appointed, and those who resist will incur judgment" (Romans 13:2).

"Remember those who rule over you, who have spoken the word of God to you, whose faith follow, considering the outcome of their conduct" (Hebrews 13:7).

"Obey those who rule over you, and be submissive, for they watch out for your souls, as those who must give account. Let them do so with joy and not with grief, for that would be unprofitable for you" (Hebrews 13:17).

"He who follows righteousness and mercy finds life, righteousness, and honor" (Proverbs 21:21) (all emphases mine).
This is just a tiny selection of Scriptures about honor. There are many more that I don't have space to include here.
But too often, we say we believe God, but we don't honor His Word or the leaders He has placed over us.
I have seen lack of honor in the Church over and over again, in situations both large and small. Things like:
Grumbling and gossiping about the pastor in the hallway, parking lot, or at the Piccadilly Cafeteria after church.
People (who are supposed to be) under authority telling their leaders how the leader should have done his or her job. (Since everybody else must clearly know better than the leader how to lead, right?)
People leaving the church without saying a word to the pastor who has taught them and served them for years.
People walking away from a ministry within the church without talking to the leader of that ministry first–even when the leader has trusted them and promoted them.
People leaving a small group/LifeGroup without saying a word to the teacher of that group. Oh yes, that same teacher who has prayed for them, labored for hours every week studying and preparing to teach them, and that same teacher who has been there for them a thousand times over when they have needed help or ministry. Yet I see people walk away as if none of those things mattered.
Refusing to follow instructions from a leader.
Breaching confidentiality.
Treating people like they are less-than for any reason at all, when actually every person is made in the image of God and has just as much of the call of God on their lives as you do.
Going over a leader's head and stabbing them in the back.
The list could go on and on. So many times, we fail to honor our brothers and sisters in Christ … whether they are our leaders, whether they serve us (which is what our leaders do anyway, by the way), or are simply our peers.
Honor or the lack thereof is a critical issue.
Related: You Have The Right To Talk About Your Pastor
And honor in the church is just like playing pool, because how you play the game–and whether you show honor or don't–exposes your character to the world.
When we demonstrate honor for others …
honor for the least of these, even the ones the world usually doesn't have time for–like the uneducated people, the homeless people, and the mentally ill people;
honor for the greatest of these;
honor for our leaders, from our bosses at work, to our pastors, to our LifeGroup teachers and ministry leaders;
honor for the positions of influence that have been entrusted to us; and
honor for our place in the Body of Christ,
… we demonstrate that we do have character.
But when you fail to show honor … even if people tell you you're awesome, and even if you gain some position or level of influence, you actually show the world that you have little character.
God, have mercy. Search me, O God, and know my heart. Try me, and know my thoughts; and see if there be any wicked way in me, and if there is, GET IT OUT and lead me in Your way everlasting. God, if there's any dishonor in me, convict me so I can make it right.
We all need to examine ourselves, because it's a very sad thing when street-smart anarchists know how to show more honor and integrity than believing Christians do.
So what can we do about this? How can we bring (or bring back) honor in the church?
It's very simple:
Confess your sin to God and change the way you think.
Make things right with anyone you've hurt.
Show honor to all people going forward.
How? It's simple:
Respect your leaders and actually do what they say. God has placed you under their leadership for a reason … and it's because you need to hear and obey what they have to impart.
Support those who have shepherded you.
Defend your leaders. Don't let people malign them.
Protect confidentiality. Even if you are close enough to them that you're having candid conversations with them behind closed doors, keep those conversations (and the fact that you're having them) private.
When someone who has served you faithfully needs something, do what you can to help or listen.
Be accountable.
When someone stops to compliment (honor) you, give them your full attention (honor them), even if you are busy.
Show up on time, every time, every week.
Be thankful for the people who serve you and teach you, and say so.
Be faithful, humble, and teachable.
Sow into the people who have sown into your life and promoted you.
Related: When God Honors You, Don't Throw It Away and What To Do When Nobody Gives You Any Credit
Will you decide today that you will become a person of honor, and especially embrace honor in the Church?
Will you determine to honor and protect all men, preferring them as better than yourself? Will you demonstrate your godly character through the honor you give to your leaders, your peers, and even to complete strangers on the street?
Honor is a critical issue. Living a life that honors others is one of the biggest way you can demonstrate Jesus to the world, in the Church, and to your family.
What do you need to do today to restore honor into your life and to the lives of others that you may have hurt?
Recommended resource: Culture of Honor: Sustaining a Supernatural Environment by Danny Silk. Honor is the currency of the Kingdom, and walking in honor it brings the blessings of God down on your head. Read this book to find out how to put honor to work in every aspect of your daily life.