Real-Life Examples: What Honor Looks Like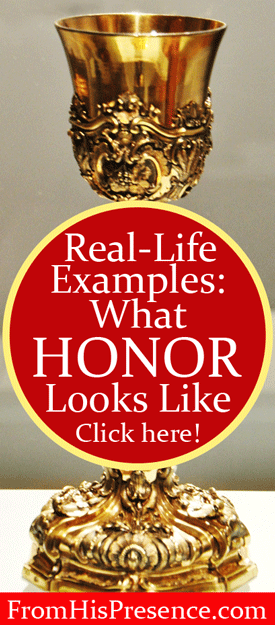 Did Monday's message about what ever happened to honor in the Church hit home with you, but you're not sure what to do about it?
If so, I wanted to share some concrete examples of what honor looks like. These are things I've actually seen people do to give honor to whom honor is due.
Take a look at these examples of what honor looks like:
That time that your spirit was grieved when you found out that your missionary friend didn't have the money to sleep in a hotel, so he slept in his car on his mission trip. You would have paid for his hotel room if you had known, because … well, because of honor.
When your leader was having a rough time in his personal life, and his friends knew about it but didn't broadcast it or gossip. That was honor.
When you saw police officers or military personnel eating dinner at the restaurant, and you paid for their dinner to thank them for their service. That's honor.
When you put your phone down during your Sunday School class and church service, and refused to text, check your Facebook status, or play games while you're supposed to be worshipping God and listening to the Word … that's honor.
When you look at the place you serve and realize that someone else has invested a lifetime of blood, sweat, and tears just so you could HAVE this place to serve. That's honor.
Related: We Need a Culture of Honor
When you thank the aforementioned leader for all those buckets of blood, sweat, and tears he or she has poured out and you from which you have benefited … that's honor.
When the lady helped a friend and leader jump-start his business for free, and the friend gave her a financial "thank-you" gift even though it wasn't required or expected … that was honor.
When you refused to believe the worst about your friend, and instead only accepted and spoke what GOD says about them (even when they were discouraged and beating themselves up) … that was honor.
When you stop what you're doing and pay attention when the mentally-challenged person wants to talk to you, even though they can't carry on much of a conversation … that's honor.
When you sit beside the lady who suffers from mental illness, just so she won't be alone and ashamed, that's honor.
When the class or ministry group takes up an offering and surprises their leader with a birthday or Christmas card chock-full of cash … that's honor.
When you get your boss a card and doughnuts for Bosses' Day … that's honor.
When you felt led to change Sunday School classes at church, so you talked with your teacher first, thanked them for pouring into you, and let them know why you feel led to switch classes.
When you stop what you're doing and give your spouse your undivided attention when he/she wants to talk to you … that's honor.
When you "circle the wagons" around your leader, come up under his or her God-given vision, and join forces to support that vision without murmuring or complaining … that's honor.
When you partner with the people who feed you spiritual food, and sow into their ministries financially, that's honor.
Honor looks like a lot of things. It's a heart attitude.
And it's a heart attitude that will make all the difference in the world in your life, because giving honor to whom honor is due is a Biblical concept.
Render therefore to all their due: taxes to whom taxes are due, customs to whom customs, fear to whom fear, honor to whom honor" (Romans 13:7).
ALL people are due honor for at least the most basic reasons:
They are created in the image of God;
Jesus Christ died for them just like He did for you; and
God has good plans for their lives just like He does for yours.
And some people deserve an even greater level of honor because of what they have done for you, for the public peace, or for the Kingdom of God.
People who have sacrificed for us, poured into us, taught us, and protected us are worthy of great honor. Soldiers, police officers, firemen, teachers, emergency responders, pastors, apostles, mentors, and others who have benefited your life are deserving of that extra honor.
When we give honor to whom honor is due, we reap a greater harvest from the deposit God has placed in those people's lives. God honors our obedience to His principles when we honor others, and He will bless us for it.
What can you do today to show honor to someone who has blessed your life? Please leave a comment below with your practical ideas! I'd love to hear from you!
Recommended resource: Culture of Honor: Sustaining a Supernatural Environment by Danny Silk. Honor is the currency of the Kingdom, and walking in honor it brings the blessings of God down on your head. Read this book to find out how to put honor to work in every aspect of your daily life.
The Amazon link above is my affiliate link. This means that, if you purchase resources on Amazon using my link, Amazon will pay me a small commission (at no additional cost to you, of course). Thank you in advance for helping me get the Gospel out in this manner. And if you love to read legal mumbo-jumbo, you can feast your eyes on my disclosure policy here. 🙂
Image courtesy of Ted on Flickr via Creative Commons license. Image has been cropped and graphics added.