Personal Update, 5 Prophetic Decrees, and Kingdom Authority
Hi everybody!
I wanted to give you a quick update on a new blog series and other cool goings-on around my house. 🙂
First, this last weekend, I taught my brand-new workshop, Kingdom Authority 101, here at my local church.
It was so exciting. We had a full house of hungry people, and the Lord really sat down. My church's prophetic ministry team all pitched in to minister to the people, and we just had a Holy Spirit party like you wouldn't believe. I'm so thankful.
A number of you wonderful readers have asked, and we DID record the audio from the workshop! I'll be working on editing it this week, and I'll make it available here on this blog after it's completed.
Just for fun, want to see the cover artwork? I knew you did…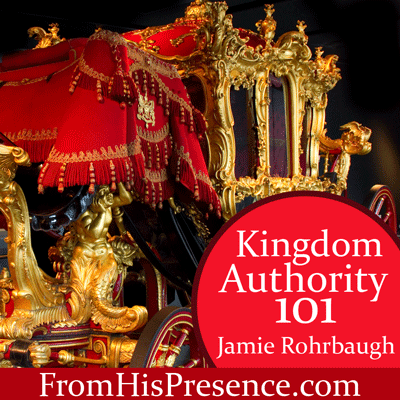 This workshop is 4 sessions of about 45-50 minutes each. It is full of practical, powerful instruction for how to walk in supernatural, miracle-working authority like Jesus did. We discuss:
what the Kingdom is;
how to walk in the abundance of the Kingdom yourself;
how to release the Kingdom everywhere you go;
what is impartation and how to do it;
the power of protocol;
and way, way more.
Let's just say, if you want to walk in authority, this teaching is going to change your life. 🙂 Stay tuned for the updates, and I hope to have the audio released by next week!
Next, a new blog series!
This week, I will begin posting a new blog series on Wednesday and going through the following Friday. The series will be called:
… drum roll, please …
5 Prophetic Decrees of Abundance Over Your Life.
I'm super-excited about this series. The Lord has given me five areas of life over which ALL of us need His prophetic decree:
Fullness of God;
Fullness of health;
Fullness of financial prosperity;
Fullness of relationships; and
Fullness of your eternal destiny.
The spoken word of God decreed over your life ALWAYS results in change. The Word of God does not return to Him void. So be sure to check back each day for this new series–and subscribe by email if you haven't already done so! It's going to be fun!
And finally, a personal update!
I'm taking some time off work this week and I'm going to be spending some extra time writing and seeking God. You'll be seeing me respond to a lot of emails and comments this week. I'm so sorry that I'm behind; the last month or so has been insane for me and it feels like I've been going a million miles an hour.
I also have the privilege of attending a prophetic conference this week that I am sooooooo excited about, so that's going to give me much-needed refreshing in the Presence of the Lord.
One of the reasons I'm so excited about this week is that I sense a shift in spiritual seasons coming. This usually happens around the Jewish New Year (September 13-15 of this year) and Yom Kippur (the Day of Atonement, which this year is September 22-23). It's a special time right now to be seeking God and getting His vision for this next season of your life.
I'll write more about that, as well as prophetic word roundups about the Jewish New Year that resonate with me the most, as we get closer to that season.
Well, that's the update. Please check back Wednesday for the first installment of 5 Prophetic Decrees of Abundance Over Your Life, and we'll see you then!
"Lord Mayors Coach (6266582740)" by Tony Hisgett from Birmingham, UK – Lord Mayors CoachUploaded by tm. Licensed under CC BY 2.0 via Wikimedia Commons.