When God Honors You, Don't Throw It Away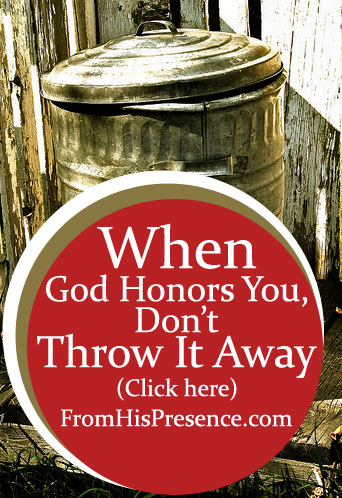 When God honors you, do you have a hard time receiving the blessing?
To put it another way, have you ever noticed God blessing you–and you feel like you have to delegate the blessing? Or, maybe God gives you an opportunity. He puts you in the spotlight–and you feel like you need to use that spotlight to put others in the spotlight?
There is always a good reason to serve others. There's always a good reason to raise other people up–and there's always a reason to give other people opportunity. That's the Kingdom.
BUT … Sometimes God is trying to honor you, and He just wants you to sit back and receive the honor.
Sometimes He's trying to bless YOU, and He wants you to accept the blessing. And when God honors you, you have to know the difference. You have to recognize it when you're meant to just be blessed by the honor.
It's kind of like how He gives both "seed to the sower" AND "bread for food" (2 Corinthians 9:10). Yes, that Scripture is talking about money, which is not what we're talking about today. HOWEVER, bear with me as we look at the illustration.
God gives seed to the sower.
This means He gives people things that they are supposed to give away. Usually, the seed is money; but He gives other things too. When He gives you something and He intends it to be seed, He's asking you to give it away so He can give you more. Remember that, as we give, it comes back to us–good measure, pressed down, shaken together, and running over (Luke 6:38).
But God also gives bread for food. That means:
He gives you money to pay the electric bill with.
He gives you money to buy groceries with.
He gives you rent money or money to pay the mortgage.
And when He does that, He expects you to use that money to meet your need. It's BREAD; you're supposed to eat it! You're supposed to pay the power bill; buy the groceries; and pay the rent. It's bread for food, NOT SEED.
There's a legalistic fallacy in the Church today that says you're supposed to give everything away.
The problem with that is, um, you're not. God gives both seed to the sower AND bread for food. Even sowers have to eat. And if you give everything away, sometimes you defeat God's purpose–because He is trying to get things TO you as well as THROUGH you.
Don't forget that blessing you matters to God just as much as blessing His other kids matters to Him. 🙂
Now back to this honor thing:
Awhile back, I started praying this radical prayer, asking God to honor me. I almost felt uncomfortable praying it, because it seemed like a weird thing to pray. It seemed nearly idolatrous; like I was taking something from God.
But He said in Psalm 91:15 that He wants to honor me, so I asked Him to go ahead and do it. And the weirdest, freakiest things started happening: God began to honor me.
And you know how I reacted?
Two ways:
I tried to give the honor away–to delegate and share the opportunity to others who also needed opportunity; and
Feeling like it was the "spiritual" and "right" thing to do, I told the Lord: "Thank You for honoring me. But God, I give it back to You."
The funny thing was, delegating the honor didn't seem anointed.
I thought it was the right thing to do for that situation, but things always went better when I stuck with the opportunity myself instead of trying to give it to others. Also, when I told the Lord said that, for some reason I felt like it grieved the Holy Spirit… but I didn't know why. On top of that, it seemed like the pipeline of honor that had opened up for me suddenly stopped.
Well, I finally figured out why.
The Lord had been giving me honor–ME–as "bread for food." It was honor and opportunity He intended for me. Not for others; but for me, in this particular case. That doesn't mean that other honors or opportunities weren't meant to be shared; but these particular ones weren't. They were bread for food–meant for me to eat and enjoy–not meant to be sown and passed on.
I felt Father's heart on this when I tried to honor someone who refused the honor.
A bit later, I tried to honor someone I know. I was absolutely sure that this person was the one I should bless. I had prayed about it, dreamed about it (actual dreams at night), and had the go-ahead from my leader.
So I talked to the person. And you know what? The person wouldn't receive the honor.
Then I finally understood what I had been doing to the Holy Spirit.
Related: I Want To Know the Holy Spirit; Cleaning My House for the Holy Spirit
Out of ignorance and not knowing how to handle it when God honored me, I threw that honor away. Think of it this way:
When the prodigal son came back to his father, his father put his own best robe on the son. What an honor that was! It was the equivalent of a royal robe; the garb only worn by the head of the household. It screamed to everyone else how valued, treasured, and precious this son was.
Do you think the son immediately said:
"Thanks for the robe, Dad. But here you go; you can have it back. I prefer my stinky, dirty, piggy clothes."
Ummm, NO! I'll bet that boy wore that robe all night. I'll bet he wore it to eat in, to dance in, and to talk to all his father's friends in. Did it fit? Who knows. Was it his? No, it was his father's. But it was the father's good pleasure to put his robe on his boy to show everyone how much he loved that boy.
Honor is like that. It is our Father's good pleasure to give us the Kingdom.
When Papa God drapes us with honor, it's because He wants us to wear that honor well. He doesn't want us to refuse it, despise it, or give it back. He knows it's His, and we should know it's His… but we shouldn't refuse it.
I've been praying about this awhile because I felt like I had grieved the Holy Spirit when I rejected the honor He draped me with. And as I prayed, I felt like this prayer was a better one than I had prayed before:
"Father, thank You for honoring me. Please teach me how to wear Your honor well."
So how do you apply this? How do you show proper respect to the honor God gives you? Here's how:
When God honors you, don't throw it away.
When you start praying for honor and the Lord starts answering your prayer, it could look like any number of things:
You get picked for specific opportunities that you never imagined would come your way.
You suddenly have favor, and people who can impact your destiny start talking about you—in a good way.
Your work starts getting recognized, when nobody ever recognized your work before.
All of these are examples of honor. Honor is something we all want, even if we don't know what to call it. It's what happens when the Father chooses to brag on you and promote you.
But how we receive that honor is crucial.
When our Father drapes His cloak of honor over us, it's a gift. More than that, it's a sign of how much He loves and values us.
So when Father honors you, here's what to do:
Thank Him for it, knowing that it belongs to Him, and ask Him to help you wear it well.
Be worthy of the honor you've been given.
Ask the Father to continue to honor you.
Will you ask God to honor you today – and then be sure to receive and carry it well?
Image courtesy of Kim Faires on Flickr.