10 Ways Your Life Changes When You Understand Kingdom Authority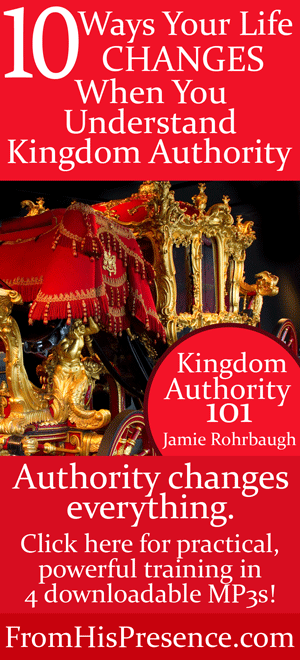 Are you fascinated by the concept of walking in authority, but you want to know how authority will impact your daily life?
Kingdom authority is not a pie-in-the-sky concept. It's a practical, hands-on, empowering truth that will radically change your life when you understand what it is and how it works.
Here are 10 ways your life changes when you understand what kingdom authority is and how to walk in it:
It becomes easy to have radical faith.
You will be able to pray with power and see radical answers. Your heart and spirit will suddenly be able to reach out and grasp God's promises that you weren't able to comprehend or receive for yourself before.
You will know how to align yourself underneath godly spiritual covering and protection, so you will be safe in spiritual warfare.
You will know exactly what to do to release the Kingdom of God everywhere you go.
You will have boldness to release the Kingdom, knowing that you don't have to be all churchy about it. You can change the atmosphere and see people's hearts changed when they don't even know what you did.
You can receive favor in your work groups at your job AND in your ministry groups at church, because your leaders will know they can trust you with favor.
You will be able to call forth the hidden things God has for your life–opportunities, relationships, new ideas, et cetera–and see them manifest.
You will understand the nuts and bolts about how Jesus' miracle ministry worked, and you can begin to walk in the same power when you line up with His authority.
You will be able to spot the traps of the enemy a mile away. You will know exactly how to avoid the hornets' nests with which the enemy would love to ensnare you.
You will have boldness to know that you can impart the grace on your life to other people.
Kingdom authority is huge. Understanding it, so you can walk in it, is even more huge.

One of the reasons Jesus Christ died was to purchase authority over the earth back from the enemy. Adam and Eve had given it away when they sinned, but Jesus bought it back with His blood. That's why some of Jesus' last words on earth, before He ascended to Heaven after His resurrection, were:
And Jesus came and spoke to them, saying, "All authority has been given to Me in heaven and on earth" (Matthew 28:18).
When Jesus said that, the fact that all authority now belonged to Jesus was a news flash to the disciples. The enemy had been defeated! Victory was secure! And when Jesus gave us our marching orders, He conferred all the authority on us that we would need to fully fulfill His commands.
That means YOU have authority to do absolutely everything God has called you to do in this life.
Everything. Heal the sick. Raise the dead. Cleanse the lepers. Cast out demons. As you have freely received, you can freely give (Matthew 10:8).
Authority is huge, folks. Huge.
That's why I spent months in study, prayer, and fasting preparing the Kingdom Authority workshop.
That's why 45 people or so showed up in person and got radically wrecked.
That's why the workshop attendees were messed-up drunk in the Holy Spirit … because He sat down so powerfully and poured revelation and truth from His Word into our hearts.
That's why people are still telling me, weeks later, how much their lives have been changed because of this message.
And that is why one reader, April, who wasn't at the workshop but started listening to the audio yesterday, wrote this on her Facebook page (shared with permission):
I have listened to two out of four sessions, and I feel ready to take my authority in Christ and conquer the world around me! Jamie is an awesome warrior for God, and she has taught me so much. I feel like everyone would benefit from listening to these recordings and all her other teachings. Thank you Jamie for allowing God to lead and guide you in His Word."
Beloved, to walk in power, you need to understand authority. It's the radical, empowering, safe-keeping, life-changing authority that Jesus purchased for you on the cross.
Are you ready? If you didn't already grab it, click the button below and download this conference set. Kingdom Authority 101 teaches you how to begin walking in miracle-working, supernatural authority like Jesus did. The workshop contains four sessions:
Session 1: The Power and Authority of Belief (51 minutes)
Session 2: The Power and Authority of Blessing and the Word of God (53 minutes)
Session 3: The Power and Authority of Impartation and Protocol (62 minutes)
Session 4: The Power and Authority of Practice and Risk (38 minutes)
You will be glad you did. So click here:

Workshop music is provided by and copyright Kara Green. Used by permission. Cover art: "Lord Mayors Coach (6266582740)" by Tony Hisgett from Birmingham, UK – Lord Mayors CoachUploaded by tm. Licensed under CC BY 2.0 via Wikimedia Commons.