On Shifting Seasons and Blooming Where You're Planted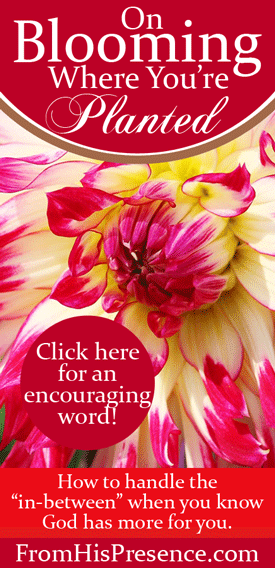 So you're hungry for more. You KNOW God has more for you in life. But the door to MORE hasn't open yet, and you find yourself in-between … waiting for your season to shift.
If that's you, I have an encouraging word for you today:
You may be closer to your next open door than you think.
It's funny how this works. You've probably heard people talk about seedtime and harvest. I like it best when they point out that there is seed, TIME, then harvest. It is a true spiritual principle that works in every aspect of life:
your finances;
your relationships;
your ministry;
your career;
your hobbies and everything else …
Everything worthwhile must have a foundation.
If your dream is going to last, the foundation always must be built first.
Maybe that's why you are where you are. Maybe that's why you're in-between and haven't seen your dream come to fruition yet. But don't despair! If God is having you build a foundation, it's because He has something in mind that will go ON TOP of that foundation: your dream.
Your MORE. Your call. Your destiny. The thing for which your heart is hungry.
And all it takes for God to move you from your current place in life into your new season is one moment.
Think about it:
In one moment, Esther became queen of Persia … after a year of preparation.
In one moment, the Holy Spirit was poured out in the Upper Room on the day of Pentecost … after fifty days of praying and waiting on God.
In one moment, David became king of Israel … even though he had been called and anointed king years before.
The way God works is that He will build you a foundation first. Then, after you're ready to handle it, He shifts you from one season of life into another … sometimes in one moment.
One moment can change your life forever because God is a God who comes suddenly.
Acts 2:1-4 describes one of the most momentous, earth-shaking events in history. It happened suddenly:
When the Day of Pentecost had fully come, they were all with one accord in one place.

And suddenly there came a sound from heaven, as of a rushing mighty wind, and it filled the whole house where they were sitting. Then there appeared to them divided tongues, as of fire, and one sat upon each of them.

And they were all filled with the Holy Spirit and began to speak with other tongues, as the Spirit gave them utterance" (emphasis mine).
In one moment, God sent His Holy Spirit to dwell in His people. The Church was born. Christianity has since changed the face of the entire earth. More work has been done to rescue, heal, save, feed, and care for people by Christians than has ever been done by any other group in history. The entire course of history was changed in one moment.
And your life can change that fast as well.
But what should you do while you wait? Simply bloom where you're planted.
Beloved, if God has you in a certain place right now, there's a reason for it. I know your heart yearns for more. I know you are hungry for your dream. A sense of destiny may rest on your shoulders that you just can't shake, and you are crying out to God to open doors for you.
All of those things are good, and you should ask God to move you forward in life. You should also do everything you can to prepare yourself for your future:
Study.
Hustle.
Be diligent.
Pay off debt.
Get healthy in every way.
Get to know God better than you ever dreamed you could know Him.
But if nothing seems to be happening despite your best efforts, just trust God. Pour your energy into blooming where you're planted.
If you're doing all you can and nothing is moving, there's a reason for that. God has not forgotten you. There's just something going on that you can't see or understand.
So hold on! Hang in there! Make the most of where you are. Do your absolute best at your job every day. Learn the skills you'll need in order to walk in your dream. Be faithful and diligent. Wherever you are, give it your all! Let God do everything in you that He needs to do in this in-between place.
Read: Radical Prayer #4: The Anointing of the Sons of Issachar (How To Know God's Timing)
Your moment is coming, dear one. Your season will shift one day, and you'll want to be ready.
Your current place in life is your foundation, and God is preparing you for your future whether you realize it or not. You are not forgotten, beloved. If God has promised you something, it's going to happen. But in the meantime, hang in there.
Be faithful. Be diligent. And let God do the rest. It's entirely possible, my friend, that your life-changing moment may be only a breath away.
Is this word for you today? Does it speak to your heart? If so, please leave a comment below. I'd love to hear from you!